New Biden Budget Calls for Historic Clean Energy and Emerging Tech Investments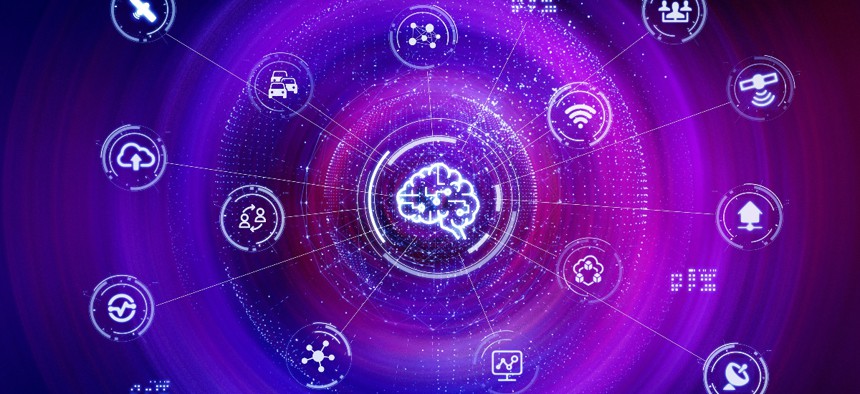 The White House's fiscal year 2024 budget wants more U.S. funding for emerging tech, as well as its application in gov't operations. 
The Biden administration wants the U.S. to continue its broad push to advance emerging and critical technologies, making significant allocations for their research, development and application within the new 2024 budget proposal.
Released on Thursday, the fiscal year 2024 budget aims to allocate nearly $25 billion in discretionary funding to research pursuant to the CHIPS and Science Act, encompassing subjects including artificial intelligence, clean energy sources, quantum information sciences and semiconductor manufacturing. 
The agencies that would be slated to receive portions of this funding include the National Science Foundation, the Department of Energy's Office of Science, Department of Commerce's Economic Development Administration and the National Institutes of Standards and Technology. NSF would receive the bulk of the planned funding with $11.3 billion in federal support. Commerce's office is allocated another $4 billion, while Energy's Office of Science and NIST will receive $8.8 billion and $1 billion, respectively.
The intended use cases for these technologies vary. Much of the AI applications will be helmed by the NSF, who will oversee its broad research and development efforts, although the administration is also keen to incorporate AI systems into digital identity software to improve government services.
Energy would be expected to use the provided funding to continue research in fusion energy, following a breakthrough at an Energy-funded national laboratory in December. The Budget delegates $1 billion specifically to accelerate fusion ignition as a potential clean energy source.
"Within DOE's Office of Science, the budget supports cutting-edge research at the national laboratories and universities and building and operating world-class scientific user facilities and the largest investment in fusion energy in history," the budget states. 
The agency would also receive funding to continue working in the quantum information sciences and AI realm. As outlined in the budget, Energy specifically plans to leverage quantum technologies and AI to generate new computing insights aimed at solving pressing scientific challenges. 
Among these challenges is the need to develop new, reliable sources for clean energy. Building a clean energy economy has been a longtime pillar in the Biden administration's agenda, and is a heavily-present component in the 2024 Budget. 
Within the $52 billion Energy would be set to receive, funding would go towards projects including energy research and overhauling current energy infrastructure to support low greenhouse gas-emission heating and cooling, aviation, power grid and electrification, and industrial products. 
Other federal organizations, such as Commerce and Defense, would be given funding to further modernize their technological support systems, such as through the incorporation of AI and advanced software into business operations. 
The Department of Defense is allocated a whopping $842 billion in proposed budget funds, a sizeable portion of which would go to using technology to counter threats from adversary nations, namely China and Russia
Biden's proposed budget calls for investing in "modernizing America's nuclear deterrent, building resilience in the cyber and space domains, and investing in new applications of artificial intelligence, quantum science and biotechnology with the potential to revolutionize how U.S. forces operate."