U.S. Unprepared for AI Competition with China, Commission Finds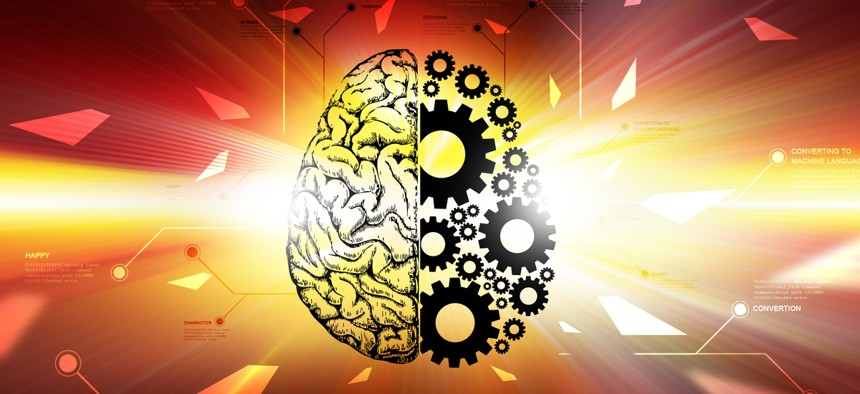 Retaining any edge will take White House leadership and a substantial investment, according to the National Security Commission on Artificial Intelligence.
The National Security Commission on Artificial Intelligence is out with its comprehensive final report recommending a path forward for ensuring U.S. superiority in AI that calls for the Defense Department and the intelligence community to become "AI-ready" by 2025.  
NSCAI on Monday during a public meeting voted to approve its final report, which will also be sent to Congress. The report culminates two years of work that began after the 2019 National Defense Authorization Act established the commission to review advances in AI, machine learning and associated technologies. 
"The bottom line … is we don't feel this is the time for incremental toggles to federal research budgets or adding a few new positions in the Pentagon for Silicon Valley technologists," Commission Vice Chair Robert Work, former deputy secretary of defense, said during the meeting. "Those just won't cut it. This will be expensive and requires significant change in mindset at the national, and agency, and Cabinet levels. America needs White House leadership, Cabinet member action, and bipartisan congressional support to win the AI competition and the broader technology competition."
The report details recommendations—along with detailed blueprints for action—around 16 different topics under two main umbrellas—defense in the AI era and winning the technology competition. Commissioners also identified four main pillars of interest orienting their recommendations: leadership, talent, hardware and innovation investment. 
Major initiatives proposed by the commission include the creation of a Technology Competitiveness Council within the White House to be chaired by the vice president as well as a  Steering Committee on Emerging Technology within the Defense Department to coordinate and advance implementation of technology. 
Another proposal, which commissioners noted has received interest from Congress, calls for the creation of an accredited, degree-granting digital services academy to help build a pipeline of civil service tech talent. Funding has to increase, too, according to the report: NSCAI wants annual non-defense federal research and development funding to reach $32 billion by 2026. 
Undergirding the entire project is a deep sense of urgency. Work warned the U.S. military's technical advantage could be lost within the next decade without accelerated AI and emerging technologies adoption. Commissioner Safra Catz, chief executive officer of Oracle, called the report a "wake-up call." 
That wake-up call is at least in part induced by one nation in particular: China. Commission Chair and former Google chief executive Eric Schmidt said he believes China is catching the U.S. up on AI. Schmidt said the commission's research found China is making massive AI investments and that there is "every reason to think that the competition with China will increase."
"My concern is actually that we are ahead but that they are catching up, and that the activities that we described in the report are necessary to stay ahead," Schmidt said. "It's not at all obvious to me that they will allow us to get significantly ahead."
Commissioners emphasized that their recommendations are meant to do more than simply match the size and scale of the Chinese investments, but rather to instill AI and emerging technologies with "American values." The report devotes a chapter to upholding democratic values that calls for greater oversight and transparency around how the government uses AI. 
Commissioner Andrew Moore, director of Google Cloud AI, said he is concerned about the Chinese government's experiments with surveillance technologies, which he called Orwellian. He said he is pleased that American companies have approached technologies like facial recognition software with caution. The most prominent example of the approach Moore described is IBM, which announced in a letter to Congress last June it would no longer facial recognition software or analysis. 
"[Facial recognition] is a great example of the paradox of what we have to do here," Moore said. "We have to develop technology which preserves our western values, but we have to be prepared for a world in which not everyone is doing that." 
But the U.S. government is currently undergoing a facial recognition debate. Some lawmakers, including progressives like Sens. Elizabeth Warren, D-Mass, and Ed Markey, D-Mass., support a moratorium on government use of facial recognition technologies at the same time the Homeland Security Department is pushing forward with plans to establish a biometric entry-exit system that would require collection of personal data from all non-citizens passing through ports. 
And while the report focuses on privacy and civil liberties in its chapter on values, the U.S. currently has no national privacy legislation. States are beginning to pass their own privacy laws following enactment of the California Consumer Privacy Act, but lawmakers at the national level continue to argue over two key privacy issues: private rights of action and pre-emption. 
The commission itself faced a lawsuit over transparency, even as it was building a report calling for greater transparency around government use of AI. The Electronic Privacy Information Center sued NSCAI to enforce its transparency obligations, and a judge ordered the commission to provide notice of meetings, open those meetings to the public, and make records available to the public. 
The heavy presence of powerful corporations on the commission creates questions about whose values the report represents as well. Oracle, Microsoft, Google and Amazon Web Services are all represented on a commission that only has 15 members. 
When asked about perceptions of bias due to the presence of major corporations and government contractors on the commission, Commissioner Eric Horvitz, Microsoft's chief scientific officer, said NSCAI conducted outreach and involved civil society organizations as well as academics in its work. Horvitz noted during voting he abstained from development of recommendations related to improving government relations with the private sector in order to prevent a conflict of interest or the appearance of one. Commissioner Steve Chien, from the Jet Propulsion Laboratory, also emphasized the need for a full-scope AI ecosystem. 
"We need academia, we need industry, we need traditional defense contractors, we need the technology companies, and we also need small businesses," Chien said. "We feel that they all play a very important role in this tremendous change that is happening in the national security area as well as the economic security area."