Lawmakers, Experts Split on CBP's Proposed Biometric System Advancement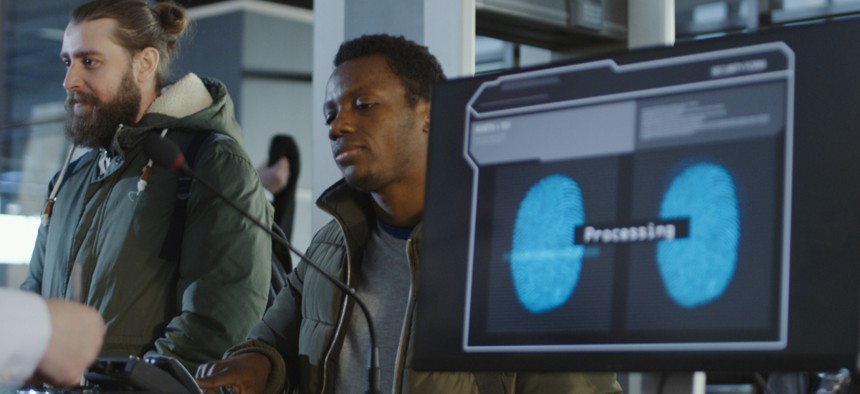 Some experts see Customs and Border Protection's proposed rulemaking expanding biometric entry-exit as the culmination of more than a decade of careful work. Others say the technology poses privacy concerns.
Customs and Border Protection filed a new rule proposal in the Federal Register that would advance its biometric entry-exit system used to verify identities at ports beyond the pilot stage, and experts and lawmakers are weighing in on the implications of the new rule.
While in many ways the proposal, published Thursday, is an inevitable next step in a process to track who goes in and out of the United States that dates back to 1996, several lawmakers and privacy experts suggest the government isn't ready to move forward with the deployment of facial recognition technologies, which is the mode of biometric collection CBP wants to use for entry-exit. 
Rep. Mike Rogers, R-Ala., ranking member of the House Homeland Security Committee, released a statement supporting the proposal Thursday afternoon, calling it a "step in the right direction."
"I applaud the proposal of this rule," Rogers's statement reads. "This biometric identity verification was a recommendation from the 9/11 Commission Report and helps CBP improve security at our ports of entry, facilitate travel, and better enforce existing immigration laws. This technology has a track record of success at our border crossings and is an important tool for DHS." 
But some Democratic lawmakers aren't so sure. Also on Thursday, Rep Bennie Thompson, D-Miss., chairman of the House Homeland Security Committee, introduced a bill in the House that would enact broad reforms at DHS. In addition to changes like restricting the use of "acting" officials and greater transparency requirements, the legislation explicitly bans expansion of biometric air exit, where CBP deployment of its Traveler Verification System is currently focused. DHS implemented the collection of biometric data for travelers entering the U.S. with the legacy US-VISIT program in 2004, but it has had a harder time setting up a biometric exit capability. 
In order to move beyond pilot programs and deploy to more airports, terminals, or airlines, CBP would have to demonstrate TVS meets its requirements where it is already deployed for three consecutive months. 
"DHS has rushed towards mass deployment of facial recognition technologies without addressing major concerns over privacy and bias," Thompson said in an email to Nextgov. "CBP has failed to meet its own stated goals for including high rates of travelers in its pilot programs, as its cameras fail to take high quality images of many traveler populations—including people of color. Legislation I've introduced would provide appropriate oversight of these emerging technologies and restrict their use until these concerns are addressed appropriately."
Sens. Ed Markey, D-Mass., and Ron Wyden, D-Ore., also expressed reservations regarding the CBP proposed rulemaking. Both senators sponsored legislation that would establish a moratorium on federal government use of biometric and facial recognition technologies.
In a Thursday tweet, Markey accused the Trump administration's DHS of "plowing ahead" with invasive collection of face data at airports. 
"This surveillance risks our privacy and poses disproportionate harm to people of color," Markey's tweet reads. "I've introduced a bill to stop the use of this racist technology."
Wyden, in an email to Nextgov, indicated it's not clear whether facial recognition technology actually provides the benefits DHS claims. 
"Everyone wants our borders to be secure, but I'm concerned that Customs and Border Protection is rushing to deploy facial recognition without any evidence it will improve safety, and without addressing serious concerns about privacy, security and accuracy," Wyden said. "There are far too many questions about facial recognition systems, especially when it comes to falsely identifying people of color, to make it mandatory for travelers at the border."
The National Institute of Standards and Technology in 2019 released a landmark report showing facial recognition algorithms struggle to identify racial and ethnic minorities at higher rates than those for white people. NIST also found algorithms were less accurate for women, children and the elderly. 
But In a September audit, the Government Accountability Office noted NIST evaluated a version of the algorithm CBP uses for TVS and found it was among the most accurate algorithms NIST studied. CBP's proposed rule noted the agency's presently available data "demonstrates marginal differences in match rate between age, gender, or citizenship." The rule proposal also eliminates age restrictions for non-citizens limiting biometric collection to individuals between the ages of 14 and 79, which CBP argues will make its facial matching system more accurate because it can collect more recent photos of travelers. 
Theresa Brown, director of immigration and cross-border policy for the Bipartisan Policy Center, has been watching the evolution of entry-exit since 1996, when Congress passed the Illegal Immigration Reform and Immigrant Responsibility Act. That law included the first mandate for an entry-exit system. Brown also worked for CBP when the agency began trying to implement an entry-exit system specifically using biometric data, a mandate that came out of the 9/11 Commission. 
Brown told Nextgov in a recent interview the proposed rulemaking published Thursday is the inevitable next step in trying to fulfill the mission CBP has been working on for over a decade. 
"I don't discount that there are privacy concerns whenever the government collects biometric information, but I don't see this as some nefarious effort of the Trump administration to suddenly install a random biometric check," Brown said. 
Some of the skepticism directed toward this proposed rulemaking is the result of the politicization of the entire Homeland Security Department during the Trump presidency, Brown said. But she doesn't see this proposed rulemaking as being rushed out before it's ready for political reasons. 
Brown said there is a security advantage to using biometric data, as opposed to only biographic data, in entry-exit. But implementing facial recognition technology comes with greater responsibility for the government, she added. 
"Just like other technologies as they are introduced, it's incumbent upon the government to be as transparent as possible, to be respectful of its use of this data," Brown said. 
Some provisions in Thompson's bill address the need for more oversight. The bill requires DHS to develop and coordinate a biometrics and identity management enterprise strategy that includes guidance around collecting, using, retaining, sharing and disposing of biometric information. 
"Upon the issuance of the strategy, no component head shall be authorized to initiate or expand a pilot or program that includes biometrics or identity management without the Secretary determining that the program is consistent with this strategy or successor strategy," the legislation reads.  
The strategy would also need to establish privacy protections that prioritize "securing voluntary consent" through an "opt-in approach rather than an opt-out approach," according to the legislation. 
Opt-in versus opt-out regimes are a major sticking point for privacy experts. Not only is CBP's program not the preferred opt-in regime, it also doesn't allow people to fully opt-out, according to Jeramie Scott, senior counsel at the Electronic Privacy Information Center. 
Under the proposed rulemaking, non-citizens would no longer have the ability to opt-out. 
"Your information, your photo, no matter what you do still gets updated, still goes to CBP, is still used as part of the gallery for facial recognition identification, regardless of whether you opt out personally and don't submit to facial recognition identification, your information is still part of that process," Scott said. "Now, a true opt-out would mean that your information is never part of that process at all."
GAO's September audit revealed CBP is failing to provide appropriate notice of its facial recognition program at ports. If travelers don't know they may be subject to facial recognition technology, it's hard to opt-out before it's too late. 
Congressional oversight comes into the picture via reporting requirements: DHS would have to submit a comprehensive inventory of all pilots or programs using biometric technology to Congress. And the agency would also have to report on the implementation of and compliance with the enterprise biometric strategy, including assessments of any corrective actions taken to get pilots or programs on track with the strategy. 
Still, Scott warns government deployment of facial recognition technology creates asymmetries of power, which is particularly concerning because of the lack of federal regulations surrounding the use of biometric technology and privacy in general. 
"Even with regulation, it doesn't mean that CBP should be using facial recognition," Scott said, "but without it, they should definitely not even consider it." 
Given the timing of Thompson's bill, it will likely need to be introduced in the next Congress. CBP allowed 30 days from the date of the rule proposal's publication for comments. 
Editor's note: This story was updated to include a comment from Rep Bennie Thompson, D-Miss.