Bill to Codify GSA's Centers of Excellence Awaits President's Signature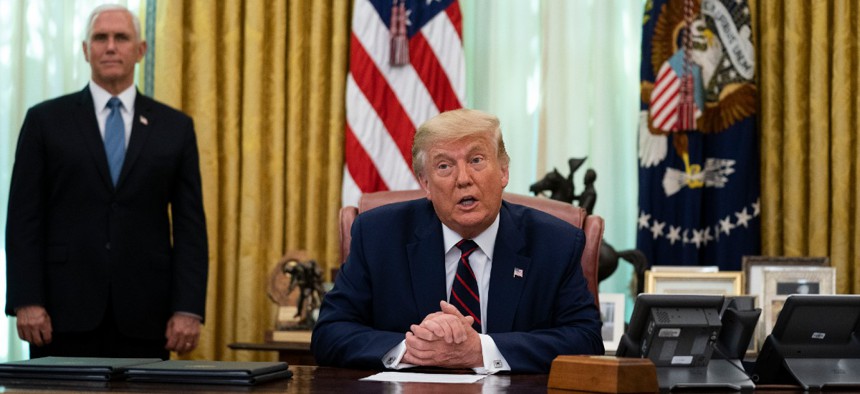 The legislation would ensure the General Services Administration's IT modernization initiative continues to the next administration.
Bipartisan legislation that would codify the Centers of Excellence initiative—first launched by the General Services Administration in 2017—passed the Senate Nov. 18 and now awaits a signature from President Trump to become law.
The Information Technology Modernization Centers of Excellence Program Act, introduced in July by Sens. Rob Portman, R-Ohio, and Maggie Hassan, D-N.H, lays out responsibilities GSA Centers of Excellence should have and establishes governance models between GSA and agencies it works with.
The bill was introduced in the House by Rep. Ro Khanna, D-Calif., in February, and follows a significant expansion of the Centers of Excellence across federal agencies in a concerted effort to improve various components of IT modernization.
"As technology continues to change and advance, it's important that the federal government understands the significant impacts it will have on our country, economy, and society," said Portman, who serves as co-chair of the Senate AI Caucus. "Ensuring that our government has the capabilities and expertise to help navigate the impacts of the latest technology will be important in the coming years and decades. I applaud the Senate for passing this legislation and urge President Trump to sign it into law soon to ensure our government agencies have the insight and resources they need to better understand the benefits and pitfalls of this technology."
Since its launch three years ago, GSA's Centers of Excellence has partnered with nearly a dozen agencies, including the Food and Drug Administration, Agriculture Department, the Housing and Urban Development Department, the Office of Personnel Management, the U.S. Consumer Product Safety Commission, the Defense Department's Joint Artificial Intelligence Center, the Labor Department, the Government Accountability Office, and the National Institutes of Health's National Institute of Child Health and Human Development.
 Partner agencies use the Centers of Excellence program to improve across several areas, including commercial cloud capabilities, contact centers, customer experience, data analytics, infrastructure optimization and artificial intelligence.
"America is known for its innovation, but federal agencies haven't always kept pace with changing technologies and developments," Hassan said. "I am pleased that the Senate passed our bipartisan legislation to help modernize federal government systems, as well as improve the efficiency of those modernization efforts. I urge the President to sign this commonsense bill into law without delay, and I look forward to continue working with Senator Portman on a bipartisan basis to make government work better for Americans."