DHS Looks to Expand Tracking of Election Interference Through Social Media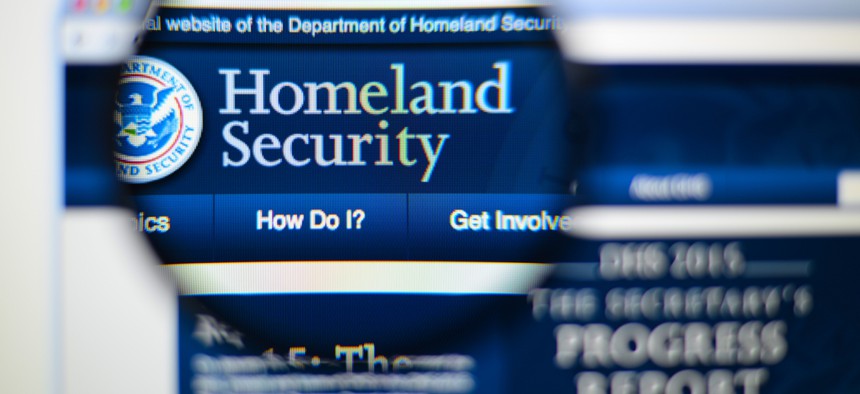 The request comes four months before Americans head to the polls.
The Homeland Security Department intends to tap into custom-created algorithms, analytics and commercially-offered services to trace and capture deliberate efforts by foreign state and non-state actors to sway Americans' views via social media leading up to the 2020 election. 
Four months before voters head to the polls, the agency—through its Office of Intelligence and Analysis Cyber Mission Center—released a solicitation asking contractors to speedily weigh in on services they can provide to collect and analyze potential foreign influence using online posts, and ultimately produce social media-centered intelligence products to enhance election security.
"Currently, there is a significant amount of foreign influence activity targeting U.S. 2020 elections on social media platforms, and the [intelligence community's] lack of capability and resources in this area result in this activity being left largely untracked. Agencies with the requisite expertise and tradecraft to do this work are building the capability but those efforts will not be operational in time to help defend the 2020 general election," officials wrote in a request for quotations published Tuesday evening. "An urgent and compelling need exists to build the capacity to detect and mitigate foreign influence operations conducted against the U.S. using social media in time for the 2020 U.S. elections."
This is not the first time the department or the military have explored procuring means to exploit social media to meet a mission. Unlike the other recent calls for the technical services, in this case, Homeland Security's focus is specifically on the work of malicious, non-U.S. actors. 
Malign election interference is not new, but the inquiry comes after many experts—and a Senate committee report—have detailed how Russian information operatives, and others, used various social media platforms, which had matured over the previous decade, to meddle with the 2016 U.S. election. Work by foreign actors to polarize Americans has continued and evolved in sophistication since then, prompting lawmakers to include several provisions relating to analysis of social media data underpinning foreign threat networks in the fiscal 2020 National Defense and Intelligence Authorization Act. Still, according to DHS' solicitation, Russia, China and Iran continue to have "on-going efforts to influence the U.S. political environment in ways that could affect voter preferences or election processes, and they are adept at using social media platforms to foment divisiveness and propagate disinformation to achieve this goal." 
Specifically, the department wants help detecting such activities by foreign actors through "open-source analysis of commercially-available public information." DHS aims to work with a contractor with analytic technologies, products and support services that can provide it with the ability to effectively sift through social media and rapidly identify disinformation, overt influence campaigns, and foreign actors' pursuits to maliciously shape the views of the U.S.' and its allies' online audiences. DHS' chosen partner would be expected to provide bi-weekly "election influence activity snapshots," as well as bi-weekly snapshots on non-election influence activity. The agency also wants capabilities to assess patterns and trends of such content through contractor-provided platforms, the ability to evaluate related narratives' intent and speed of dissemination on various social media sources, the ability to protect Americans' personally identifiable information collected through the effort "until deletion," and more.
DHS is looking to act fast to meet the need. The solicitation posted June 30, questions from potential respondents are due July 2, and quotation submissions are due by July 10.