Attorney General: China May Supplant U.S. If It Wins AI Race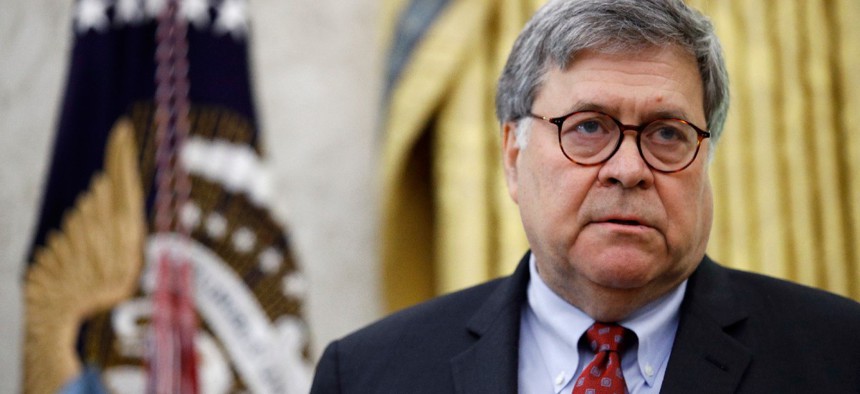 William Barr blasted Google, Microsoft and other American big tech companies for being short-sighted while meeting the Chinese government's demands for operating within the country. 
In an hour-long speech Thursday, Attorney General William Barr alerted the public to economic and technological dangers posed by China, suggesting its plans for global domination could hinge on artificial intelligence.
Barr, speaking at the Gerald R. Ford Presidential Museum in Grand Rapids, said China is using all tools at its disposal—legal and illegal—to supplant the U.S. and lead the world in AI by 2030 as part of its next-generation AI plan.
"Whichever nation emerges as the global leader in AI will be best positioned to unlock not only its considerable economic potential, but a range of military applications, such as the use of computer vision to gather intelligence," Barr said.
If it becomes the dominant AI user and producer, Barr said China could have unrivaled intelligence and military capabilities, such as machines in a battlefield that execute life or death decisions at computer speed rather than human speed. Already, Barr said, "through innovations such as machine learning and big data, [AI] allows machines to mimic human functions, such as recognizing faces, interpreting spoken words, driving vehicles, and playing games of skill," at faster speeds and with skills that far outpace humans.  
China's AI plan, however, is only one component of China's decades-long plans for technological superiority. Through its Digital Silk Road initiative, Barr said China "plans to dominate the world's digital infrastructure" by building the next-generation of global telecommunications networks, or 5G. The Chinese Communist Party is making use of several mechanisms to achieve this goal. In early July, FBI Director Chris Wray said Chinese economic espionage cases had increased 1,300% in the past decade, with a new counterintelligence investigation into China-related activities opened every ten hours. Most of these investigations are related to China's attempts to steal intellectual property from American companies.
Another avenue China takes is dumping raw materials into the global market, driving prices down and hurting American companies. China crippled U.S. manufacturing firms for years by dumping aluminum and steel into global markets, and last week, the Commerce Department warned that China is dumping fiber optic cables in the global market through Huawei.
Further, Barr said China now has a global monopoly on "rare earth metals" vital to industries like consumer electronics, electric vehicles, medical devices and military hardware. Whereas the United States led worldwide production of these metals from the 1960s to 1980s, "production has shifted almost entirely to China" since then, due largely to cheap labor costs and fewer environmental regulations, Barr said.
"The United States is dangerously dependent on the PRC for these materials," Barr said, noting that China cut exports to the metals in 2010 following a dispute with Japan. "The PRC could do the same to us."
Barr is the third high-level Trump administration official to hold a major speech in recent weeks on China, following FBI Director Chris Wray and National Security Advisor Robert O'Brien, with a speech from Secretary of State Mike Pompeo on China expected soon.
The coordinated speeches are a sign of the importance the administration places on the threat the Chinese Communist Party represents, Barr said. Many of his remarks were directed toward large American tech companies—Barr specifically called out Google, Microsoft, Yahoo and Apple—which he said have been too willing to work with China.
"If you are an American business leader, appeasing the PRC may bring short-term rewards.  But in the end, the PRC's goal is to replace you," Barr warned. "American companies must understand the stakes.  The Chinese Communist Party thinks in terms of decades and centuries, while we tend to focus on the next quarterly earnings report."