Author Archive
Eric Katz
Senior Correspondent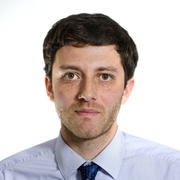 Eric Katz writes about federal agency operations and management. His deep coverage of Veterans Affairs, Homeland Security, the Environmental Protection Agency and U.S. Postal Service has earned him frequent guest spots on national radio and television news programs. Eric joined Government Executive in the summer of 2012 and previously worked for The Financial Times. He is a graduate of The George Washington University.
Cybersecurity
The current contract, which cost the government $340 million over three years, is set to expire Dec. 31.
CIO Briefing
The (likely) next oversight chairman promises more accountability for the Trump administration.
Cybersecurity
Unions seek to reverse lower court's dismissal of their pursuit for lifetime protections.
---
CIO Briefing
Reductions will "get rid of the fat," president says.
CIO Briefing
OPM will also expedite hiring for some occupations.
CIO Briefing
Margaret Weichert, the deputy director for management at the Office of Management and Budget, will serve as acting OPM director.
CIO Briefing
Former Pentagon officials question the wisdom of slashing back-office functions.
Policy
Feds dodged a push from the Trump administration to include retirement cuts in NDAA.
CIO Briefing
The president made his remarks in announcing Public Service Recognition Week.
CIO Briefing
While a leadership change at the Veterans Affairs Department had been predicted, the nomination of Jackson surprised many.
Policy
President says military funding boost convinced him to sign the omnibus measure.
Policy
A veto would almost certainly lead to agencies shuttering come midnight.
Policy
Congress must approve funding by Friday to keep agencies across government operating.
Policy
After a short "technical" shutdown, Congress early Friday passed a measure that would raise spending levels by $300 billion over the next two years.
By

Katherine McIntire Peters and Eric Katz
Policy
Schumer says agreement will send sequester caps to "ash heaps of history."
CIO Briefing
Three-day shutdown only led to a half-day furlough for most non-excepted feds.
Policy
Government shutdown expected to end just hours after agencies sent employees home.
CIO Briefing
Lawmakers did not come up with an alternate plan in time for the midnight deadline.
Policy
Some agencies would furlough virtually everyone, while others would remain completely open if there is a lapse in appropriations.
Policy
House Speaker Paul Ryan said he is hopeful "cool heads" will prevent agencies from closing.