Author Archive
Eric Katz
Senior Correspondent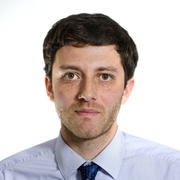 Eric Katz writes about federal agency operations and management. His deep coverage of Veterans Affairs, Homeland Security, the Environmental Protection Agency and U.S. Postal Service has earned him frequent guest spots on national radio and television news programs. Eric joined Government Executive in the summer of 2012 and previously worked for The Financial Times. He is a graduate of The George Washington University.
CIO Briefing
"It's not just a video game," says spokeswoman for New York Democrat who wrote bill creating advisory committee.
CIO Briefing
Lawmakers now have through Sept. 30 to pass appropriations.
CIO Briefing
Administration officials are pleased with progress so far, though most efforts are not yet implemented.
---
CIO Briefing
Momentum grows for bipartisan bill to prevent lawmakers from leaving D.C. until they pass spending bills.
CIO Briefing
The agreement would lift spending caps and raise the debt ceiling.
CIO Briefing
The Homeland Security Department has condemned derogatory comments posted within the group and promised a review of its own.
CIO Briefing
Appeals court overrules district-level finding, says federal employee unions have standing to sue.
CIO Briefing
Lawmakers are still negotiating with the White House on overall spending caps.
CIO Briefing
Federal employees would no longer have to wait until they had served 10 years.
IT Modernization
Some lawmakers and veterans groups are nervous about VA's implementation process for the new private care program.
Data
Survey finds the same winner once again.
CIO Briefing
Top watchdogs also say turnover is hurting the department.
Data
OMB wants to make more agency data public, peer reviewed and reproducible.
CIO Briefing
Experts and former officials call the bulk turnover unhealthy, unprecedented and "enormously disruptive."
CIO Briefing
OMB chief pledges to work with agencies to develop performance and mission-based pay plans.
CIO Briefing
Under a never-before-used provision of the 1990 Federal Employees Pay Comparability Act, the White House promises action on special pay systems this year.
CIO Briefing
Hiring surges, eliminated offices and more in the White House's latest budget blueprint.
CIO Briefing
Dale Cabaniss previously led the Federal Labor Relations Authority and spent more than 20 years overseeing civil service issues in the Senate.
By

Eric Katz and Erich Wagner
Emerging Tech
Four agencies team up to offer $1.55 million in prize money for new tools and technology to solve long-running problem.