House passes two-tiered stopgap bill days before shutdown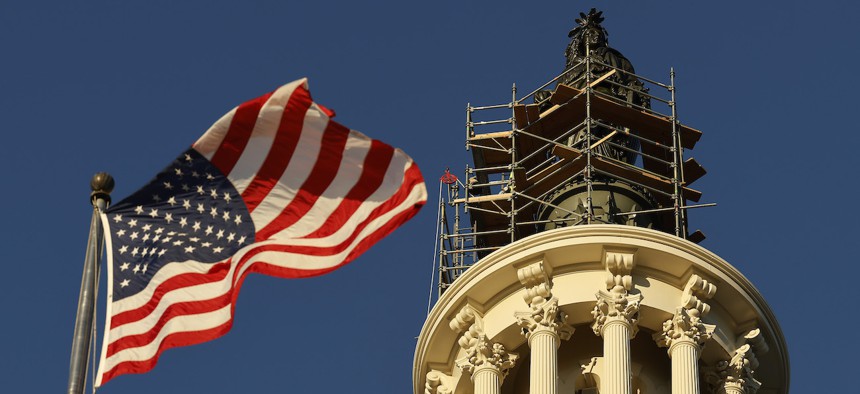 The House on Tuesday passed a two-tiered stopgap spending measure that would keep some agencies funded into January and others into February, and gives the Senate just a few days to avoid a government shutdown. 
The measure required broad bipartisan support due to the legislative procedure used for its passage and a majority of Democrats ultimately opted to back the bill after dozens of Republicans voted against it. The continuing resolution follows a plan House Speaker Mike Johnson, R-La., unveiled over the weekend, averting a funding lapse Friday by dividing government funding into two buckets. The first bucket would fund the departments of Transportation, Housing and Urban Development, Energy, Veterans Affairs and Agriculture and would run through Jan. 19. The second measure would fund the rest of government through Feb. 2. It does not include any spending cuts or policy provisions related to the border, as Johnson had also floated, but still takes an approach that Democratic leadership and some Republicans initially derided.
Johnson pitched the proposal as necessary to "fight for conservative victories" and avoid a year-end package that lumps all spending bills into one omnibus. Many lawmakers had expressed concerns the bill would create two separate shutdown deadlines going forward, but Democrats largely backed the measure as it represented a "clean" CR to avoid a shutdown. 
Conservative lawmakers, including members of the House Freedom Caucus, voted against the bill after fighting for significant spending cuts. 
"The House Freedom Caucus opposes the proposed 'clean' Continuing Resolution as it contains no spending reductions, no border security, and not a single meaningful win for the American people," the group said. "Republicans must stop negotiating against ourselves over fears of what the Senate may do with the promise 'roll over today and we'll fight tomorrow.'"
Senate leadership appears ready to accept the measure, canceling a procedural vote Monday evening to advance its own CR. 
"I am heartened, cautiously so, that Speaker Johnson is moving forward with a CR that omits precisely the sort of hard-right cuts that would have been non-starters for Democrats," Senate Majority Leader Chuck Schumer said on the floor Tuesday. He added the measure is not his preferred approach, but it would avert a shutdown without spending cuts or "poison pill" riders.
White House Press Secretary Karine Jean-Pierre over the weekend called the House bill "extreme" and "a recipe for more Republican chaos and more shutdowns." President Biden, however, declined to say he would veto the measure, and is unlikely to force a shutdown if the Senate can pass the bill. 
Ahead of the bill's passage, Rep. Rosa DeLauro, D-Conn., the top Democratic appropriator, warned the delay in passing funding bills would only bring Congress closer to a deadline at the end of April that would trigger an across-the-board sequester of funds back to Jan. 1. Still, Democratic leadership said they were supporting the bill even as they demanded Republicans work in a more bipartisan fashion on future appropriations measures. 
"House Democrats have repeatedly articulated that any continuing resolution must be set at the fiscal 2023 spending level, be devoid of harmful cuts and free of extreme right-wing policy riders," the leaders said in a joint statement. "The continuing resolution before the House today meets that criteria and we will support it." 
If the measure is signed into law, Congress will then have two separate deadlines to pass full-year fiscal 2024 appropriations bills. 
The House has passed seven of the 12 annual appropriations bills that Congress must approve each year. It is considering bills at far lower funding levels than those agreed to in the debt limit deal it struck with President Biden earlier this year and is passing them along party-line votes. The Senate has passed three of the fiscal 2024 bills, lumped into one package, but did so with broad, bipartisan support and in alignment with the Fiscal Responsibility Act's spending caps. 
While Johnson agreed to keep funding levels stable into 2024, he made clear on Tuesday he will push for significant cuts and policy changes as lawmakers pivot to negotiations over full-year appropriations. He added an omnibus near the holidays was a "terrible way to run a railroad" and his tiered plan marked a "new innovation" that would alter the dynamic. 
"We're not surrendering," the speaker said. "We are fighting. But you have to be wise about choosing the fights."