Author Archive
Eric Katz
Senior Correspondent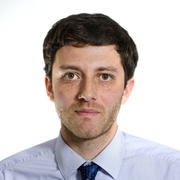 Eric Katz writes about federal agency operations and management. His deep coverage of Veterans Affairs, Homeland Security, the Environmental Protection Agency and U.S. Postal Service has earned him frequent guest spots on national radio and television news programs. Eric joined Government Executive in the summer of 2012 and previously worked for The Financial Times. He is a graduate of The George Washington University.
CIO Briefing
Security concerns in the run up to the inauguration have agencies taking special precautions.
CIO Briefing
Four agencies have provided the shots from their own distributions, but this only represents a fraction of the doses the agencies received.
CIO Briefing
Funding boosts and hiring pushes are coming for many federal agencies.
---
CIO Briefing
Congress is ironing out coronavirus relief funds in conjunction with a government funding package as the Friday deadline looms.
CIO Briefing
The quadrennial bonus day off will still apply to capital region feds in 2021 even though many are not commuting to the office.
CIO Briefing
Many hurdles remain in avoiding a shutdown come Dec. 18.
CIO Briefing
The department will start with a small distribution of doses, but expects a series of hurdles in inoculating its entire workforce and network.
CIO Briefing
Lawmakers send measure to Senate and hope for full-year omnibus by new Dec. 18 deadline.
CIO Briefing
Vote on a one-week funding extension is expected this week, ahead of Friday's deadline.
CIO Briefing
The Veterans Affairs Department's multi-tiered plan prioritizes delivering COVID-19 inoculations to high-risk staff and patients.
CIO Briefing
More than 100,000 federal personnel have now tested positive for COVID-19, with some agencies experiencing acute upticks.
CIO Briefing
The former vice president has said he will lean on and empower the federal workforce.
CIO Briefing
A look at the 117th Congress and the results of the races that will most impact federal workers.
CIO Briefing
Senate control hangs in the balance as several races of key importance to feds are among the tightest in the country.
Data
Rushing in an effort to truncate the data processing timeline has "some risks," bureau official admits.
Policy
Masks, distancing and sensors to track employee movement are all part of GSA's non-binding coronavirus recommendations.
CIO Briefing
Less than half of top feds say they have enough employees to do a "quality job."
CIO Briefing
The federal jobs posting site has undergone significant improvements in recent years.
CIO Briefing
Administration officials say they have demobilized feds as missions are completed.
Data
Census enumerators say they have received inconsistent messages and workloads in recent days despite court order to keep count going.