Author Archive
Eric Katz
Senior Correspondent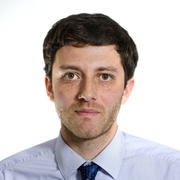 Eric Katz writes about federal agency operations and management. His deep coverage of Veterans Affairs, Homeland Security, the Environmental Protection Agency and U.S. Postal Service has earned him frequent guest spots on national radio and television news programs. Eric joined Government Executive in the summer of 2012 and previously worked for The Financial Times. He is a graduate of The George Washington University.
CIO Briefing
VA, EPA and IRS are among the agencies bringing employees back to their offices despite worker anxieties.
CIO Briefing
Nearly 130 federal workers have died from the coronavirus pandemic.
CIO Briefing
Measure would ensure special investigator has proper resources in light of Trump's recent IG firing spree, senator says.
---
CIO Briefing
Recalling employees back to offices will vary across agencies and regions based on mission needs, official says.
CIO Briefing
The number of positive cases in the federal workforce has more than quadrupled since early April.
CIO Briefing
Acting too soon would endanger residents, they say.
CIO Briefing
Think twice before accepting a gift from a grateful citizen or using your work computer for personal activities, agencies say.
CIO Briefing
Operations will remain abnormal for the coming months and will vary widely across the country.
CIO Briefing
Outstanding cases have already spiked due to shutdown, and now thousands of employees are home and not working.
CIO Briefing
Many more are quarantined due to possible exposure as employees are on the frontlines fighting the coronavirus and providing essential services.
CIO Briefing
Agencies will receive $340B, helping to boost hiring, telework and office cleaning.
CIO Briefing
Report finds testing, equipment and staffing shortfalls at VA facilities around the country.
CIO Briefing
A Senate aide says other House-backed provisions to give feds more benefits did not make into the final deal.
CIO Briefing
Measure comes with a $2.5 trillion price tag and includes provisions to rescind Trump's efforts to weaken federal employee unions.
CIO Briefing
The $46 billion White House request would also help bring home feds stationed abroad in response to the coronavirus pandemic.
CIO Briefing
Some agencies are telling employees to cut back as networks get overloaded.
CIO Briefing
It also gives agency heads more discretion to offer paid time off for those who cannot telework.
CIO Briefing
Federal offices also looking to ensure a continuity of operations as outbreak spreads.
CIO Briefing
TSA is the second Homeland Security component agency to suspend taking on new employees.
CIO Briefing
Margaret Weichert will leave the White House after nearly three years of pushing an aggressive agenda.