Author Archive
Eric Katz
Senior Correspondent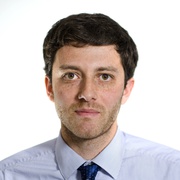 Eric Katz writes about federal agency operations and management. His deep coverage of Veterans Affairs, Homeland Security, the Environmental Protection Agency and U.S. Postal Service has earned him frequent guest spots on national radio and television news programs. Eric joined Government Executive in the summer of 2012 and previously worked for The Financial Times. He is a graduate of The George Washington University.
CXO Briefing
Lawmakers agree to drop controversial provisions, set up new deadline for lame duck Congress.
CXO Briefing
The Senate is set to vote on a continuing resolution Tuesday that would fund agencies for 10 more weeks, but includes provisions many lawmakers oppose.
CXO Briefing
Senate Democrats plan to unveil a bill Wednesday, but will hold off on a vote in an effort to rally support for it.
---
IT Modernization
IRS hiring has been thrust into the spotlight, but augmenting the agency's workforce is still far from guaranteed.
CXO Briefing
Congress must iron out several wrinkles before passing the bill.
CXO Briefing
The measure aimed at lowering health care costs and fueling the fight against climate change received only Democratic support.
CXO Briefing
One agency will grow less than some claim, while another would see an unexpected boost.
CXO Briefing
After jumping during the pandemic, the government's overall attrition rate has stabilized.
CXO Briefing
Officials are looking to revive a controversial order issued in Trump's waning days and have already identified 50,000 federal positions to target.
CXO Briefing
The department cited the pandemic and union obligations for its issues.
Emerging Tech
The Postal Service will build out 60 new facilities as part of Louis DeJoy's 10-year plan, adding to its overall staff and improving working conditions.
CXO Briefing
The court's conservative majority limits agencies' capacity to write new rules on major issues.
CXO Briefing
Democrats differed from the president in some key respects in their initial fiscal 2023 funding bills.
CXO Briefing
Employees and managers alike continue to warn lawmakers about the impact that growing demands will have on the agency's ability to respond to disasters.
CXO Briefing
The measure will allow the Veterans Affairs Department IG to subpoena former feds and contractors.
CXO Briefing
Winners of the "marketplace for innovation" will receive $3 million.
Policy
The measure's future beyond the House is unclear as Republicans decry bureaucracy and federal overreach.
CXO Briefing
Front-line staff were largely unaware of VA's offerings to support employee well-being, new survey finds.
CXO Briefing
Lawmakers aim to allow agencies to bring new employees on more quickly.