Author Archive
Eric Katz
Senior Correspondent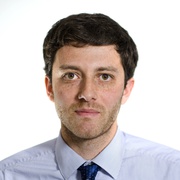 Eric Katz writes about federal agency operations and management. His deep coverage of Veterans Affairs, Homeland Security, the Environmental Protection Agency and U.S. Postal Service has earned him frequent guest spots on national radio and television news programs. Eric joined Government Executive in the summer of 2012 and previously worked for The Financial Times. He is a graduate of The George Washington University.
CXO Briefing
Democrats differed from the president in some key respects in their initial fiscal 2023 funding bills.
CXO Briefing
Employees and managers alike continue to warn lawmakers about the impact that growing demands will have on the agency's ability to respond to disasters.
CXO Briefing
The measure will allow the Veterans Affairs Department IG to subpoena former feds and contractors.
---
CXO Briefing
Winners of the "marketplace for innovation" will receive $3 million.
Policy
The measure's future beyond the House is unclear as Republicans decry bureaucracy and federal overreach.
CXO Briefing
Front-line staff were largely unaware of VA's offerings to support employee well-being, new survey finds.
CXO Briefing
Lawmakers aim to allow agencies to bring new employees on more quickly.
CXO Briefing
An appeals court struck down an injunction on the federal employee vaccine requirement, but it is not set to take effect for six weeks.
Policy
Agencies will soon be able to start punishing unvaccinated workers.
CXO Briefing
IG says it will probe contract to buy mostly internal combustion engine vans and trucks.
CXO Briefing
Domestic agencies will see a collective 6.7% budget increase as lawmakers avoid shutdown.
CXO Briefing
See which agencies are getting the biggest funding increases, hiring orders and new policy initiatives.
CXO Briefing
Agencies across government will take on new responsibilities and offer more in-person services under Biden's new COVID-19 preparedness plan.
CXO Briefing
The president lays out new tasks for agencies in his address, along with ideas for where that work should take place.
Policy
Lawmakers hope to pass full-year appropriations by March 11.
CXO Briefing
A short-term measure will allow appropriators to get over the finish line on full-year spending, top House Democrat says.
Policy
The Biden administration has already filed an appeal on the injunction.
CXO Briefing
New report calls for improved policies prohibiting interference and clearer punishments for those who meddle in scientific work.
CXO Briefing
Agencies continue to see vaccination rates rise as disciplinary actions ramp up.
CXO Briefing
With staffing shortages arriving or anticipated, agencies look to adapt their quarantine and isolation guidelines.