Author Archive
Eric Katz
Senior Correspondent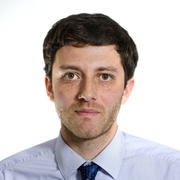 Eric Katz writes about federal agency operations and management. His deep coverage of Veterans Affairs, Homeland Security, the Environmental Protection Agency and U.S. Postal Service has earned him frequent guest spots on national radio and television news programs. Eric joined Government Executive in the summer of 2012 and previously worked for The Financial Times. He is a graduate of The George Washington University.
CIO Briefing
Department still has a long way to go to meet its vaccination goals.
CIO Briefing
More than 3,400 IRS employees have tested positive for COVID-19.
CIO Briefing
Some agencies have used the authority to dramatically ramp up their hiring.
---
CIO Briefing
Employees would serve four-month stints and work directly with migrant children.
CIO Briefing
White House reversed last-minute Trump policy to end the practice of developing and monitoring agency objectives.
CIO Briefing
Goal is to ensure the administration "speaks with one voice."
Policy
Biden administration announces its latest move to reverse Trump-era science policies.
CIO Briefing
Workers at several agencies are assisting in the initiative.
CIO Briefing
Federal agencies and states appear to disagree on who is responsible for vaccinating frontline federal workers.
CIO Briefing
Biden administration launches pilot program for "mega-sites" staffed primarily by federal workers to assist state and local governments.
CIO Briefing
A nearly month-old effort has only led to 900 employee vaccinations.
CIO Briefing
On his way out the door, Trump blocked agencies from accessing funds in 73 accounts.
CIO Briefing
Security concerns in the run up to the inauguration have agencies taking special precautions.
CIO Briefing
Four agencies have provided the shots from their own distributions, but this only represents a fraction of the doses the agencies received.
CIO Briefing
Funding boosts and hiring pushes are coming for many federal agencies.
CIO Briefing
Congress is ironing out coronavirus relief funds in conjunction with a government funding package as the Friday deadline looms.
CIO Briefing
The quadrennial bonus day off will still apply to capital region feds in 2021 even though many are not commuting to the office.
CIO Briefing
Many hurdles remain in avoiding a shutdown come Dec. 18.
CIO Briefing
The department will start with a small distribution of doses, but expects a series of hurdles in inoculating its entire workforce and network.
CIO Briefing
Lawmakers send measure to Senate and hope for full-year omnibus by new Dec. 18 deadline.