House punts effort to impeach Biden cabinet secretary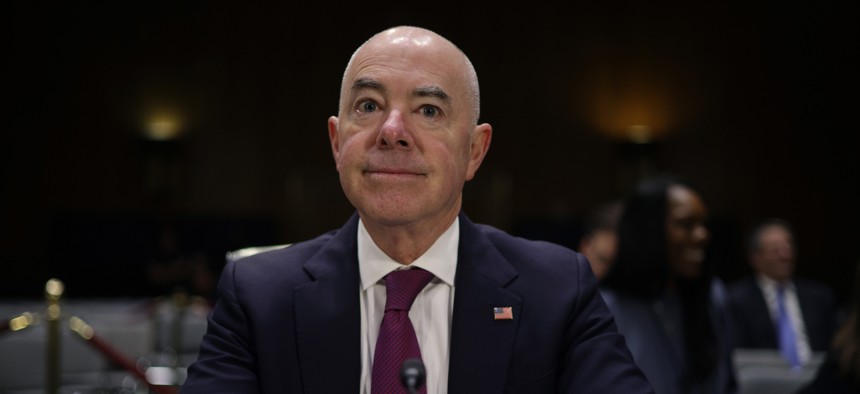 The House on Monday blocked a measure to impeach a member of President Biden's cabinet, sending back to committee a conservative push to remove Homeland Security Department Secretary Alejandro Mayorkas over his implementation of border and immigration policies. 
Rep. Marjorie Taylor Greene, R-Ga., forced the consideration after introducing a resolution last week, but in a 209-201 vote, a handful of Republicans joined all Democrats in voting to refer the measure to the Homeland Security Committee before it could come up for a final vote.
Greene and her conservative colleagues had pushed for Mayorkas' impeachment, which would have then gone to the Senate for a trial, over the unusually high number of encounters with undocumented migrants at the southwest border and the unprecedented levels of synthetic opioids such as fentanyl being seized there. Republicans supporting impeachment suggested Mayorkas has repeatedly ignored his responsibilities under several statutes. 
Republicans have bashed President Biden's border policies since the very beginning of his term. The number of encounters at the border briefly ticked down earlier this year, but has since rapidly accelerated. Fentanyl seizures have grown five times since fiscal 2019 to 27,000 pounds in fiscal 2023. Large increases in illegal crossings at the border began during the Trump administration and continued to accelerate after Biden took office. DHS has noted encounters decreased by 20% in the first two weeks of October. 
"Alejandro Nicholas Mayorkas, in his inability to enforce the law, has engaged in a pattern of conduct that is incompatible with his duties as a civil officer of the United States," Greene wrote in her resolution. She added in a statement that "the time for more hearings and phases is over."
Mia Ehrenberg, a DHS spokeswoman, said after the vote that Congress should stop "wasting time" and instead fund the government, reform the immigration system and provide the department with the additional authorities and funding it has requested to ramp up its efforts at the border and in the opioid fight. 
"Secretary Mayorkas continues to be laser-focused on the safety and security of our nation," Ehrenberg said. "This baseless attack is completely without merit and a harmful distraction from our critical national security priorities."
Ultimately, Republicans were unable to keep their whole conference united in their efforts to embarrass the Biden administration. Even if the chamber had succeeded, there was little path for Republicans to find the two-thirds majority required for conviction in the Democratic-controlled Senate. Wiliam Belknap, secretary of war under President Grant, is the only cabinet secretary to be impeached after the House did so in 1876. He resigned before facing trial in the Senate.
A DHS spokesperson noted ahead of the vote that Mayorkas has been open and accessible to Congress—testifying eight times this year—and said lawmakers were creating a distraction from its own responsibilities.
"Policy differences are not grounds for impeachment," the spokesperson said. "Instead of leveling baseless attacks, members of Congress should do their job by coming to the table and finding real solutions to secure our border." 
Former House Speaker Kevin McCarthy, R-Calif., warned of a potential impeachment last year, when he gave Mayorkas an ultimatum to resign or face investigations that would lead to such a vote. 
"Those responsible for this disaster will be held accountable," McCarthy said, adding Mayorkas "cannot and must not remain in that position." He promised if Mayorkas did not resign, the new House majority would investigate every order and policy the secretary has issued and Republicans will then "determine whether we can begin impeachment inquiry." 
Greene instead circumvented those official channels by forcing a vote on her resolution. House Republicans are also in the midst of investigating the business dealings of President Biden's family, which they have suggested will lead to an impeachment vote. Mayorkas could still face impeachment if the committee takes up the resolution and sends it back to the floor, but will no longer receive the hastened consideration Greene had proposed.
Mayorkas, who has extensive federal experience in the Justice Department early in his career and in multiple roles at DHS during the Obama administration, has repeatedly highlighted the steps the Biden administration has taken to address the increased number of migrant arrivals between ports of entry, including by increasing legal pathways into the country, restricting asylum access and boosting enforcement efforts with personnel and technology.
He has also said a solution requires comprehensive legislative reform of immigration policy, but is currently pushing for emergency spending to dramatically increase staffing of Border Patrol and other components to handle the current migratory patterns. 
A DHS official noted to Government Executive the government is set to shut down absent congressional action by Friday, which would require about 72% of the department's workforce—including all Border Patrol agents—to work without pay. Several DHS programs, including the entire Countering Weapons of Mass Destruction Office, are about to see or already have seen their authorities expire due to congressional inaction.