Congress averts shutdown after Senate approves stopgap funding bill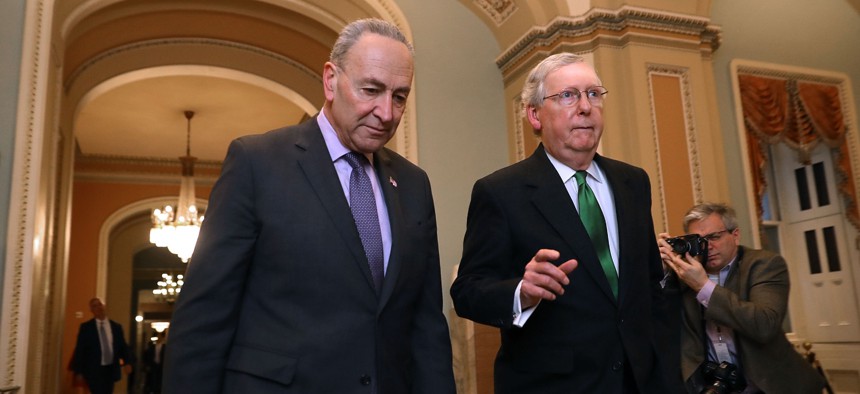 The Senate late Wednesday approved in an 87-11 vote a two-tiered stopgap spending measure, sending to President Biden's desk a bill that will keep some agencies funded into January and others into February. 
The spending package won broad bipartisan support after the House approved it on Tuesday. Senate leadership worked into the night to reach an agreement to quickly pass the bill, allowing senators to head home for the Thanksgiving break. 
The continuing resolution follows a plan House Speaker Mike Johnson, R-La., unveiled over the weekend, averting a funding lapse that would have otherwise taken place late Friday by dividing government funding into two buckets. The first bucket would fund the departments of Transportation, Housing and Urban Development, Energy, Veterans Affairs and Agriculture and would run through Jan. 19. The second measure would fund the rest of government through Feb. 2.
It does not include any spending cuts or policy provisions related to the border, as Johnson had also floated, which caused nearly half of House Republicans to vote against it earlier this week. Many Democrats and the White House initially opposed the two-tiered approach, but they ultimately praised Johnson's decision not to pursue cuts as part of the CR and Biden is expected to sign the measure into law. 
Johnson pitched the proposal as necessary to "fight for conservative victories" and avoid a year-end package that lumps all spending bills into one omnibus. Many lawmakers had expressed concerns the bill would create two separate shutdown deadlines going forward, but Democrats in both chambers nearly universally backed the measure as it represented a "clean" CR to avoid a shutdown.
The Senate rejected an amendment to the CR from Sen. Rand Paul, R-Ky., that would have cut discretionary spending by 1%.  
"I am heartened, cautiously so, that Speaker Johnson is moving forward with a CR that omits precisely the sort of hard-right cuts that would have been non-starters for Democrats," Senate Majority Leader Chuck Schumer said on the floor earlier this week. He added the measure is not his preferred approach, but it would avert a shutdown without spending cuts or "poison pill" riders.
Congress will now face two separate deadlines to pass full-year fiscal 2024 appropriations bills. Johnson said he would not put another short-term bill up for a vote. 
The House has passed seven of the 12 annual appropriations bills that Congress must approve each year. It is considering bills at far lower funding levels than those agreed to in the debt limit deal it struck with President Biden earlier this year and is passing them along party-line votes. The Senate has passed three of the fiscal 2024 bills, lumped into one package, but did so with broad, bipartisan support and in alignment with the Fiscal Responsibility Act's spending caps.
While Johnson agreed to keep funding levels stable into 2024, he made clear on Tuesday he will push for significant cuts and policy changes as lawmakers pivot to negotiations over full-year appropriations. He added an omnibus near the holidays was a "terrible way to run a railroad" and his tiered plan marked a "new innovation" that would alter the dynamic.
"We're not surrendering," the speaker said. "We are fighting. But you have to be wise about choosing the fights."