VA attributes record-breaking year to massive increases in hiring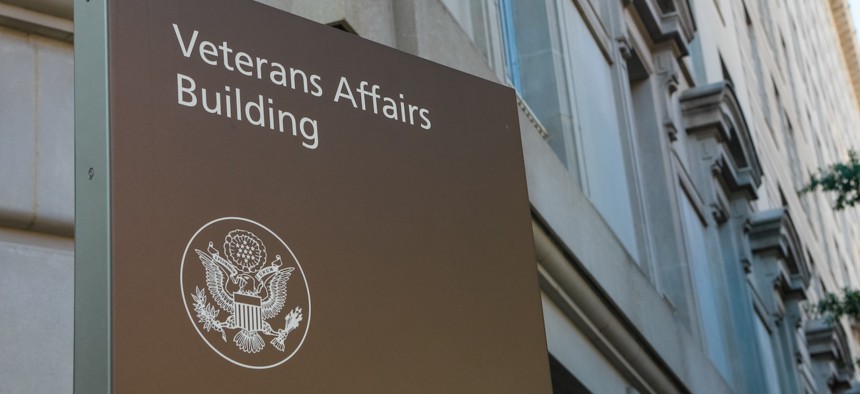 The department will now focus on retaining those employees through various incentives and process improvements, officials say.
The Biden administration is pointing to hiring surges throughout the Veterans Affairs Department for enabling a record-shattering year in delivery of health care and benefits. 
VA saw veterans in 116 million appointments in fiscal 2023, up from 113 million the previous year. The department doled out $163 billion in benefits to more than 1.5 million veterans, both new records. It received 2.4 million benefit claims and processed nearly 2 million of them, both smashing records by 39% and 16%, respectively. 
Officials said they were able to accomplish those goals in large part due to their successes in bringing on more staff. The Veterans Health Administration hired 61,000 new employees in fiscal 2023, said Shereef Elnahal, VA's undersecretary for health, outpacing its goal by 17% and giving it a workforce of more than 400,000 for the first time. It grew its workforce by more than 7%, its fastest rate in 15 years. The Veterans Benefits Administration increased its rolls by more than 20%, said Joshua Jacobs, VA's undersecretary for benefits, to more than 32,000 employees. 
"That is in large part why we've seen our ability to increase total production increase to historic levels year over year," Jacobs said. 
Elnahal added VHA was only just beginning to realize its potential with its new, expanded workforce, noting many employees came on late in the fiscal year or are still getting acclimated.
"I think there's a lot of room for us to grow our volume even more with the employees we already have on board," Elnahal said. 
Jacobs also suggested VBA's productivity will continue to improve, saying his agency has processed 20% more claims so far in fiscal 2024 than it did at the same point last year. He noted the agency has improved its processes and technology to boost its efficiency. 
VA's numbers were boosted by the Honoring our Promise to Address Comprehensive Toxics (PACT) Act, which newly presumed, for the purposes of eligibility for care and benefits from the VA, that 23 respiratory illnesses contracted by veterans are related to burn pits used in the military. The department conducted 4.6 million toxic exposure screenings and has completed more than 500,000 PACT Act benefit claims. The law also helped VA meet its hiring goals, as Congress included in it an array of recruitment and retention incentives that now appear to be paying dividends. VA has rewarded high performers more generously after the PACT Act removed caps on bonuses and allowed for special contribution awards worth $25,000. The department has given raises to 10,000 nurses under the law's authority and is ramping up the use of critical skill incentives, special pay rates and pay waivers.
VA has seen 6.5% growth in mental health appointments and a 4.6% increase in specialist appointments. It has boosted transplants by 25%. The Veterans Crisis Line received more 1 million calls, texts and chats for the first time, passing the previous record by 15%. 
Both Elnahal and Jacobs said they are still finalizing their plans for fiscal 2024 hiring, though they anticipate a deceleration from the record pace they saw this past year. They are focusing their efforts on certain areas of their workforces that are still understaffed and putting more attention on retention efforts for existing employees. Both VHA and VBA are making investments in AI and other technologies to limit some of the "rote" work that frequently causes employee burnout. 
"We know that it's extremely important for us to continue hiring, especially to keep up with attrition, and especially to keep up with veteran demand," Elnahal said. "But the total number of hires will be less of a focus this year." 
He pointed to ambulatory support staff and mental providers as areas that will be of particular focus. Elnahal also said VHA will undertake initiatives to lower how long it takes to hire an employee by one month. 
Last month, VA Secretary Denis McDonough said, without disclosing details, his department was soon going to roll out new retention incentives that were "super awesome." 
"We want to keep investing in you," McDonough said, addressing his comments to VA clinicians. "We recognize...the context within which you operate, the pressure of how you operate. The fact that you have done it now for three years under extreme risk of yourselves and your families." 
Jacobs also alluded to more initiatives VA would unveil for VBA staff. 
"As we're focused on hiring, we're also focused on supporting the employees that are in our workforce through retention efforts to bring in new tools, and through addressing issues associated with burnout."