Semiconductor industry group warns against new limits on chip exports to China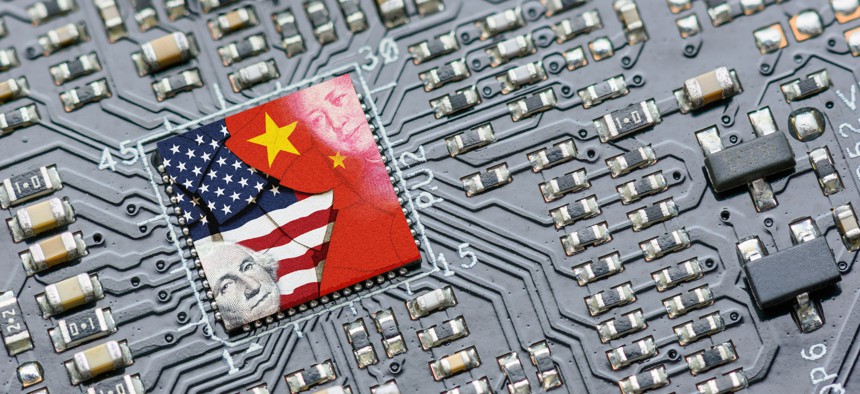 A spokesperson for the National Security Council told Nextgov/FCW that the Biden administration's export controls "have been carefully tailored to focus on technology with national security implications."
A trade group representing the U.S. semiconductor industry warned the Biden administration on Monday about the disruptive impact that additional restrictions on chip exports to China could have on the sector, even as the White House maintained that the government's focus is only on curbing Beijing's access to technology that could undermine national security. 
In a statement, the Semiconductor Industry Association — or SIA — called on the federal government "to refrain from further restrictions until it engages more extensively with industry and experts to assess the impact of current and potential restrictions to determine whether they are narrow and clearly defined, consistently applied and fully coordinated with allies."
SIA said allowing U.S. semiconductor firms "to have continued access to the China market, the world's largest commercial market for commodity semiconductors, is important to avoid undermining the positive impact" of last year's CHIPS and Science Act, which provided billions of dollars in funding to boost domestic production and manufacturing of semiconductors. 
"Repeated steps, however, to impose overly broad, ambiguous and at times unilateral restrictions risk diminishing the U.S. semiconductor industry's competitiveness, disrupting supply chains, causing significant market uncertainty and prompting continued escalatory retaliation by China," the association added. 
The White House is reportedly considering imposing additional restrictions on Beijing's access to semiconductors since it implemented a series of export controls last October. Those controls were designed to "restrict the [People's Republic of China's] ability to obtain advanced computing chips, develop and maintain supercomputers and manufacture advanced semiconductors."
The Wall Street Journal reported last month that the White House's new restrictions, if implemented, would focus on exports of artificial intelligence chips to China.
SIA's statement comes the same day that executives from several leading U.S. semiconductor firms — including Intel, Nvidia and Qualcomm — are reportedly meeting with government officials to discuss the Biden administration's policy toward China. All three companies are members of the association. 
A spokesperson for the National Security Council told Nextgov/FCW that the administration's export controls "have been carefully tailored to focus on technology with national security implications, and designed to ensure that U.S. and allied technologies are not used to undermine our national security." 
"We have been deliberate about getting this right, including through extensive public comment on regulations, and through intensive coordination with allies and partners, the Hill, industry and other stakeholders," the spokesperson added. 
Even as the administration considers further limits on chip exports to China — and continues to engage with industry over additional export controls — officials are touting agreements with international allies to bolster global semiconductor production. 
The State Department announced on Friday that it is partnering with Costa Rica to explore semiconductor development opportunities through funding provided by the CHIPS and Science Act.
State said in a press release that the new partnership will "explore opportunities to diversify and grow the global semiconductor ecosystem and create a more resilient, secure and sustainable global semiconductor value chain."