Trump Relaxes Patient Data Rules to Allow Doctors to Use Personal Phones for Telehealth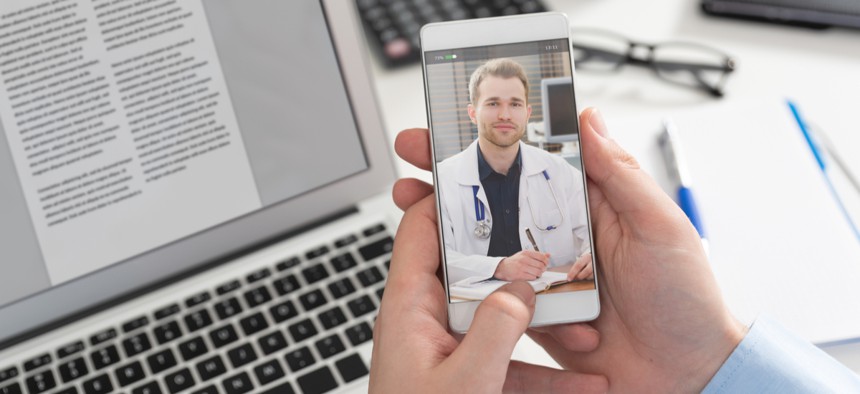 The administration broadened telehealth coverage to all Medicare beneficiaries and eased HIPAA regulations for the duration of the pandemic emergency.
As the nation hunkers down for at least two weeks of social distancing to stem the spread of the coronavirus, the White House announced additional coverage for telehealth services under Medicare and a relaxing of regulations governing how doctors manage and share health information.
"We are doing a dramatic expansion of what's known as telehealth for our 62 million Medicare beneficiaries, who are amongst the most vulnerable to the coronavirus," Seema Verma, administrator of the Centers for Medicare and Medicaid Services, said during a White House press conference Tuesday.
Prior to this action, Medicare benefits covering full, live audio and video telehealth options were only available to people in rural areas without a nearby medical facility and to patients who have established relationships with a billing practice.
"But no longer," Verma said Tuesday. "Medicare beneficiaries across the nation—no matter where they live—will now be able to receive a wide-range of services via telehealth without ever having to leave home. These services can also be provided in a variety of settings, including nursing homes, hospital outpatient departments, and more."
As medical professionals push increased telehealth options, the administration moved to waive some sanctions and penalties under the Health Insurance Portability and Accountability Act, which restricts where and how a patient's health information can be shared.
These restrictions come into play as doctors use their smartphones to communicate with patients, according to Verma.
"Thanks to the leadership of HHS, we'll also be temporarily relaxing certain HIPAA requirements so that doctors can provide telehealth with their own phones," she said. "And we'll be using enforcement discretion when it comes to collecting copays so that costs won't be a barrier."
As doctors make use of these options, the Office for Civil Rights said it "will not impose penalties for noncompliance with the regulatory requirements under the HIPAA Rules against covered health care providers in connection with the good faith provision of telehealth during the COVID-19 nationwide public health emergency," according to a notice published Tuesday and effective immediately.
That said, "covered entities must continue to implement reasonable safeguards to protect patient information against intentional or unintentional impermissible uses and disclosures," according to a bulletin announcing the limited waiver published by the Health and Human Services Department. "Further, covered entities (and their business associates) must apply the administrative, physical, and technical safeguards of the HIPAA Security Rule to electronic protected health information."
For example, the OCR notice suggests medical professionals can use "video chat application connecting to the provider's or patient's phone or desktop computer," though should avoid "applications that are public facing," such as "Facebook Live, Twitch [and] TikTok."
The notice offers private chat apps such as Apple FaceTime, Facebook Messenger, Google Hangouts and Skype as good options.
While these moves will help those infected with—and otherwise affected by—coronavirus, it will also help flatten the infection curve, especially for those most vulnerable to the disease.
"As we are encouraging Americans to stay home whenever possible, we don't want our Medicare policies getting in the way," Verma said. "Consider the implications of this: Perhaps an elderly patient with diabetes needs a routine check-up, and this has nothing to do with the coronavirus. With our new telehealth benefits, this person who is at risk for the coronavirus doesn't have to venture outside their home. They can talk to their doctor via Skype and they don't have to risk exposure to the virus and they can receive that care from the safety of their own home."