Lawmakers Want to Protect Security Clearances from Politics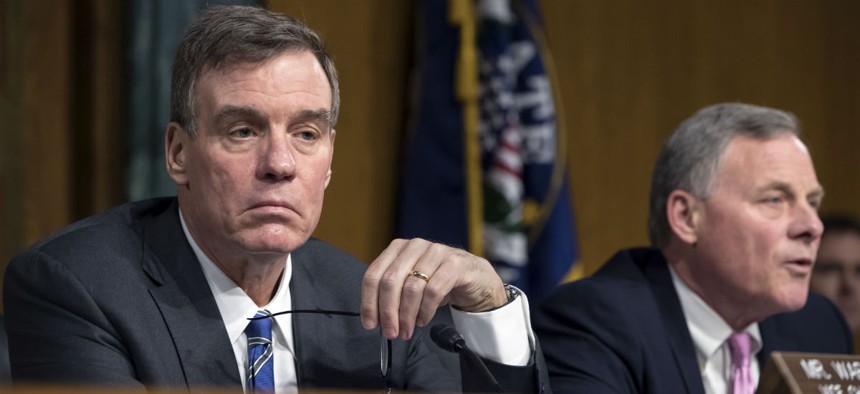 A bill introduced in the Senate would prevent federal leaders from revoking clearances as "retaliation for political activities."
A bipartisan pair of lawmakers want to stop government leaders from manipulating the security clearance process for political purposes.
Sens. Mark Warner, D-Va., and Susan Collins, R-Maine, on Thursday proposed legislation that would require executive branch officials to stick to a common set of criteria when deciding whether to approve or revoke security clearances. By codifying those steps, the Integrity in Security Clearance Determinations Act aims to make the system "more fair and transparent," Collins said in a statement.
The bill would forbid government leaders from making decisions based on the person's exercise of constitutional rights like free speech or other factors like race, gender and nationality. Leaders would also be barred from revoking or approving clearances as an act of "retaliation for political activities or beliefs."
Under the legislation, government employees would have the right to appeal security clearance decisions, and agencies would need to make the results of any appeals public.
The bill comes as a thinly veiled rebuke of the Trump administration's handling of security clearances.
The New York Times last month reported the president personally intervened to grant his son-in-law and adviser Jared Kushner a top-secret clearance against the recommendations of the intelligence community. In August, Trump also revoked the clearance of former CIA Director John Brennan, who's been an outspoken critic of the current administration.
"Americans should be able to have confidence that the security clearance process is being used only to protect our nation's greatest secrets," Warner said in a statement. "Our bipartisan bill will make clear that security clearances are not to be used as a tool to punish political opponents or reward family members, but to ensure personnel are thoroughly vetted to the highest standards."
Politics aside, policymakers have long harped on the need to reform the security clearance process, which in some cases can take nearly a year to complete. Today agencies are crushed under a backlog of some 551,000 pending background checks, roughly double what security professionals consider to be a baseline "steady state" of 220,000 to 250,000 investigations in process at any given time.
Over the next 18 months, the government is set to drastically reshape the clearance process to allow for faster decisions.