Pay Changes and Other Things You Missed Over the Holidays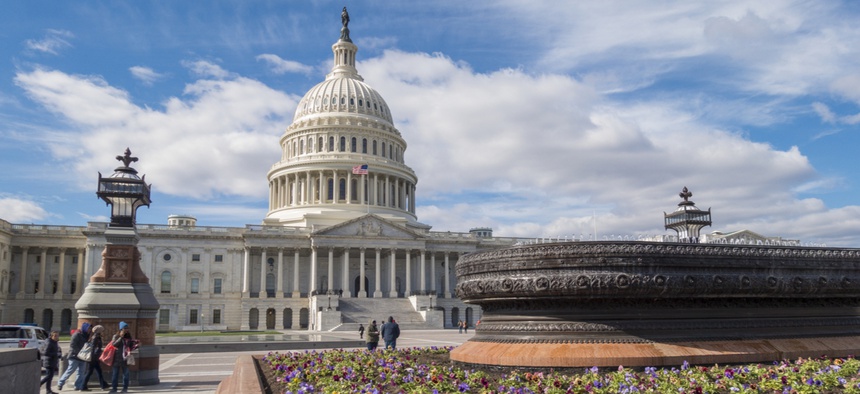 Congrats if you successfully unplugged during the holidays. Now that you're back to the grind, here are some the things the administration and Congress did while most people were out of the office.
First, Your Paycheck
President Donald Trump on Dec. 22 authorized a 1.4 percent across-the-board pay increase for civilian federal employees and 0.5 percent increase for localities. The same day, the Office of Personnel Management also released the President's Pay Agent report implementing locality pay adjustments for 2018, adding Birmingham, Alabama, and San Antonio, Texas, to the regions where civilian employees get a pay increase. The report also calls for "fundamental reforms" to federal compensation, including a shift to performance-based pay.
Executive schedule employees, such as top-level political appointees, and the Senior Executive Service will also see boosts. Click here to see OPM's pay calculator.
In the Shadow of Tax Reform and Shutdown Negotiations
Two tech-focused bills, both passed on Dec. 21, are waiting for the president's signature. The Connected Government Act aims to address a gap in internet access by requiring federal agencies make sure their new and redesigned websites are easily accessed from mobile devices.
The International Narcotics Trafficking Emergency Response by Detecting Incoming Contraband with Technology Act—INTERDICT, for short—allows Customs and Border Protection to spend $9 million on portable chemical screening devices to detect fentanyl and other synthetic opioids at ports of entry and mail facilities.
Senators Map Out Anti-Election Meddling Plan
Congress isn't letting go of Russian tampering in the presidential election. Sen. James Lankford, R-Okla., and co-sponsors Sens. Amy Klobuchar, D-Minn., Kamala Harris, D-Calif., Susan Collins, R-Maine, Martin Heinrich, D-N.M., and Lindsey Graham, R-S.C., introduced the Secure Elections Act, which aims to acknowledge states' authority over federal elections while aiming to prevent foreign interference.
"An attack on our election systems by a foreign power is a hostile act and should be met with appropriate retaliatory actions, including immediate and severe sanctions," the bill said, though it doesn't dive into what those actions should be. Instead, the bill would create strict deadlines for sharing cyber incident information, establish an advisory panel to create voluntary election system guidelines, and set up grants so states can update old systems. It also calls for an election system bug bounty program similar to versions run by the Defense Department.
About the STEM Shortage
The House wants more women and underrepresented groups to pursue careers in science, technology, engineering and math. On Dec. 18, lawmakers passed the STEM Research and Education Effectiveness and Transparency Act, which would require the National Science Foundation to loop in Congress on its efforts to recruit women and other groups to federal research and education programs.
The Lorax Speaks for the Trees
Only Congressional members who specifically request or subscribe to the printed version of the Federal Register will receive it, according to the Senate-passed Federal Register Printing Savings Act. The Congressional Budget Office estimated the bill would eliminate about 1,000 free copies of the 300-page document daily for an annual spending reduction of $1 million.  
Help Wanted
NASA opened up public nominations for the National Space Council Users' Advisory Group, a panel of industry experts who will weigh in on laws, regulations and what the country's space priorities should be. The deadline is Jan. 10.
More Watchdogs in the Yard
The Senate confirmed Robert Storch to serve as the National Security Agency's inspector general, a position that has been vacant for more than a year. He replaces George Ellard, who was removed for reprisal against a whistleblower.
The Treasury Inspector General for Tax Administration also announced that James Jackson will serve as acting IG starting Jan. 1 and has a background in cyber crime. He replaces Timothy Camus, who retired Dec. 30.
DISA Leadership Changes
The Defense Information Systems Agency will lose a long-time IT executive to retirement after the new year. Alfred Rivera, head of the business development center, retires Jan. 4. Rivera, a member of the Senior Executive Service, lead enterprise efforts such as the Defense Department Enterprise Email, the DOD Enterprise Portal Service and DISA's data center consolidation efforts, which cut agency-managed centers from 59 to 11, according to a DISA announcement.
DISA's top leader will also change in the coming year, as Lt. Gen. Alan Lynn's term comes to a close. Defense Secretary James Mattis nominated Rear Adm. Nancy Norton to replace Lynn as both DISA director and commander of Joint Forces Headquarters-Department of Defense Information Network. 
Twitter Got a Little More Fleeting
The Library of Congress will change which Twitter posts it will archive in 2018. Instead of attempting to catch all tweets, the Library will shift to saving those that capture "significant moments."