Critical Update: Reinventing the National Geospatial-Intelligence Agency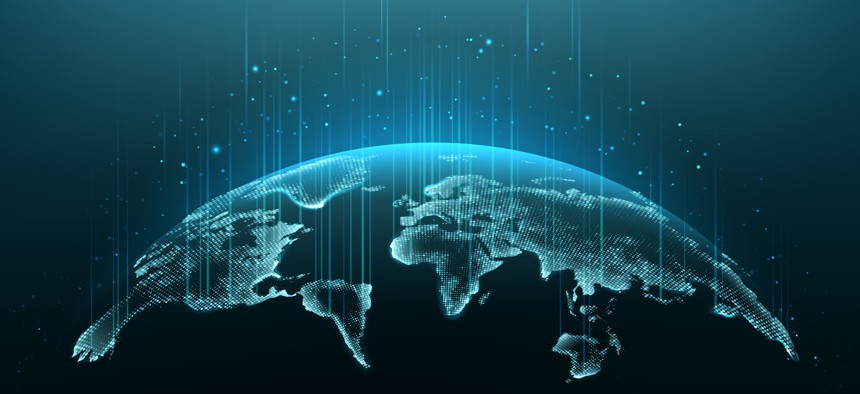 Technology is important but keeping and developing talent will be crucial, NGA Director Vice Adm. Robert Sharp says.
Just as earthly landscapes and communities of interest to the United States continually change, the National Geospatial-Intelligence Agency is reimagining how it responds to increased threats from adversaries and the COVID-19 pandemic, according to the agency's director, Vice Adm. Robert Sharp.
Some of the changes are stark.
For example, the normally secretive agency—which functions as the eyes of the intelligence community and Defense Department—has transitioned into a "redistributed force." Prior to the COVID-19 pandemic, Sharp said NGA supported only a few hundred remote users, with 50% of its daily workforce reporting in-person to its Virginia headquarters. As of July, Sharp said NGA is supporting up to 8,000 remote users across the country. The sudden shift to telework augments the agency's existing plans of "changing the way we do business" and is expanding its footprint in the unclassified realm.
The agency also recently released a new 2025 strategy that prioritizes "people first, mission always," Sharp said. The strategy highlights the agency's technology focus areas and emphasizes the importance of partnerships with industry, allied partners and academia. NGA's mission also expands out past earthly bounds by providing direct support to U.S. Space Command and the nascent U.S. Space Force.
"As we look at space and describe what's going on in space right now, one of the discussions we have is, it's becoming far more congested and far more contested," Sharp said. "So like with anything, there's challenges associated with that and then there's opportunities associated with that. And we rely on capabilities in space to do our job in cooperation with other agencies."
You can also download and subscribe to Critical Update in the Apple Podcasts or Google Play.