VA Launches Digital COVID-19 Screening App for Patients and Employees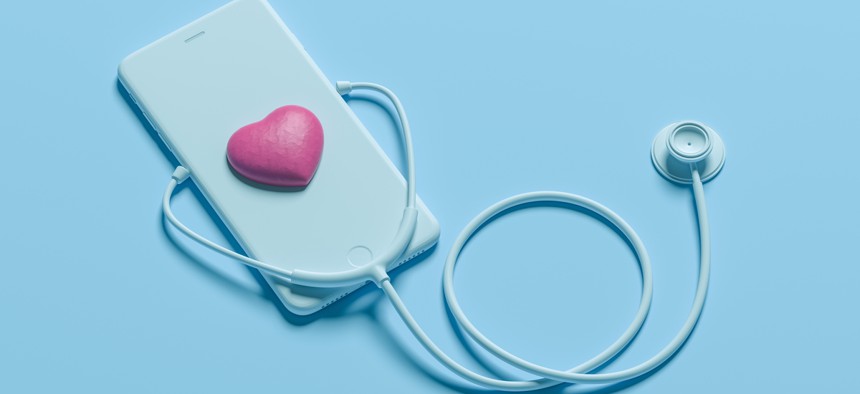 The answers can help staff direct individuals to the appropriate parts of the facility or if needed, additional screening.
Whether you're going to a VA medical center for coronavirus or any other treatment or health concern, the agency wants you to check-in online first with its new digital COVID-19 screening tool.
Medical centers run by the Veterans Affairs Department are dealing with surges of COVID-19 patients across the country, but that doesn't mean other medical issues—major and minor—are taking a backseat during the pandemic.
Since the early days of the U.S. response to the pandemic, VA has had a role in helping with the surge of patients overwhelming the nation's health care system. In addition to the agency's central charge of caring for veterans, VA also serves as the nation's backup health care system, and began opening its facilities to non-veterans in March.
Also in March, the agency released its COVID response plan, which called for creating zones in VA medical facilities to separate coronavirus patients from others. The plan also included testing at all facilities, which led to some bottlenecks at hospital entrances.
In order to speed up access to VA medical facilities, on Monday, the agency launched a new digital COVID-19 screening tool.
The app—accessible online, by texting "SCREEN" to 53079 or by scanning a QR code—asks six questions to gauge an individual's exposure to and likelihood of having contracted COVID-19. Upon arrival at a VA facility, staff will meet people at the entrance, take a look at the results of the survey and either allow them to enter or direct them to a separate area for additional screening.
The questions focus on the individual's current health: Have you had a cough or shortness of breath? In the past three days, have you had a fever, sore throat, muscle pain, vomiting or diarrhea or a change in smell or taste? Do you currently have a sore throat, runny nose, or nasal congestion? The survey also asks about contact with anyone diagnosed with COVID-19 within the last 14 days.
If you answer "no" to all six questions, the app produces a blue screen that says you are cleared to enter the VA facility that day. If not, a light blue screen appears letting you know more screening will be required.
The tool is not just for patients and caregivers. VA employees are being tested regularly, as well, and are being encouraged to use the tool before coming to work.
"To protect patients and staff, VA screens everyone for coronavirus symptoms and exposure each time they enter a health facility," the agency said Monday in a release announcing the new tool.
VA Secretary Robert Wilkie noted the app went from "initial concept to national availability in less than two weeks."
"In addition to providing a broad range of innovations and improvements that significantly benefit the veterans we serve, our culture of innovation allows us to respond quickly to urgent and evolving needs," he added.
VA officials expect the app will be used more than 10,000 times per day during the crisis.