GSA Selects Three Companies for E-Marketplace Pilot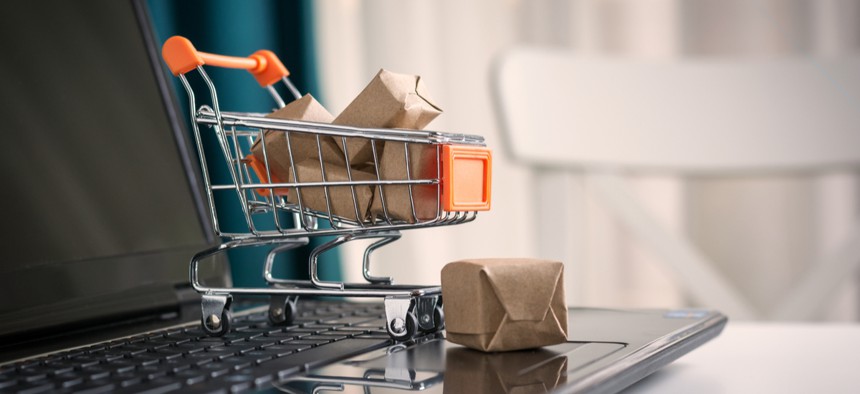 Amazon Business, Fisher Scientific and Overstock.com will test out the new approach.
The General Services Administration selected three e-commerce companies—Amazon Business, Fisher Scientific and Overstock.com—to experiment with online portals for lower-cost federal purchases through its Commercial Platforms program, the agency announced Friday.
The digital purchasing providers will participate in a proof-of-concept with the agency for up to three years, through which GSA hopes to help modernize government procurement by offering federal officials the capability to more easily buy products priced under the $10,000 micropurchase threshold via an agency-approved, streamlined e-marketplace. Increased spending insights and a new view into open-market online spending, outside of in-place contracts, are also being sought in the process.
The platforms will likely be available for use in the next 30 days, according to the agency, and the pilot will "start small" but be perfected through recurring testing along the way. There will also be continued opportunities for stakeholder feedback as it evolves.
"The e-commerce portals proof-of-concept is an important step in offering a solution for purchasing commercial products online that protects our federal supply chain against malicious and counterfeit goods, furthering our national security," GSA Administrator Emily Murphy said in a statement.
The move directly supports one of four cornerstone projects within the agency's Federal Marketplace Strategy, and its original impetus traces back to the 2018 National Defense Authorization Act. Section 846 directs GSA to produce a procurement program through which agency officials can purchase low-cost products through commercial e-commerce portals. Though Congress initially called for a $250,000 acquisition threshold, the agency lowered it to the $10,000 maximum after garnering insights from industry and others.
But GSA's years-long path to this point did not come without some controversy. An original version of the legislation also would have allowed for the work to be done by a single e-commerce provider, motivating some critics to refer to the "Amazon amendment," insinuating that it was written in a way that favored the Seattle-based tech company. Congress later passed a version that would instead enable a phased rollout with multiple contracts and providers. The agency also went on to hold several rounds of listening and feedback-focused sessions to directly confront concerns around how to best proceed. 
GSA released the original solicitation for the effort in October 2019. The agency extended the deadline for bids in November, and in December, Amazon submitted a pre-award protest flagging terms within the solicitation. In January, GSA re-issued the solicitation with multiple, significant changes, including that vendors must provide an effective solution, rather than one developed alongside the agency. The COVID-19 pandemic also delayed the agency's award.
"The feedback GSA has already received from a wide variety of stakeholders has been critical to achieving this important milestone in the Section 846 implementation," GSA Federal Acquisition Service Commissioner Julie Dunne said. "I'm excited for the path ahead—especially the spend data."
In a statement provided to Nextgov Friday, Amazon Business Public Sector Director Anne Rung praised the agency for moving forward with the program. 
"As one of the industry participants awarded a contract, we look forward to providing an efficient, cost-effective option for federal purchasing that brings savings to taxpayers while also supporting independent small and diverse businesses selling in our stores," Rung said.