Agriculture Funds More than $1 Billion in Projects to Boost Rural Infrastructure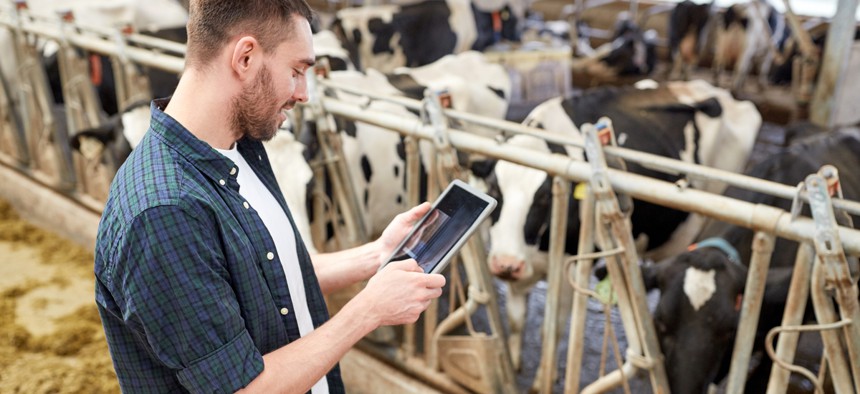 The broadband and electric investments aim to benefit more than 1.5 million businesses and residents.
The Agriculture Department infused rural communities this week with more than a billion dollars in funding to boost broadband and electric infrastructures. 
The agency announced it's invested more than $31 million across three states to create and improve rural e-connectivity and $1.4 billion for projects to build and upgrade rural electric infrastructure in 21 states. 
"Technology and innovation are key in meeting the growing demand in agriculture," Under Secretary for Farm Production and Conservation Bill Northey said in a statement regarding one of the funding announcements. "We are committed to being a strong partner to rural communities in deploying this critical infrastructure."
In 2017, President Trump launched an Interagency Task Force on Agriculture and Rural Prosperity to promote ag-focused success and security in rural communities. In January 2018, the task force recommended increasing investments in rural communities.
In March of last year, Congress provided Agriculture with $600 million to improve broadband services for underserved communities and in December the agency unveiled the ReConnect Loan and Grant Program to provide funds to accelerate and enhance internet service in the rural areas that need it the most.  
"USDA received 146 applications between May 31, 2019, and July 12, 2019, requesting $1.4 billion in funding across all three ReConnect Program funding products: 100 percent loan, 100 percent grant, and loan-grant combinations," the agency announced this week. 
While officials are reviewing and awarding applications for the investments on a rolling basis and more are still to come, the agency awarded millions to North Carolina, Oklahoma and Virginia to boost their rural broadband and connectivity. The money will enable the rollout of up-to-date broadband infrastructure in areas with insufficient internet service. 
Through the agency's $23.7 million award to North Carolina, nearly 8,750 households, 19 businesses and 10 educational facilities will gain access to high-speed broadband infrastructure. The agency awarded $4.2 million to Oklahoma and $3.8 million to Virginia to support similar deployments. 
"Our core mission at USDA is to increase rural prosperity, and this mission cannot be achieved without addressing the digital divide our rural communities face due to a lack of high-speed broadband internet connection," Deputy Under Secretary for Rural Development DJ LaVoy said.
The agency also announced it's investing nearly $1.4 billion in 21 states to implement modern and reliable electric infrastructure through the department's Electric Loan Program. The funding will support the rollout and improvement of nearly 7,000 miles of line and also includes $255.8 million for "investments in smart grid infrastructure that uses digital communications technology to detect and react to local changes in electricity usage."
The agency plans to make more announcements regarding additional funding awards through both programs in the coming weeks.