Veterans Affairs Launches Digital National Cemetery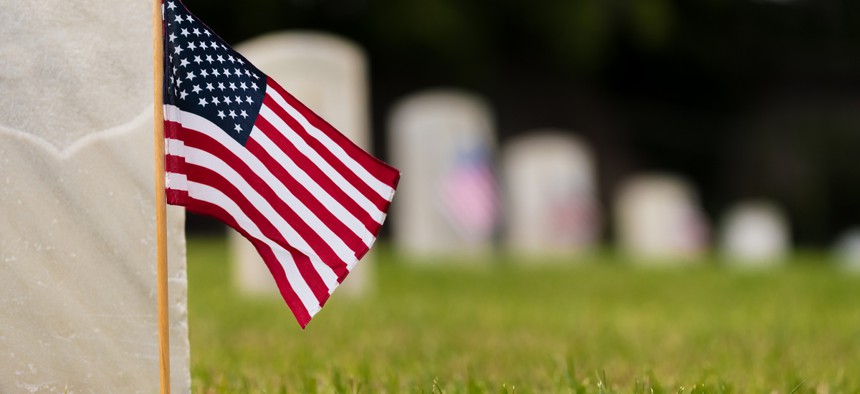 The new interactive website streamlines information about 3.7 million veterans interred across NCA's 136 national cemeteries.
The Veterans Affairs Department's National Cemetery Administration developed and launched an online memorial platform—Veterans Legacy Memorial—to honor millions of veterans interred in national cemeteries across America. Deemed a "digital national cemetery," the new resource leverages technology and prioritizes security to boost community engagement and preserve the memories of those who served.
"It is first and foremost a memorialization tool to enhance and extend the national cemetery experience beyond the physical boundaries of the national cemetery and create something so that veterans, family members, friends, students, history buffs—whoever—can then connect with that veteran tradition, keep community and share memories whenever the moment strikes them," Veterans Legacy Program Manager Bryce Carpenter told Nextgov Monday. 
To Carpenter, an Army veteran who also has experience working in academia, the development of the tool was "personally and professionally powerful." As an academic leading students in various research, Carpenter frequently searched for better resources to inspire the sorts of questions he encouraged them to ask, often to no avail. 
In 2017, Carpenter was working for VA's legacy program at Florida National Cemetery where he was engaging with students and professors from the University of Central Florida. He had a panoramic view of many of the agency's stakeholders—students, professors, teachers, veterans, family members, civil war actors and others—and was inspired to create one digital product that could serve all of NCA's customers, and ultimately, its mission. 
"Our agency has a statutory mission to memorialize all veterans in perpetuity," he said. "So through VLM, we can use this as a way to make sure that people can access the stories of all 3.7 million veterans in our national cemeteries, which go back through the Civil War, and even to the Revolution, to make sure that the story of every single veteran is not forgotten."
The public can use the interactive site to search for any veterans who are buried in the 136 cemeteries that NCA manages. Every veteran interred has their own memorial page on the site. Individuals can access it for information about grave whereabouts, as well as basic details about the veterans' lives and service. Carpenter said the agency's goal is for people to use it to find new information about veterans they know about as well as study veterans that they don't know. He also hopes it will motivate teachers to engage their students and incorporate veteran history into their lesson plans in new and exciting ways. 
"So many different perspectives in American history can be accessed through the veteran experience," he said. 
For insights on how to build a site that customers would use, Carpenter and the development team met with veterans across many generations and a variety of other stakeholders for feedback and inspiration during the development process. They engaged directly with the Defense Department's survivors forum, educators in academia and organizations like the Tragedy Assistance Program For Survivors to learn what they'd want most from an online memorial site. He expects to incorporate those interactions and further feedback going forward.
"Just through that process alone we know that with more feedback we are going to get better information with which we can further refine the product so that we can serve our public with greater intentionality," he said.
The site will see a variety of future enhancements, as well. Carpenter said it eventually likely will offer users the ability to interact with others over comments, upload photos and access historical documents via VLM. He also emphasized how security and privacy were a major priority throughout the site's creation. 
"The security and privacy standards right now are the highest for any public-facing government website," he said. "What we want to provide under the security and the neutrality of the VA brand is 100% assurance that our veterans and all of our customers know that their data is safe, it's being used for nothing other than memorialization and there's actually no way to access any personally identifiable information." 
Ultimately, Carpenter said he hopes the platform helps unite diverse groups of veterans and allows them to connect and share memories about "battle buddies" they may have lost. He also hopes to inspire people across the country to learn more about America's history through streamlined information about those who fought on the frontlines. 
"One of the things we often talk about in the Veterans Legacy Program is that we are striving to make sure that all veterans are honored for their service—not just high ranking officers or war heroes that have been decorated with medals of honor and things like that—but everybody who played a part and everybody who wore a uniform," he said. "And so hopefully this is a way for people to really access some of those stories of service."