'I'm Just Baffled': Internal Emails Show Career VA Employees Frustrated by Influence of Mar-a-Lago Outsiders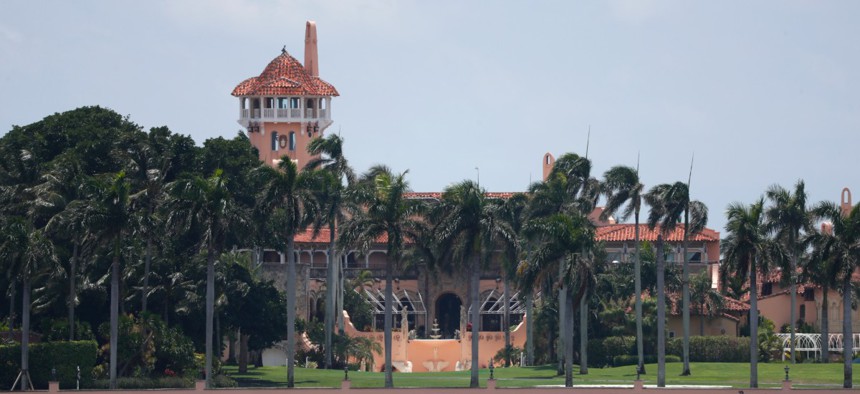 Employees question knowledge of the "Mar-a-Lago" crowd, but note importance of appeasing Trump's friends.
Newly released internal emails show career employees at the Veterans Affairs Department were exasperated and concerned about taking orders from members of a resort owned by President Trump. The resort members previously came under fire for covertly influencing policy at the agency despite not serving in any official capacity. 
Employees at the department repeatedly noted that the non-government individuals maintained personal relationships with President Trump and therefore should be heard out, according to the emails obtained by Citizens for Responsibility and Ethics in Washington via a Freedom of Information Act request. After hearing from the three men, all of whom are members of the Trump-owned Florida resort Mar-a-Lago, employees complained to each other the private citizens were ill-informed and standing in the way of their normal duties. 
"This is from the Dr. from W. Palm that is connected to Trump and he reached out with some follow-up items," said one employee whose name was redacted. "I believe he is outdated in his understanding of system [sic] but we need to be responsive here." 
In another exchange from November 2017, John Windom, VA's executive director of the Electronic Health Records Modernization office, said an upcoming meeting was a "grin and bear it session." Scott Blackburn, then VA's acting chief information officer, noted the meeting was with a "POTUS friend/doctor" and the department would "need to handle sensitively and with facts." Asked to respond to questions from one of the outsiders, Ashwini Zenooz, a staffer in the electronic records office, did not hold back his frustration 
"I'd be happy to respond to this but these questions are just ridiculous," Zenooz said. "They don't make sense and there is a basic lack of understanding of interoperability, the solutions, radiology, etc. I'm just baffled." 
The various requests and meetings concerned Ike Perlmutter, CEO of Marvel Entertainment; Bruce Moskowitz, an internal medicine specialist; and Marc Sherman, an attorney. They were collectively known inside of VA as the "Mar-a-Lago crowd." Politico and ProPublica first reported the details of their involvement with VA last year. 
Employees suggested their hands were tied in dealing with those individuals, as directives were coming down from the top. 
"Not my call," said Windom, in a June 2018 email. There [sic] involvement was fostered by the former secretary [David Shulkin] not us." 
An email from Shulkin in March 2018 asked Blackburn to "begin to address" Moskowitz's questions about electronic records and Shulkin would then respond. Liberal groups American Oversight and Democracy Forward filed a lawsuit this week against VA and the National Archives and Records Administration alleging Shulkin improperly used private email to communicate with the Mar-a-Lago members. 
Blackburn followed up to Shulkin's directive by saying Sherman "doesn't understand the context of government nor does he understand the contract," referring to an agreement with Cerner to make VA and Defense Department health records interoperable. Windom also said Sherman "does not understand the culture of VA or the federal government."  
Those comments followed an email from Moskowitz in which he asked that he and Sherman "be on every call the group is on to discuss the contract." A follow up email showed Blackburn scheduling a call at 7:30 p.m. to accommodate Moskowitz while he was between flights. During the scheduling process for that call, Windom told an employee whose name was redacted he would adjust his schedule and that he did not know how his colleague "remain[ed] sane." The employee responded the call was "going to be interesting." 
Blackburn resigned from VA the following month. 
Emails from Matthew Truez, a VA contracting officer, showed concerns with ensuring the Mar-a-Lago group signed non-disclosure agreements as the department was "pulling them behind the veil to some extent." 
VA did not respond to a request for comment on the emails. Lawmakers and the Government Accountability Office are currently investigating the outsiders's influence at the department.