What Agencies Get From Taking Leadership Roles In New Shared Services Regime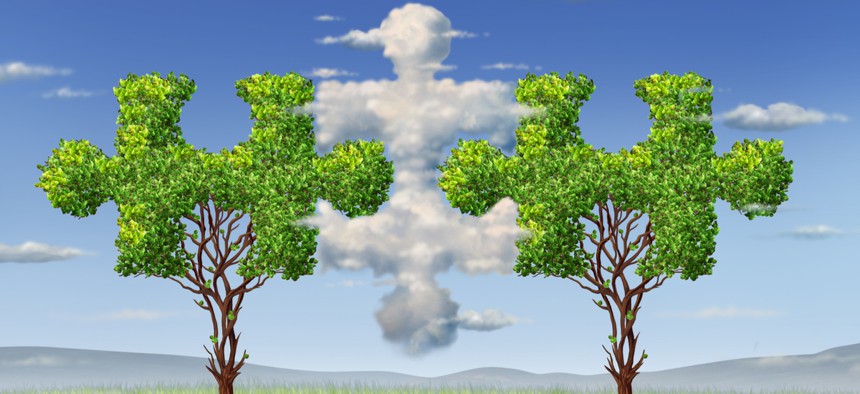 The administration is asking select departments to take the lead on governmentwide services. But don't think it's charity on the part of the agencies.
The Trump administration is touting its new shared services strategy as a boon for agencies across government in need of reliable, standardized services. But the agencies taking the lead on this effort—the Quality Service Management Offices, or QSMOs—are in it for more than altruism.
The Office of Management and Budget announced the new policy Friday, including kicking off with four agencies designated as QSMO leads in four function areas: the General Services Administration for human resources transactions; Treasury Department for financial management services; Health and Human Services Department for grants management; and the Homeland Security Department for cybersecurity. These four agencies—and future QSMOs—will be responsible for establishing and maintaining a "marketplace" of services for each function area, including in-house offerings, contracting options and support, and setting standards governmentwide.
While most federal officials are up for improving services governmentwide, the four pioneering QSMOs said their agencies will reap specific benefits from taking a leadership role.
As the lead federal agency for cybersecurity, Homeland Security's Cybersecurity and Infrastructure Security Agency, or CISA, for example, will be able to greatly improve how it meets its mission.
"A key part of our strategy is having a risk-based approach to how we prioritize resources," Jeanette Manfra, assistant director for cybersecurity at CISA, said during the policy rollout Friday. "So, for DHS in the position of understanding and managing enterprise risk, and working with OMB as the lead for the policy, and then us providing implementation guidance and services, centralizing many of these services not only confers operational benefits to us but it also does to the agencies, as well."
Prior to the new policy, CISA held a leadership position as the point agency for the governmentwide Continuous Diagnostics and Mitigation, or CDM, program, manages the advanced Einstein firewall and is soon to begin issuing cybersecurity posture scores through the Agencywide Adaptive Risk Enumeration, or AWARE, program. The updated shared services policy gives CISA additional top-level support to enforce standards governmentwide and maintain a holistic view of the government's cybersecurity.
Manfra said she expects this work will broaden the agency's purchasing power and ability to influence the marketplace, which should trickle into the private sector, as well, particularly when it comes to critical infrastructure.
"It's still very much an emerging market, it's a confusing market for a lot of people," she said. "So, being able to come together with higher purchasing power and that authority to be able to drive the requirements that the federal government really needs, it will both help, I believe, with getting tools for the federal government that are useful but really will start to drive security services across the country."
Similarly, GSA's human resources QSMO role fits well with the agency's governmentwide mission to deliver quality services at lower costs.
"At GSA, it really goes back to that mission that President Truman created for us 70 years ago: reducing senseless duplication," said GSA Administrator Emily Murphy. "This gives us the opportunity to do a better job of that, bring those practices to functions like payroll and HR transactions."
For David Lebryk, Treasury's fiscal assistant secretary, being able to mandate a set of standards will help the agency achieve a longtime mission goal: producing quality financial reports for the whole of government.
"Today, in many of the agencies, their core financial systems—even if they have the same core financial system—have been customized within their agency and therefore can't produce reports and do data calls and produce the kind of financial information easily," he said during the rollout event.
Those data calls—required for all agencies—are time-consuming and often make their way to Treasury in non-standard formats that then take even more time to input properly.
"So, from our perspective, we see that this effort can go a long way to getting better standards out there: having agencies not spending as much time on doing data calls, being able to provide information, being able to actually look at how they're spending their dollars more easily and therefore decide whether they're getting good value for the taxpayer," Lebryk said.
The same is true for HHS, said Associate Deputy Secretary Charles Keckler.  
"A lot of what HHS does is grantmaking. It's a large part of our business; we have a diverse array. So, when we develop standards and quality services, a lot of that benefit rebounds directly to the department," he said.
Additionally, HHS leads Cross-Agency Priority, or CAP, goal No. 8: Results Oriented Accountability for Grants, which will get a boost from the shared services policy, Keckler said.
"Part of our stewardship is making sure that these grants are effective—that they produce strong results—and that going to ultimately be enhanced by the development of these quality services," he said.
"Many recipients are applying for grants from a diverse array of HHS programs, but also non-HHS programs," he added. "The look and feel of the systems they're interacting with is distinct. To the extent that over time standards are strengthened and systems are improved, that's going to assist recipients and assist [people] we work with—our grantee partners—and that will advance the entire ecosystem of service delivery."