Tech Firms Ask Congress to Intervene on Pentagon JEDI Contract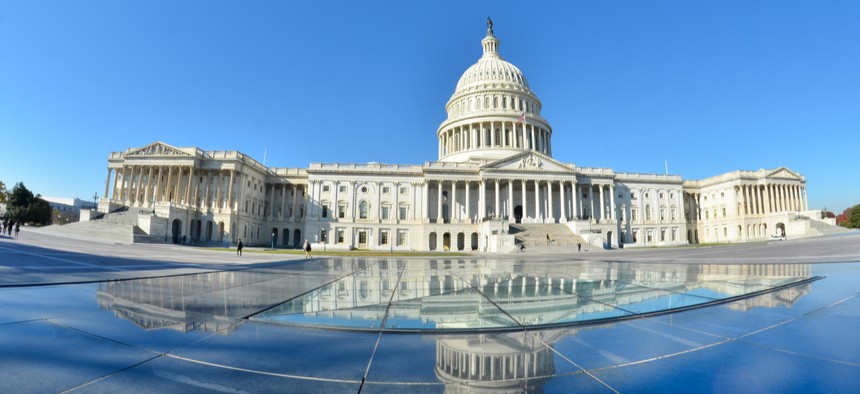 A group representing 80 technology companies is asking Congress to make sure the cloud procurement is a transparent process.
An industry group representing approximately 80 tech firms has asked Congress to intervene in the Pentagon's Joint Enterprise Defense Infrastructure cloud acquisition.
The Pentagon intends to bid out the single-award contract—potentially worth billions of dollars—in mid-May, and controversy over the decision to award the contract to one cloud provider has ramped up in recent months.
In a letter obtained by Nextgov, the IT Alliance for Public Sector elevates concern for the single-award contract to the chairs and ranking members of the House and Senate Armed Services Committees. The letter was also sent to House appropriators and the Senate and House Emerging Threats and Capabilities subcommittees.
The letter states a single-award cloud contract contrasts with industry best practice, increases the likelihood of vendor lock-in, "negatively impacting innovation, costs and security."
"Deployment of a single cloud conflicts with established best practices and industry trends in the commercial marketplace, as well as current law and regulation, which calls for the award of multiple task or delivery order contracts to the maximum extent practicable," the letter states.
"With these concerns in mind, as the Department proceeds with the JEDI procurement, we respectfully request that you encourage increased transparency into the acquisition strategy and provide the Department with multiple commercial solutions to meet the warfighter's needs."
Industry groups, including ITAPS and the Professional Services Council, have repeatedly voiced concerns over the JEDI acquisition process. This effort includes the combined weight of several dozen firms, many of which expect to compete for JEDI: Oracle, HPE, IBM, Microsoft, Google and Amazon.
The ITAPS letter highlights the battle among companies behind the scenes. Multiple sources tell Nextgov Amazon did not support the letter because it does not convey the company's position and instead conveys the position of traditional defense and IT firms. Amazon, by virtue of its existing business with the CIA and Defense Department, has been considered a frontrunner for JEDI since the acquisition was announced.
JEDI already captured the attention of some members of Congress. A legislative report detailing the omnibus spending bill outlined "concerns" over the Pentagon's decision-making in issuing a single-award contract. Legislators required the Defense Department to produce two reports to outline funding requests pertaining to JEDI and its cloud strategy. On April 26, Defense officials told the Senate Armed Services Committee they expected those reports delivered May 7.
The Defense Department released a second draft request for proposals for JEDI on April 16 and previously said it would release a final RFP in early May.