Why the Military Is Leading the Charge on 5G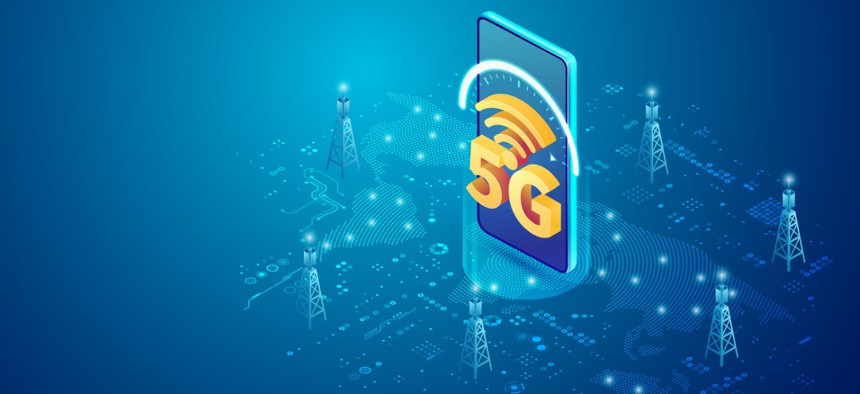 It's not unlike the way that the military heavily invested in radar technology during World War II.
By now, many of us are already experiencing the tip of the iceberg when it comes to 5G technology. Even my personal smartphone occasionally flashes up the 5G symbol when I'm streaming something or using a web application. Unfortunately for me, I don't see too much of a difference between 4G and 5G networking, but again, most of us only get to see the tiniest bit of what 5G can offer.
Right now, the reason for this is because most 5G networking for the general public is simply a 5G signal layered on top of a 4G infrastructure. Most of the cell towers as well as the backend networking hardware is all 4G, so we don't get to experience anything even close to a pure 5G experience.
A pure 5G communications system would be almost fully software-based, right down to running on a software-defined network. And because it would be free of mechanical and hardware constraints, a fully 5G network would not just experience 100 times the speed of its 4G predecessors, but also have 100 times lower latency, more reliability and lower power consumption needs. That is why the military is really leading the charge on 5G adoption, ahead of even the private sector in a lot of ways.
The Military's Big Plans for 5G
The Department of Defense sees 5G technology as a true game changer for military forces, able to one day turn the tide of battle and give our side an insurmountable edge. It's not unlike the way that the military heavily invested in radar technology during World War II. The DOD sees 5G as being able to make that kind of difference one day.
To that end, they are aggressively pursuing their 5G Strategy Implementation Plan. The plan includes promoting 5G technology development, testing both the advantages and potential vulnerabilities of 5G, engaging with private-sector partners and actively influencing industry as policies and standards are developed and put in place.
They are already pushing forward with those plans. Marine Corps Logistics Base Albany, Georgia; Joint Base Lewis-McChord, Washington; Naval Base San Diego, California; Nellis Air Force Base, Nevada; and Hill Air Force Base, Utah, all now have 5G technology testbeds as part of the "Tranche 1" phase of their plan. They are actively testing everything from telemedicine to Battlefield of Things initiatives. And the DOD is gearing up to begin the Tranche 2 phase, which will bring more testbeds online at more bases.
DOD Is Already Testing Prototypes
We are still at the very early stages of 5G, but some of the technology's potential uses are already gearing up for testing. For example, the Defense Innovation Unit is working with private companies to develop what it calls the Private 5G Program. The idea is that they can design a small unit that can be dropped in almost anywhere and then be activated to provide full 5G networking within a certain geographic area.
The Private 5G Program can work regardless of the existing physical infrastructure in the area, so if there are no cell towers, it won't matter. In fact, it's being designed to work specifically in areas of low bandwidth, no bandwidth and even areas with potentially contested bandwidth. It could be just as useful to a squad of soldiers operating behind enemy lines on foreign soil as it is to National Guard troops performing search and rescue operations or firefighting in remote areas back home.
And the DOD is learning about the pros and cons of 5G through these testbed programs as well. For example, one might think that providing 100 times the bandwidth might make 5G technology less secure because it increases the footprint for attackers. But the opposite is actually true. In fact, 5G has a lot of inherent advantages in terms of security compared with 4G or 802.11 wireless technology. For example, most of the data traffic on a 5G network can be routed thorough the IP tunnel, which is encrypted by default. The DOD can then layer even more security on top of that without worrying about clogging up the bandwidth of a 5G network.
The Biggest Innovations Are Coming Soon
As impressive as the prototypes coming out of the DOD 5G testbeds are today, many of them, like DIU's Private 5G Program, involve the infrastructure itself. The real innovation will come after the infrastructure is established. Then we will start to see things like artificial intelligence, robotics, predictive analytics, environmental sensing and things we can't even really imagine yet starting to follow.
There are programs that the military wants to do now that simply aren't possible using a 4G network or 802.11 wireless technology. The testbeds are not only showing how 5G will work, but what is possible once the technology is in place. Who knows what innovations are on the horizon. Will we see autonomous military vehicles, augmented reality-based navigation, real-time 3D imaging of an entire battlefield, or any number of seemingly impossible ideas suddenly becoming feasible?
One thing that is almost a certainty is that it will be the military driving the trends this time. Like GPS when it first came out, these new 5G innovations will likely start as military-only tools before slowly making their way to the mainstream. And at the pace that DOD is setting, we can expect to see a lot of really interesting ideas becoming reality very quickly as 5G continues to evolve. 
John Breeden II is an award-winning journalist and reviewer with over 20 years of experience covering technology. He is the CEO of the Tech Writers Bureau, a group that creates technological thought leadership content for organizations of all sizes. Twitter: @LabGuys