What GovTech Will Look Like in 2019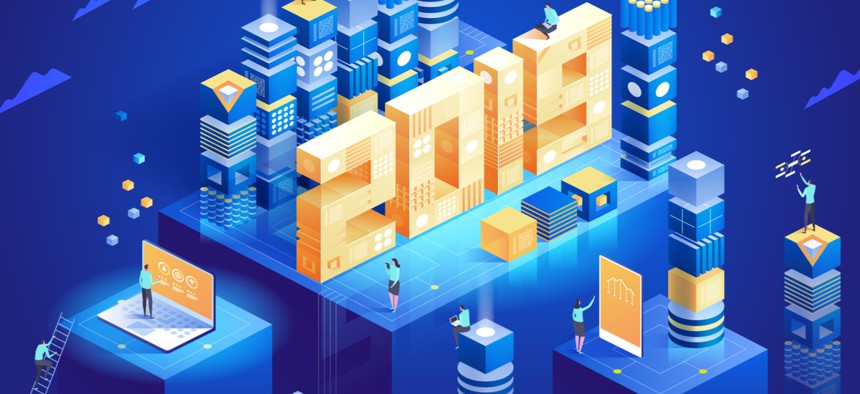 The year 2018 almost seemed like the old proverb/curse that wishes that we all live in interesting times. It was a chaotic year in a lot of ways, and I bet more than a few of us are happy that it's almost ready for the history books. But despite the turmoil, there were quite a few advances in technology and even government technology. I'm more than a little bit happy that I was able to predict a few of them with some accuracy. Now it's time to see if lightning can strike twice. Here are my 2019 predictions for technology and government.
1. Thinking Inside the Box
The world is moving to a multi-cloud environment. Despite some government holdouts, such as with the military's JEDI contract controversy, most organizations work best with multiple types of clouds, often from many vendors. Specifically, there are private clouds which are little different from internal data centers other than the technology used, and then public clouds which can be more easily accessed by multiple users at remote locations. Then there are the hybrid designs that exist with a virtual foot in both places.
I am going to throw a monkey wrench into the mix with my prediction, however, which is that at least some agencies will discover and embrace the newer concept of containerization, which seems almost tailor-made for government. In containerization, you have a bunch of virtualized systems called containers. They differ from full virtualized machines in that they all share the same operating system and system kernel, as well as memory and CPU. This makes them highly efficient because you don't need to replicate an operating system and assign system resources every time you want to test an application or program in your environment.
Depending on the container technology used, they are also highly portable, which makes them perfect for rapidly evolving DevOps environments. For example, all open-source Docker containers are compatible with one another. You can spin up a new application in a test environment and modify the program as needed, even as it is being developed. You can also stress test and harden it against potential attackers. Once the application is ready, the container can be shifted over to the production environment without skipping a beat. It doesn't matter who the cloud provider is, or if the test environment is private and the production environment is public. Moving a container is akin to unplugging a lamp in the physical world and reconnecting it in another room.
With containerization, the cloud host and even the type of cloud are less important than with other cloud deployments. And they generally require fewer computing resources as well, which means less cost for more computing power. With cybersecurity programs now being created specifically to protect containerized environments, private companies have been embracing this new technology, especially organizations that make use of DevOps and agile development practices. There is little reason to think that the government won't, or shouldn't, follow this trend in the new year.
2. Government CIOs for the Win
Lots of folks sent suggestions in for my predictions column this year, and I really appreciate all of you who did that. Every one of the 50 or so suggestions I received was good, but one was just too good not to make the cut. It came from Frank Dimina, vice president of public sector for Splunk.
Frank notes that the Federal CIO Authorization Act of 2018, also known as H.R.6901, recently passed the House and is currently sitting in the Senate waiting for approval. Among other things, the bill would make the positions of federal chief information officer and federal chief information security officer presidential appointees. It also would make it so the federal CIO would report directly to the director of the Office of Management and Budget.
According to Frank, if passed, the bill would "mount increased pressure on agencies to provide CIOs with a bigger, better seat at the table with more authority over their budgets and workforce."
This is something that I am seeing across the board in the private sector, where CIOs are finally getting a seat in the boardrooms. Previously, the CIOs would only get called up to a board meeting if something terrible happened, like a major cyberattack. But companies are realizing that even if they are not in the technology business, that tech is still critical to their success. Can you imagine any business existing today without technology? Having a CIO or even a CISO with a voice on their boards gives them the ability to smartly plan growth, protect their networks and provide better transparency to their customers about how they are using both technology and collected data.
It would be good if government followed along on this. Sadly, I don't think that this one will pass before the end of the year. There is too much going on in Congress right now, and too little time left. But even if it does not make it this year, the fact that congressmen are thinking about government IT is a good sign. There is every chance that the bill could get reintroduced in the new year. And even if it doesn't, the fact that Congress is paying attention will put increased pressure on agencies to continue to empower their CIOs because government is not unlike private industry in that its efficiency is directly tied to how well it manages its technology. Expect federal CIOs to get a little more power, either mandated by law or simply because of following good business practices, in 2019.
3. Quantum Begins to Change The Game
Those of you who read my columns know that I am fascinated with the prospect of quantum computing, and have written about it several times in 2018. The debate over whether or not quantum science is real has long since been decided. And while the quantum computers of today are incredibly fast but also highly noisy in their calculations, they provide a good glimpse of things to come.
The president on Dec. 21 signed the National Quantum Initiative Act into law. The law will add $1.2 billion into the quantum research budgets for the Department of Energy, the National Institute of Standards and Technology, NASA and the National Science Foundation. This was an absolutely critical piece of legislation that needed to pass if we were going to secure our place in a quantum computing future and not cede ground to other nations that are pursuing the same goals.
This is coming at a time when the world is getting close to achieving quantum supremacy, a term created by John Preskill of the California Institute of Technology to describe a quantum computer carrying out tasks that are not practical with a traditional computer. There are enough companies, many of them partnering with government agencies, to expect that 2019 will be the year that quantum supremacy is finally achieved.
But like a dog trying to catch a passing car, the question becomes, what do we do once we've got it in our jaws? Quantum computers are incredibly fast, but we are not yet that great at making sense of the answers they provide. In general, a quantum computer might arrive at a solution extremely quickly, but then pair it with thousands or even millions of other answers which are not right—hence the reason why quantum computing is considered noisy. Achieving quantum supremacy, which I am confident will happen next year, leads us to the next step of better honing quantum queries. That is why the National Quantum Initiative Act is so important, because in addition to the extra funding, it helps to steer the government in those efforts.
I think the next step after quantum supremacy might be to begin to pair quantum computers with traditional systems or even supercomputers. First, we let the quantum computer find the correct solution to a query along with all the extra noise. Then we task a traditional computer to interpret the results and eliminate the bad ones. That will take time, but much less because the quantum computer can narrow down the possible solutions before the traditional computer takes over.
Ideally, we need to get better at programming the quantum machines and even building them to eliminate the noise in the first place. But that is a pretty tall order. Armed with a quantum supremacy machine, a hybrid solution with a traditional computer eliminating the quantum's noise is a more viable option for now. But the first step is achieving supremacy, which I believe we will see next year.
John Breeden II is an award-winning journalist and reviewer with over 20 years of experience covering technology. He is the CEO of the Tech Writers Bureau, a group that creates technological thought leadership content for organizations of all sizes. Twitter: @LabGuys