US would be 'effectively defenseless' without counter-drone authority extension, FBI director says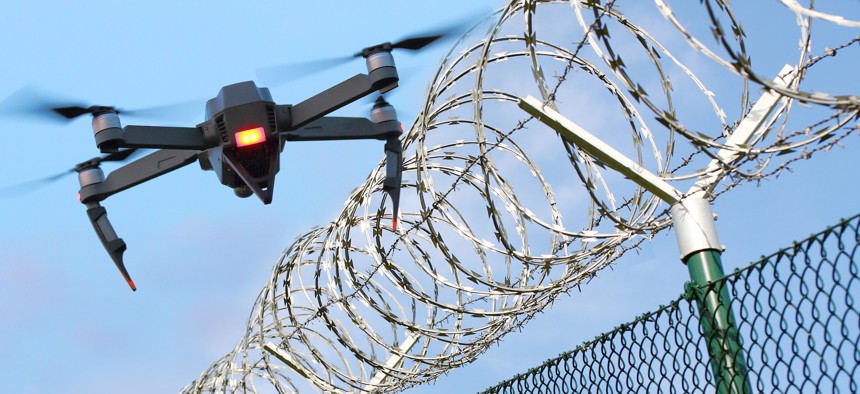 Failing to extend the federal government's authority to counter threatening drones would leave the U.S. "effectively defenseless" against risks to mass gatherings, airports and critical infrastructure, FBI Director Chris Wray told lawmakers on Tuesday.
The Department of Homeland Security and the Department of Justice were granted expanded authorities in 2018 to respond to unmanned aircraft systems — or UASs — that pose a threat to "certain facilities and assets." Those authorities give department personnel the ability to "use reasonable force to disable, damage or destroy" drones. But that counter-UAS authority is set to expire on Nov. 18.
During a Homeland Security and Governmental Affairs Committee hearing, Wray said that if DHS and DOJ's counter-drone capabilities are not reauthorized, then "there is no public safety agency in this country that can provide counter-UAS security at these public events."
Beyond reauthorizing the government's current authorities, Wray said the scope of UAS-related threats underscores the need for state and local law enforcement agencies to also be able to impose counter-drone measures since "there are way too many of these events, and way too much growth in the use of drones, for FBI and DHS alone to be able to protect against it."
Wray said "there's a plan in place" for FBI personnel to train state and local counter-UAS operators "to ensure that there's a consistent standard across the country, much the same way we do with civilian bomb techs."
Committee Chair Sen. Gary Peters, D-Mich., noted that officials had to delay an Ohio State-Maryland football game on Oct. 7 after an unidentified drone flew over the stadium and added that "these incidents are unfortunately becoming more common."
Peters previously introduced legislation in May to renew the government's counter-UAS authority. Rep. Chrissy Houlahan, D-Pa., sponsored the House companion to Peters' bill in June. Both bills have bipartisan support. 
Peters also expressed concern about UASs interfering with commercial aircraft, warning that "America's airports are uniquely vulnerable to these drone threats."
DHS Secretary Alejandro Mayorkas told the committee that airport owners and operators have "communicated to us loudly and clearly that the federal authority needs to be maintained" to protect commercial aircraft, adding that "they cannot protect the airspace by themselves."
Beyond safeguarding public facilities, Mayorkas also said the government's counter-drone authority is vital for securing the U.S. border from human traffickers and the flow of fentanyl. 
"We take down the drones of the cartels that are seeking to move contraband across the border," he said. "It is a very, very important authority that we have."
DHS's 2024 Homeland Threat Assessment noted that Mexico-based transnational criminal organizations "are leveraging small unmanned aerial systems to enhance and protect their operations," including drug traffickers who use commercial drones "to augment drug smuggling and to surveil U.S. and Mexican law enforcement activities."