Legislation would expand and extend government's counterdrone authority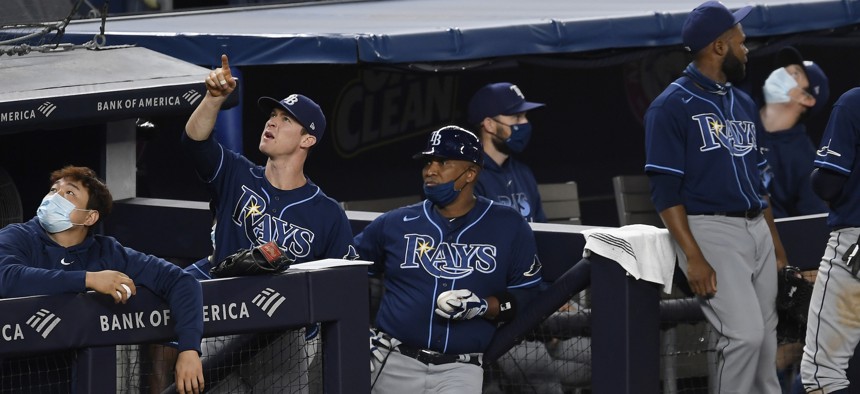 A bipartisan quartet of House lawmakers unveiled legislation Monday to bolster the federal government's ability to counter threats from drones, including those that pose a risk to airports and sporting events.
Reps. Chrissy Houlahan, D-Pa., Mike Gallagher, R-Wis., Troy Carter, D-La., and Mike Johnson, R-La. are sponsoring the bill.
Houlahan said in a statement that the legislation "builds upon existing law to address this rapidly changing technology.
"It's no secret that commercial drones are becoming more and more commonplace in our communities," Houlahan added. "Whether that be at soccer games or school functions, near military bases or airports, we need to make sure that there are sensible guardrails in place to protect Americans from potential threats."
Congress previously passed the Preventing Emerging Threats Act in 2018, which authorized DHS and DOJ personnel to take a variety of steps to combat drones that pose a risk to "certain facilities and assets" in the U.S., including giving them the ability to seize, control, confiscate and "use reasonable force to disable, damage or destroy" unmanned aircraft. Those authorities are set to expire at the end of September. 
Beyond reauthorizing DHS and DOJ's current authorities, the House bill would allow state, local, tribal and territorial law enforcement agencies, as well as the owners and operators of airports and other critical infrastructure — "including stadiums that support large sports events" — to use drone "detection, identification and monitoring equipment that may otherwise be prohibited by federal law," according to a summary of the legislation.
The bill would also allow DHS and DOJ to launch a pilot program that enables up to 12 state, local, tribal and territorial law enforcement agencies per year, for up to five years, to conduct drone detection and mitigation activities. 
The bill summary noted that the pilot program would "supplement DHS and DOJ's [counter-unmanned aircraft systems] missions, which currently lack sufficient equipment and personnel to detect and mitigate [unmanned aircraft systems] activity at all potential high-risk locations or potential targets."
The legislation, known as the Safeguarding the Homeland from the Threats Posed by Unmanned Aircraft Systems Act, is the House companion to a bill introduced last month by Sen. Gary Peters, D-Mich., the chairman of the Senate Homeland Security and Governmental Affairs Committee. 
Following the Senate bill's introduction, four professional sports organizations — MLB, the NFL, NASCAR and NCAA — wrote a joint letter on May 25 to House and Senate leaders in support of the legislation and warning that "drone incursions at sporting events and other mass gatherings have been occurring for years — and they are increasing in frequency." 
A 2020 report from the Congressional Research Service noted that the Federal Aviation Administration estimated that there will be roughly 2.3 million drones "registered to fly in U.S. airspace by 2024." And the growing prevalence of drones has led to concerns that they could be weaponized by nefarious actors, or cause unintentional delays and accidents by operating near airports or public events. 
There were reportedly more than 2,500 drone incursions over and around stadiums during NFL games in 2022; the league previously said there were roughly 1,400 incursions during the 2021 season.. Last September, a game between the Seattle Seahawks and Atlanta Falcons was briefly delayed because of an unlicensed drone flying over the field. 
A DHS official also told the Senate Homeland Security and Governmental Affairs Committee last year that the Transportation Security Administration had reported almost 2,000 drone sightings near U.S. airports since 2021. Earlier this month, the FAA temporarily suspended some arrivals and departures at Pittsburgh International Airport after a drone was spotted in the air nearby.