Space Race 2.0: How the government is rapidly adopting next-gen space tech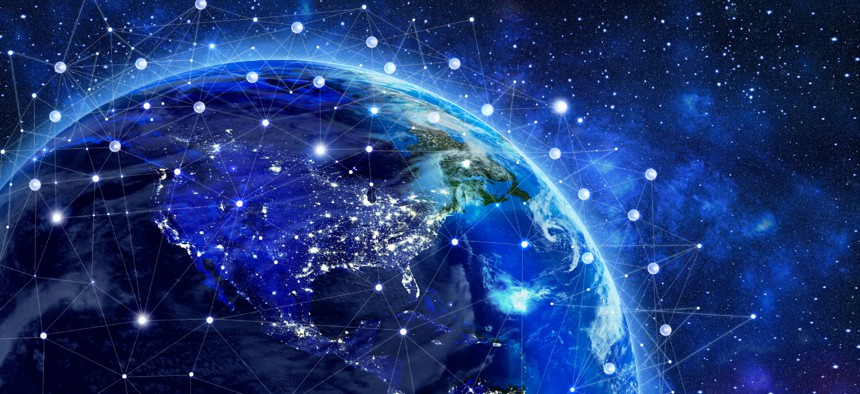 An emerging technological space race is launching into high gear as the federal government leverages innovative procurement techniques to equip NASA, the Space Force and other agencies with the next generation of space technology. 
Rather than relying on traditional acquisition methods that require more contracting time, federal agencies are leveraging new ways to harness commercial tools and emerging technologies from the private sector. 
Last month, the Space Force opened a new commercial marketplace for innovation and collaboration. The marketplace is part of the newly-formed Commercial Space Office led by Col. Richard Kniseley and serves as a center for multiple new initiatives, including the Space Force's technology hub, known as SpaceWERX, and the Space Systems Command's Front Door, an online portal that can connect users to acquisition officials.  
The goal of the marketplace "is to get capabilities — including emerging technologies — to the warfighter in a much more expeditious fashion," according to David Logsdon, senior director of space policy at the Information Technology Industry Council. 
"It is a good example of the kind of collaboration that ensures that all stakeholders understand the needs of the mission and enable technologies to securely, reliably and rapidly be made available to users," Logsdon told Nextgov/FCW. 
NASA acquisition officials also have a track record of leveraging innovative procurement vehicles to ensure a more rapid onboarding of commercial capabilities and emerging technologies. 
Building NASA's Artemis program with innovative procurement 
In 1992, NASA convened procurement leaders and technical experts at the Goddard Space Flight Center to explore how its scientists could get their hands on new computers that were becoming available at a pace that traditional federal buying methods could not support. 
The space agency requested procurement authorities from the General Services Administration nearly a year later and established NASA's Solutions for Enterprise-Wide Procurement, one of the government's most successful procurement vehicles for information technology to date. 
More recently, the agency established the Innovative Partnerships Program to help ensure its technology was meeting mission needs. NASA was also part of the launch of the Small Business Innovation Research and Small Business Technology Transfer programs, which have been instrumental in the agency's Artemis program, billed as "the first step in the next era of human exploration." 
In order to achieve the goal of the Artemis program — a long-term, sustained human presence on the moon — the agency is building "Gateway," the first-ever lunar space station. The station will serve as a multipurpose outpost that orbits the moon, while supporting deep space exploration efforts and a long-term human presence on the lunar surface, according to NASA. 
"NASA's power and propulsion for the Gateway in orbit will be crucial for the success of Artemis, and was developed from contributions from the NASA SBIR/STTR program," said Jeff Hall, principal security consultant and North American aerospace lead for the security consultancy firm NCC Group.
Overcoming the Valley of Death — and accelerating new tech development
Technical experts across the public and private sectors agree that U.S. leadership in space will rely on maintaining a technological edge, as well as cross-sector collaboration and the federal government's rapid adoption of critical space tech — like satellites, advanced propulsion systems, lunar rovers, space-based weather monitoring systems and more. 
But when it comes to space technology development projects, many can fall into the "valley of death," when projects fail to make it from ideation and prototyping to an actually viable product. 
This can occur due to a multitude of reasons; a small business may lack the funding to perform critical tests on its systems; others may not have been able to collaborate with the federal government or other organizations for enhanced multidisciplinary expertise. 
To counteract these challenges, the Space Force developed a new project called the In-Space Developmental Test initiative. 
The goal of the initiative is to overcome the technical readiness levels of the valley of death, while reducing acquisition costs and accelerating new technology development. The test platform, which is in the developmental stages, will eventually operate as an autonomous, unmanned, in-space system designed to help research new technologies and software, allowing for fast experimentation and learning from failures. 
The iSDT initiative will "accelerate new technology development with prototypes and experimental designs that are tested, refined and further developed," Hall told Nextgov/FCW. 
Next-gen space tech requires innovative procurement 
Across the federal government, acquisition officials are beginning to leverage government-owned, commercially-operated and other transaction authorities to buy cutting-edge technologies, rather than following traditional procurement processes under the Federal Acquisition Regulations and the Defense Federal Acquisition Regulation Supplement. 
The Space Force has leaned on OTAs to onboard commercial emerging technology solutions, while the Department of Defense has leveraged the procurement mechanism to engage non-traditional contractors and quickly onboard prototypes. 
The Defense Innovation Unit is also utilizing OTAs and commercial solutions, opening processes to test innovative commercial technologies. Last year, DIU awarded multiple contracts to U.S. companies to build a hybrid space architecture. 
"A fully networked, multi-cloud-based architecture, procured through DIU's use of innovative procurement vehicles, is seen as a perfect example of how to integrate commercial capabilities in a timely, cost-effective fashion," Logsdon said. 
Meanwhile, NASA has become one of the government's early adopters of artificial intelligence-enabled technology for space exploration through its Center Innovation Fund. The fund allows NASA to support the development of emerging technologies across NASA centers and foster new technological initiatives.
As government procurement practices continue to evolve, Logsdon said he hopes they bring a culture shift throughout federal acquisition departments. 
"The Space Enterprise Council believes that government organizations can be most effective at procurement when they develop a culture that encourages integrated teams and collaboration across functional areas," Logsdon said. "That includes contracting officers and specialists, technologists, mission operators and security officers."