U.S. Furthers Quantum Research with New International Partnership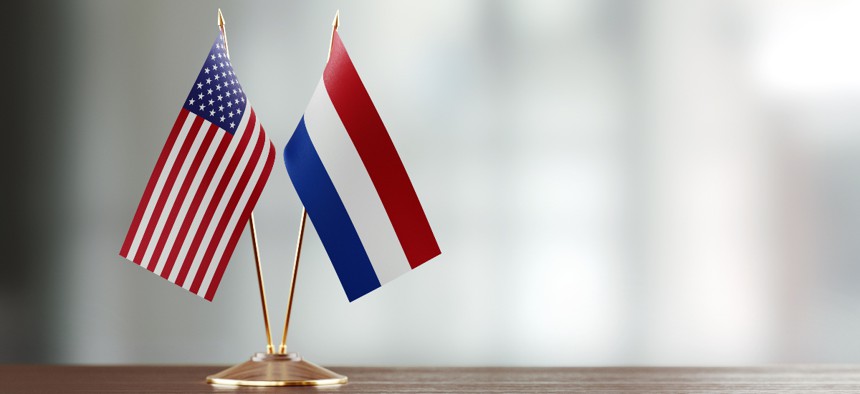 The U.S. and the Netherlands are the latest countries to team up in an effort to innovate in the quantum sciences field.
The U.S. and the Netherlands announced their new joint endeavor in quantum information sciences and technologies research and development on Thursday, continuing the U.S.'s international innovation work in QIS.
Nations all over the world are allocating more resources to fund quantum technologies, especially in the burgeoning fields of quantum computing and quantum sensing, before the advent of a functioning quantum computer capable of disrupting classical computing networks. 
"The United States of America and the Netherlands intend to harness the spirit of science, technology and innovation to pursue cooperation and the mutual respect it confers, and to promote QIST, including but not limited to quantum computing, quantum networking and quantum sensing, which underpins the development of society and industry," the State Department said.
Collaborative efforts between both nations will range from joint workshops and seminars to sharing intellectual property within the QIS field. This includes sharing access to major laboratories conducting government-sponsored work in the quantum sciences realm.
Some of the areas of focus include cybersecurity, energy policy and health. 
The U.S. has previously entered into similar partnerships with other ally nations, including with France, Australia, and Switzerland.  
China currently leads the world in the volume of state funding invested in QIS research, leaving the U.S. and other nations to work together to keep the same pace. The Biden administration continues to weave quantum computing into its technology policy framework, with the forthcoming National Cyber Strategy set to focus on securing digital networks with strong encryption ahead of quantum-enabled decryption capabilities.