White House Wants Input on Crypto Tech R&D Agenda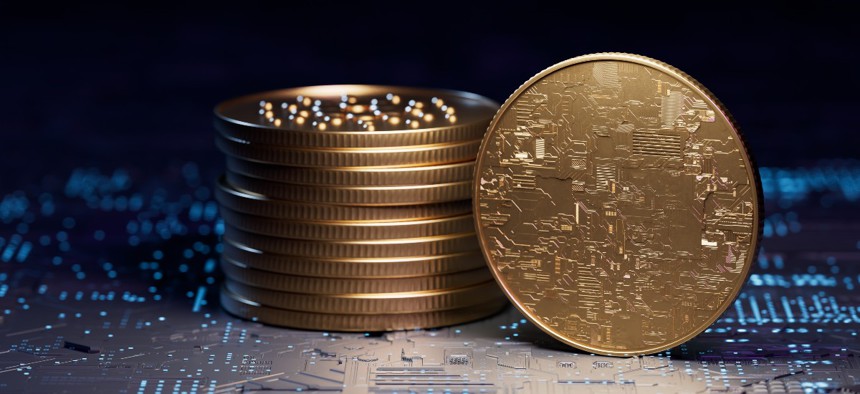 The feedback will inform priorities for developing digital asset technologies, including potential for a central bank digital currency.
While cryptocurrency exchanges continue to fold—often being exposed as fraud and money-laundering schemes—the White House is continuing its push to find the good in the underlying technologies and the general concept of digital assets.
The Office of Science and Technology Policy and National Science Foundation on Thursday will kick off development of a National Digital Assets Research and Development Agenda to study blockchain and other technologies that support cryptocurrencies, as well as exploring the potential for a central bank digital currency to operate alongside the U.S. dollar.
"Through this whole-of-government effort, the Biden-Harris Administration will identify R&D priorities for digital assets, and help direct federal resources and expertise toward advancing those priorities," OSTP writes in a request for information set to publish Thursday in the Federal Register.
As digital assets—virtual property, usually recorded in a public or distributed ledger and most often seen in the form of cryptocurrency or non-fungible tokens, NFTs—continue to proliferate, the White House is looking at the technologies used to create and manage those resources, namely blockchain, distributed ledgers, decentralized finance and smart contracts.
The RFI references potentially creating a central bank digital currency that would be a distinct but comparable asset alongside the U.S. dollar. The request also seeks public insight on the prioritization of other "related issues such as cybersecurity and privacy—e.g., cryptographic foundations and quantum resistance—programmability and sustainability."
This feedback will be incorporated into the R&D agenda, which is expected to be a regularly-updated living document.
"It's essential that the federal government promote safe and responsible innovations in digital assets, especially as the U.S. continues to study the options for, and implications of, a potential central bank digital currency," a senior administration official told Nextgov. "This R&D agenda will do just that, helping to assess and improve the technologies associated with digital assets, while supporting new approaches to mitigate harms and risks stemming from digital assets."
The agenda is the direct result of a March 2022 executive order on responsible development of digital assets and the September 2022 release of a "Comprehensive Framework for Responsible Development of Digital Assets." The latter, in particular, cited the need for more research into the technologies that underpin such assets and specifically called for the creation of a digital asset research and development agenda.
"[R]esearch and development in this space has often been conducted in a fragmented manner, with limited consideration for the broader implications, applications and downside risks for the underlying innovations," the RFI states. "This is particularly concerning because there are many examples of how digital assets introduce risks and exacerbate harms to people, communities, institutions and the planet."
The RFI includes six specific areas for responses:
Goals, sectors or applications that could be improved with digital assets and related technologies.
Goals, sectors or applications where digital assets introduce risks or harms.
Federal research opportunities that could be introduced or modified to support risk mitigation efforts for digital assets.
R&D that should be prioritized for digital assets.
Opportunities to advance responsible innovation in the broader digital assets ecosystem.
Other information that should inform the R&D Agenda.
The agenda is being developed by the Fast Track Action Committee on Digital Assets Research and Development, which itself is part of the Subcommittee on Networking and Information Technology Research and Development, or NITRD, under the National Science and Technology Council, the National Science Foundation and the NITRD National Coordination Office.
The committee will be accepting feedback through 5 p.m. March 3.
Editor's note: This story was updated to include a comment from a senior administration official.