State Department Wants to Disrupt Colombian Coca Harvest with Drones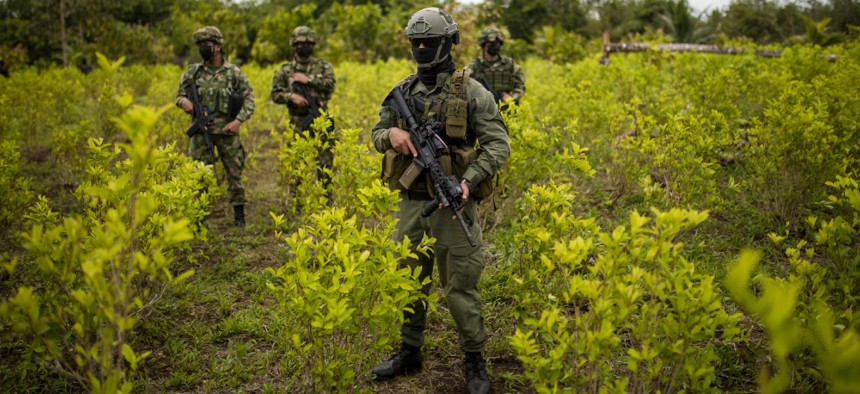 Training for a team from the South American nation's police force is also needed.
The State Department is on the search for a small business that can supply drones with spraying capabilities to help wipe out coca cultivation throughout the nation of Colombia.
Production of coca—the South American shrub behind cocaine—in Colombia continues to reach record highs, and drug trafficking associated with it has fueled internal armed conflicts and displaced millions to date. 
Estimates from the United Nations suggest the country accounts for 70% of the global supply of cocaine.
Eradication "operations in Colombia remain dangerous," State Department officials wrote in a new request for information this week. In it, they detailed the need for commercially-provided drones to underpin a potential "spray unmanned aerial vehicles" program. 
"This program will be under the operational command of the Colombian National Police," officials confirmed.
The United States and others have for years been involved in aerial spraying campaigns to reduce the production of coca plants in Colombia. More recently, the government's anti-narcotics officials have turned to drones as a new weapon to deplete harvesting efforts—though it is controversial, as some chemicals potentially used in such pursuits can cause cancer.
For this specific potential work, the State Department intends to identify businesses that can offer electric powered drones with 55-pounds of maximum takeoff weight that can fly a range of at least two miles and operate for at least 20 minutes. The aerial vehicles would need nozzles for spraying, emergency stop switches and an obstacle detection and response system. State also wants the ability for many UAVs to be controlled at once by a single pilot.
Drones selected "cannot have major hardware (flight controller), flight control firmware, mission planning software manufactured in China," officials wrote.
Among other components listed, training would need to be provided directly in Colombia "for a team of 30 people in UAVs flight operation and 6 people in maintenance and support," and a maintenance plan would need to be distributed.
Companies that can provide such capabilities, or wish to weigh in on the department's planned acquisition strategy are invited to respond to the notice by Oct. 29.