NASA Turns to Edge Computing to Protect ISS Astronauts from Contamination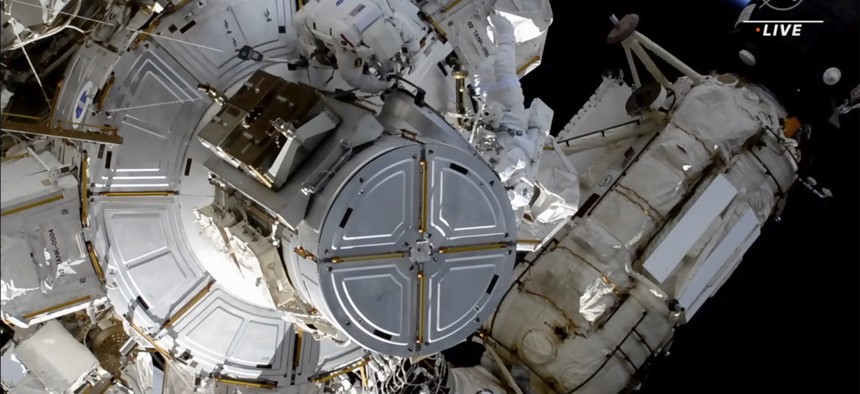 Edge computing refers to an information technology architecture that enables data to be processed as close to its originating source as possible—even those beyond planet Earth. 
Using containerized, analytic code where data for a complex DNA sequencing project is produced on the International Space Station, NASA intends to eliminate the need to transport massive amounts of information from space and cut the time it takes to process it from weeks to hours.
"This is a huge paradigm shift that's absolutely critical for us to be able to expand our exploration" to the moon and Mars, Johnson Space Center Microbiologist Sarah Wallace said during Think Gov 2021.
At the Houston-based center, Wallace works to help protect astronauts from any microbial contamination or dangers from microorganisms in space. Since the inception of the ISS, scientists have analyzed and sequences the DNA of microbes in air, water and surface samples astronauts collect. This helps ensure they were safe from space-based fungi or bacteria. Wallace confirmed that in the beginning, it would take a while to receive the petri dish cultures back on Earth. 
She and her team began pushing in 2016 to get a DNA sequencer on the space station to make sense of the microbes' components in real time. It worked.
"In 2017 we actually used it for the first time to identify unknown microbes that had been collected, cultured and identified in space," Wallace explained. "We advanced that the following year in 2018, where we developed a method where we could just swab any surface, and then put that swab into our method, and get the identity of all the microbes that were on that swell. So that takes out that need to first grow the organisms." 
Via that technique, crews aren't exposed to "higher numbers of sometimes dangerous things," she noted. Still, they ran into a problem—the DNA sequencer on the ISS generates heaps of big data that still has to be transmitted back to Earth for further research.
"[It was] a really big lag from that sample to answer, and that really is not acceptable as we look towards the moon and Mars," Wallace said, referencing NASA's upcoming Artemis missions. "So, we really need a quicker way." 
Using satellites and edge-computing capabilities from IBM, the space agency is now on track to soon implement live DNA sequencing and data analysis directly from the space station. 
"By having that infrastructure with the edge computing onboard the station, we can do our DNA sequencing, and then have that data be analyzed in almost near real-time, so the crew members will know right away what was in the water they just drank or on the surfaces that they were just exposed to," Wallace explained.