Lawmakers Want DOD to Explore Tech's Valley of Death Problem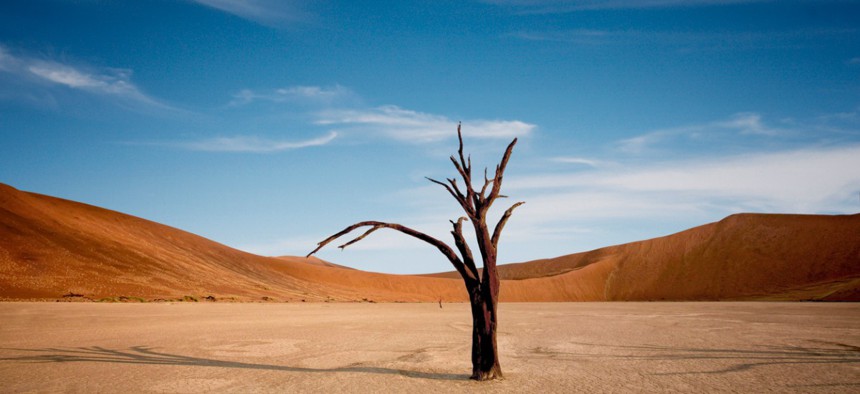 A House Armed Services subcommittee is calling for mandates in the upcoming National Defense Authorization Act to examine barriers to scaling innovative tech.
In the defense technology world, one phrase is inescapable: The valley of death, or the two-year period between development funding and inclusion into a program of record, frustrates Pentagon officials, outside experts and industry alike as the Defense Department attempts to modernize and integrate innovative technologies.
The valley of death problem tends to affect companies that are often newer or smaller entrants that don't typically work with the department. For these companies, it can be hard to justify the gap between receiving development dollars and getting funds as a program of record in their business plans.
House Armed Services committee lawmakers want to use the 2022 National Defense Authorization Act to take a stab at getting DOD to figure out how to eliminate the valley of death issue, according to committee aides. During a Tuesday briefing a day before the HASC cyber, innovative technologies, and information systems subcommittee NDAA markup, aides detailed several provisions in the draft bill aimed at getting after the problem. 
The proposals to be reviewed at Wednesday's markup directs the Defense secretary to carry out a five-year pilot to help take science and technology activities into full-scale implementation as well as to submit a report evaluating the barriers that prevent DOD from scaling innovative tech.
"The committee is aware that there are a growing number of access points for innovative technology companies to engage with the Department of Defense, but there is no support team connecting those businesses between each of the innovation entities and to the appropriate customers in the Department, including program executive offices, program management offices, and science and technology reinvention laboratories," a summary of the bill language reads. "The pilot program would provide support to those technology producers looking to do business with the Department, and guidance on how to navigate unfamiliar processes including those surrounding requirements, budgeting, contracting, and other statutory, regulatory, and cultural hurdles."
The committee also proposes requiring the Defense secretary and the military department secretaries to each pick at least five small business innovation research and small business technology transfer programs as "entrepreneurial innovation projects" and demonstrate how they will transition to acquisitions.
The bill puts forth other IT and tech provisions such as: 
Expansion of survivability testing to include non-kinetic threats and development of digital technologies to test such threats throughout the system's lifecycle. 
Authorization of the Defense Innovation Unit to work with companies across the country in regions that don't already have a DIU presence and a review of DIU to examine whether the component is adequately resourced.
Extension of the deadline for a pilot program originally established in the 2016 NDAA for streamlining awards for innovative technology projects by two years. 
Allowing the Defense Advanced Research Projects Agency to pay for travel and relocation expenses in order to help attract talent.
Mandating military services take stock of legacy IT systems, apps, and software in order to identify tech that can be retired or managed more effectively.
According to aides, the legacy IT systems provision is the subcommittee's main focus under the cyberspace umbrella. More cybersecurity work—including a look at the work of the Cyberspace Solarium Commission and the Cybersecurity Maturity Model Certification program—will be conducted as part of the full committee's work. So too will recommendations put forth by the National Security Commission on Artificial Intelligence, the aides said.