DOD Has Promising Tech. Now It's Time to Scale It Up, Officials Say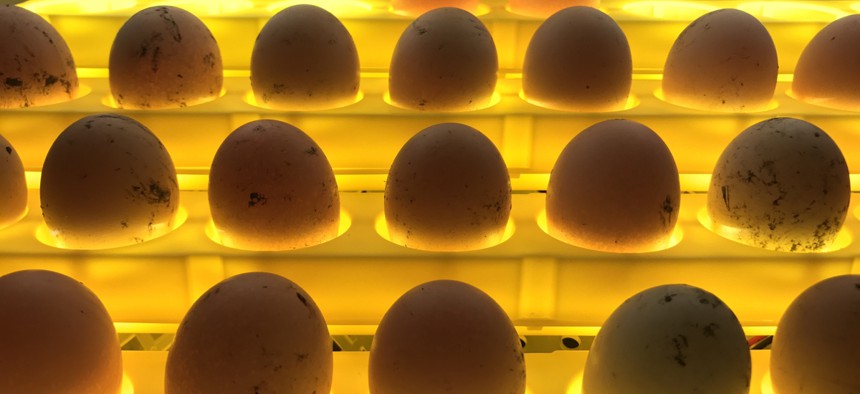 The department needs to move certain tech from incubation to operation.
In August, Michèle Flournoy, widely believed to be President-elect Joe Biden's top pick to lead the Defense Department, put the spotlight on emerging technology when she told the Aspen Security Forum she believes future Defense Department budgets are likely to flatline, necessitating "big bets" on innovative technologies.  
Regardless of whether Flournoy's budget prediction comes true, Defense officials and experts say moving technology development beyond incubation to adoption at scale should be a priority over the next several years. 
Diem Salmon, an adjunct senior fellow at the Center for New American Security, former Senate Armed Services Committee budget director and current defense contractor, told Nextgov DOD should start taking larger bets to scale up a handful of specific capabilities. 
"There's been enough work done over the past couple of years that there are certain things that are ready to scale or ready to get pulled into that program of record status, and that's what you would really want the next administration to be focused on," Salmon said 
Salmon said smaller innovation units within DOD, such as the Defense Innovation Unit or even Small Business Innovation Research, known as SBIR, programs, are great for getting prototypes out. But the gap between when a technology becomes available and when the budgeting process catches up to facilitate at-scale growth is still too long, she said. 
Enrique Oti, a former DOD official who co-founded DIU and founded Air Force software factory Kessel Run, told Nextgov in a recent conversation this so-called valley of death is the biggest challenge to scaling to emerging technologies right now. Oti currently works as the chief technology officer for Second Front Systems. 
"I still think there's a lack of comfort in [DOD] for some of these larger programs especially to go from where the department is comfortable with contractors that actually have broad experiences and then making a bet on a company that is narrowly focused on a product but then has to expand to be more of a systems integrator," Oti said. 
Products developed internally at units like Kessel Run or Platform One end up competing against bespoke products built by contractors, Oti added. The department would benefit from a greater emphasis on making projects open source, but it's contending with a "cultural hesitation," Oti said. 
Oti pointed to the Defense Digital Service as an exemplar of open source. Brett Goldstein, DDS director, told Nextgov in a recent interview he believes focusing on building reusable technologies that can apply to a variety of use-cases would also be helpful for fostering innovation in DOD.  
"We need to break this culture of building 100 bespoke systems, and instead realize that each use case isn't as special as we think, and focus on building a couple of things really right," Goldstein said. "My sense is a side effect to that is one: better code. Two: more secure code. And three, if I were to sort of get upset at the broader economics here, it certainly sounds a lot more efficient."
During FedScoop's 2020 Fedtalks event, DIU Director Mike Brown said he wants to see more budget flexibility to help take successful prototypes to scale. Scaling solutions sometimes requires budget dollars from DIU's partner customers in DOD, Brown said. 
"Innovation funds would be an answer or just program offices having more flexibility with how they spend their dollar," would help bridge the post-successful prototype funding gaps, Brown said. 
Oti told Nextgov in an email budget-constrained environments often lead to cuts on activities like experimentation and prototyping in favor of funding for major programs, ops and readiness. 
"While this might appear to be optimal in the short term, in reality, it just delays the inevitable conclusion that the current defense construct is unsustainable," Oti said. "Continued investment in innovative technologies and the successful transition of those technologies, while painful in the short-term, will put the DoD in a better position in future budget cycles and will keep the military ready for future warfare."
For her part, Salmon doesn't buy the idea that Defense budgets will decline, telling Nextgov she believes the dollar-for-dollar spending structure between domestic and defense budgets will hold even if Democrats win control of the Senate. 
"Going into a 2022 and beyond budget deal, Republicans would be hard pressed to vote for a budget," Salmon said. "They're definitely not going to be voting for a budget where defense is cut if domestic spending is going up."