NSA, Army Launch 'Qubit Collaboratory' to Advance Quantum Information Science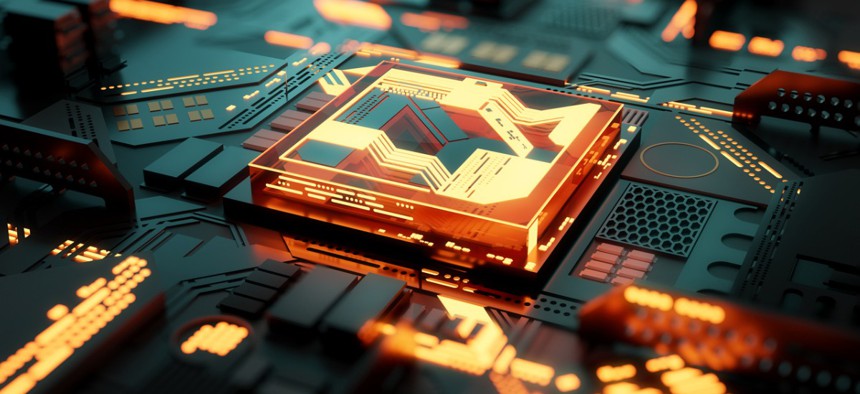 The Army Research Office and National Security Agency's Laboratory for Physical Sciences recently launched a new research hub "without walls" that will connect scientists and engineers from across sectors and the nation to explore the limits of quantum information technologies.
In a broad agency announcement released Friday, ARO and LPS describe early research areas to be pursued via the project—called the LPS Qubit Collaboratory, or LQC—and invite proposals to push forward experimental efforts that make sense for cooperative approaches. 
"Substantial progress on solving the most difficult and long-term Quantum Information Science & Technology (QIST) research problems that unleash further rapid progress in the field will constitute LQC success," officials wrote in the BAA. 
QIST involves probing and manipulating subatomic phenomena with the intent to transform how humans process and move data. It is expected to usher in new forms of sensing, communications and computing, and has inspired interest across the government. Passed at the end of 2018, the National Quantum Initiative outlines a coordinated federal plan to accelerate and advance quantum technology-centered studies and applications in the United States. 
The LQC was formed in support of that initiative—and it places a strong focus on developing qubits, or the basic element for quantum information systems.
Traditional computers use bits, or inputs, instructions and outputs that are all sequences of 1s and 0s. But as mentioned, quantum computers and applications use qubits, which can take on other values and offer a next-level set of calculation possibilities. They've been integrated into quantum-centered testbeds and other deployments to date. 
Still, according to the original announcement unveiling the LQC in late October, the qubit offers the potential for tremendous impacts across many realms, yet it "lags behind in the performance needed" to reach that point. 
"First described by computer scientist Dr. William Wulf in 1989, a collaboratory is a 'center without walls in which the nation's researchers can perform their research without regard to physical location, interacting with colleagues, accessing instrumentation, sharing data and computational resources, [and] accessing information in digital libraries,'" officials wrote in that release, and also quoted in the BAA. With inspiration rooted in that concept, the LQC and its corresponding solicitation offer a vessel for experts to embark on joint qubit-aligned research with LPS, use shared lab spaces, and interact with collaborators across the government, industry and academia to drive partnerships. 
This opportunity also includes elements to help grow the U.S. pipeline for personnel with quantum expertise.
"The [NSA] is committed to training the next generation of scientists and engineers, and the LQC will continue LPS' long tradition of driving research in future information technologies," the laboratory's director Dr. Barry Barker recently said.
LQC's initial "research thrusts"—or technical areas of interest that will be updated periodically—are laid out in the BAA. They involve various aims to improve how qubits perform, advance modern devices and speed up the making mechanisms to introduce people, particularly undergraduate to mid-career scientists, physicists and engineers, to quantum concepts.
Proposals for this BAA are set to fall into three categories: Incubator; Collaboratory; and the Quantum Computing Research, or QuaCR fellowship. 
Through incubator proposals, LQC aims to connect with single investigators and small research groups that might "have creative solutions and unique skill sets to contribute toward the research topics" listed, the BAA notes, but lack the necessary infrastructure at their home institutions. They could potentially use the LPS' assets and available collaborations to boost their work. And proposals that unite researchers from across public, private and academic organizations and want to collectively go after longer-term projects around quantum development fall under the Collaboratory category.
The LQC QuaCR fellowship program will award proposals supporting U.S. citizen graduate students and postdoctoral candidates, in hopes to attract them to the emerging field. Fellows would have to spend at least one summer working at LPS, among other requirements.
ARO Program Manager Dr. T.R. Govindan said in the earlier announcement that those involved "want to show that government service as a scientist, engineer, or program manager can be just as, if not more, impactful for the nation than any other quantum career path."
Information on how to submit proposals is offered across multiple sections of the 55-page BAA. 
"Anticipated awards will be made in the form of procurement contracts, grants, or cooperative agreements, and are subject to the availability of appropriations," officials wrote. The opportunity will remain open through April 30, 2026.