Army to Equip First Unit With Augmented Reality Headsets By Fall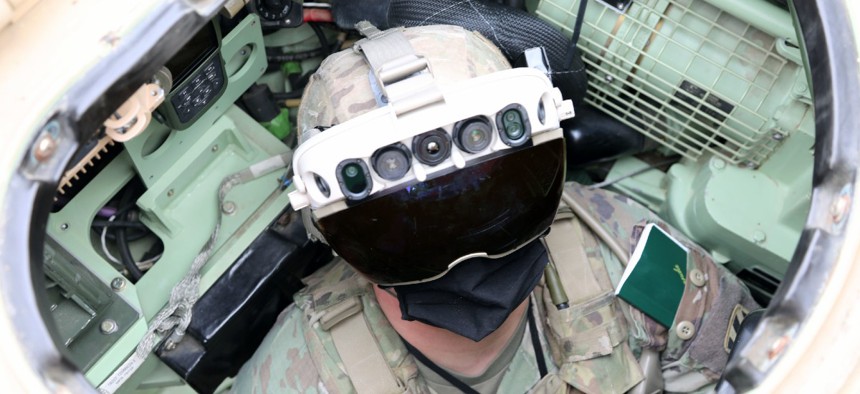 Top Army officials told Congress the first unit will be equipped with the Integrated Visual Augmentation System headsets by the first quarter of fiscal year 2022.
The Army will begin equipping units with augmented reality headsets by the first quarter of fiscal year 2022, according to Congressional testimony by two of the service's top officials. 
In written testimony prepared for the House Appropriation Committee's defense subcommittee, Acting Secretary of the Army John Whitley and Army Chief of Staff Gen. James McConville detailed the service's priorities as lawmakers wait for President Joe Biden's 2022 budget request. Whitley and McConville wrote that they need continued Congressional support for rapid prototyping, development and procurement for the Integrated Visual Augmentation System, or IVAS, among other emerging programs. 
"By 1QFY22, we'll equip the first unit with IVAS," Whitley and McConville said in their joint written testimony prepared for a Wednesday hearing. The government's fiscal 2022 year begins in October. 
The Army and Microsoft in March announced that after two years of rapid prototyping, Microsoft would produce the headsets, which are based on Microsoft's HoloLens gaming device, under a contract worth up to nearly $22 billion. Last week, Whitley and the head of Army Futures Command touted the IVAS program as an acquisition success story made possible by the use of an other transaction authority agreement and a soldier-centered, incremental development process. 
During the hearing, McConville said he didn't want to "over-promise" but that the IVAS technology has the potential to "transform how our soldiers operate." 
"We got a lot of visionaries that can see that thing being used in a whole bunch of ways that we never even conceived of, the ability to provide information to soldiers, but also the ability to put our soldiers on the battlefield, they don't necessarily need to be in harm's way because they can take advantage of the augmented reality or diverse reality and actually be in a place with sensors where they're not at … you can be under an armored weapon system and be able to see outside and what we're doing with our troops," McConnville said. "But again, we have more work to do on that; we're not done yet."