Army Officials Tout Flexible, Fast Acquisition Authorities as Keys to AR Headset Program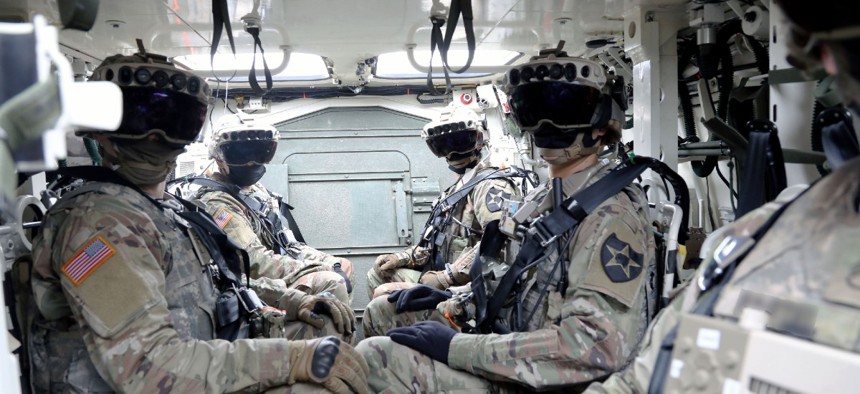 Army officials called the development of the headsets a "success story" for overcoming DOD's valley of death. 
The acting secretary of the Army called the service's project to create augmented reality headsets for combat troops a "success story" made possible by the use of rapid acquisition authorities and the integration of soldier feedback in the development process. 
At the end of March, the Army and Microsoft announced two years of work to develop soldier headsets based on the software giant's HoloLens gaming device would bear fruit: The Army awarded Microsoft a contract worth up to nearly $22 billion to take the Integrated Visual Augmentation System to production. In the press release announcing the award, the Army touted its use of its other transaction authority—which allows for flexible contracting issued outside the Federal Acquisition Regulations—and a "Soldier Centered Design approach." 
John Whitley, acting secretary of the Army, emphasized the importance of these two factors in overcoming what's known as the valley of death, referring to the time period between when prototypes for the Defense Department are shown to be successful and when those prototypes can receive budgetary support, during a Tuesday appearance on a Center for New American Security webinar. 
Whitley pointed to the OT, the ability to have Microsoft work "hand in glove with soldiers," and the ability to partner with a nontraditional defense contractor in the first place as keys to the success of the IVAS program. OTs have grown in popularity in recent years, particularly for technology acquisitions and for facilitating work with nontraditional defense contractors, though a recent audit revealed problems with OTs awarded through consortia. 
During the same panel, Gen. John Murray, commanding general of Army Futures Command, added development of the IVAS solution was done in three-week sprints. This allowed engineers to continuously get more feedback from soldiers, primarily soldiers at Joint Base Lewis-McChord, where IVAS was designed and built. 
Murray added there is no final requirement document for IVAS, creating the ability to "learn as you go along."
"Once we understand what's possible from a technology standpoint is when we lock the requirements document down and know what we want to look like going into final production," Murray said. 
Right now, Murray said, the Army has a limited understanding of the IVAS technology's potential. The IVAS headsets are currently slated to deliver "next-generation night vision and situational awareness capabilities," according to the Army's press release announcing the production contract award. 
"You can imagine, you know, augmented reality, virtual reality, you can imagine soldiers sitting in back of a combat vehicle and it's like the armor is not even there," Murray said. "It's just some cameras on the outside of the vehicle to allow that to happen. And so I think there's all kinds of potential in terms of IVAS, specifically, that we haven't even begun to scratch the potential yet."