DARPA Announces Microelectronics Program to Boost Domestic Manufacturing of Certain Chips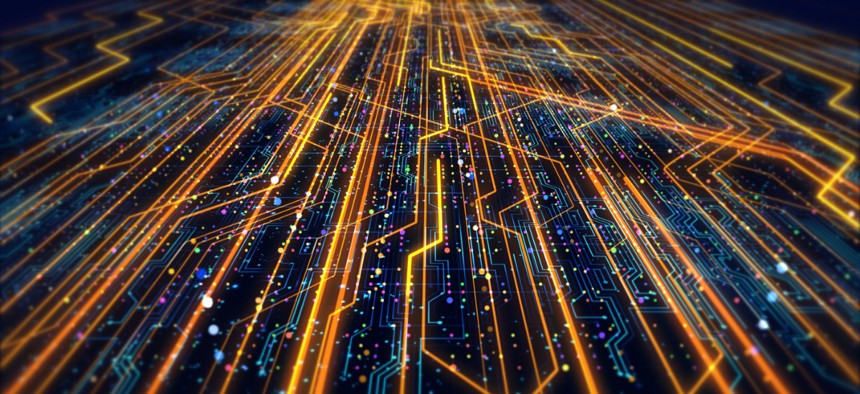 The research agency will partner with Intel and three university teams to boost domestic manufacturing of custom chips.
The Defense Advanced Research Projects Agency announced a program for expanding the access to domestic manufacturing capabilities for secured microelectronics development for defense systems, according to Thursday press releases. 
The Structured Array Hardware for Automatically Realized Applications, or SAHARA, program will enable the automated and scalable conversion of field-programmable gate array designs into Application Specific Integrated Circuit, or ASIC, platforms for defense needs, according to a DARPA press release. Intel will work with researchers from the University of Florida, University of Maryland, and Texas A&M, in a three-year partnership under the SAHARA program, according to an Intel press release. 
"SAHARA aims to enable a 60 percent reduction in design time, a 10X reduction in engineering costs, and a 50 percent reduction in power consumption by automating the FPGA-to-Structured ASICs conversion," Serge Leef, a program manager in DARPA's Microsystems Technology Office, said in the DARPA release. 
FPGAs need to be converted to structured ASICs for performance reasons, according to the release. FPGAs are used in military applications, but ASICs work better and consume less power. But at present, conversion is costly, particularly for the number of Defense Department applications that would require custom chips, according to the release. SAHARA aims to solve this issue and add security benefits, all while manufacturing in the U.S. to maintain supply chain security. 
The program supports DOD's microelectronics roadmap alongside other programs including the Rapid Assured Microelectronics Prototypes-Commercial and State-of-the-Art Heterogeneous Integration Prototype projects, according to the release. Microelectronics, along with other key technology areas like 5G, biotechnology, and cyber, is one of the undersecretary of defense for research and engineering's modernization priorities. 
"The structured ASIC platforms and methods developed in SAHARA together with the advanced packaging technology developed in SHIP will enable the U.S. Department of Defense to more quickly and cost-effectively develop and deploy advanced microelectronic systems critical to DoD modernization priorities," Brett Hamilton, deputy principal director for Microelectronics in USD(R&E), said in the DARPA release. 
Intel release said the company would develop technology to protect data and intellectual property from reverse engineering and counterfeiting while the university teams verify and validate new attack strategies in order to test chip security. 
Intel was recently awarded another DARPA project related to chips: the company is one of four awarded a contract to build silicon chips capable of supporting Fully Homomorphic Encryption, which enables users to compute and analyze data without exposing it to compromise by decrypting it. That project is DARPA's Data Protection in Virtual Environments program.