House Bill Proposes Millions to Build U.S. Quantum Network Infrastructure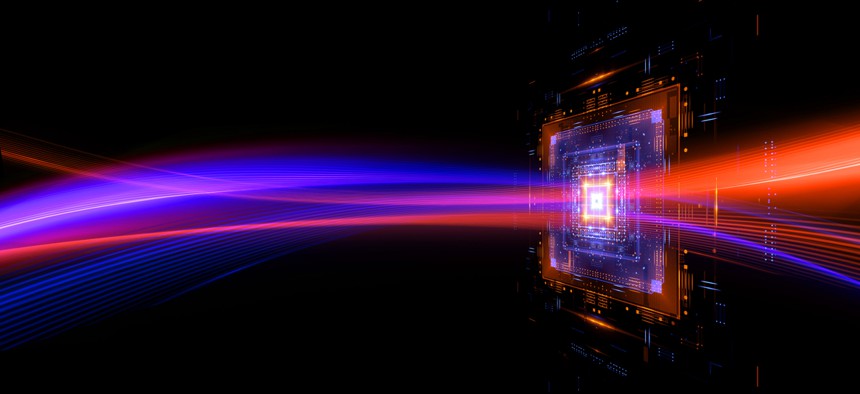 The legislation would establish an Energy Department-led "research, development and demonstration program."
Legislation recently put forth in the House of Representatives aims to advance the Energy Department's development of a robust infrastructure for what could eventually be a vast network of connected quantum-based computers and technologies. 
The Quantum Network Infrastructure Act introduced by co-chairs of the National Labs Caucus Reps. Lee Zeldin, R-N.Y., and Bill Foster, D-Ill., would authorize $100 million to Energy's Office of Science for fiscal years 2021 through 2025 to form and maintain the effort.
If passed, the bill would amend the National Quantum Initiative Act that President Trump signed in 2018—which lays out a plan to bolster the quantum field, research and associated technology applications—to establish what it deems an Energy Department-led "research, development, and demonstration program to accelerate innovation in quantum network infrastructure."
Quantum devices and technologies are all part of an emerging field that hones in on happenings at the atomic scale and holds promise to revolutionize science and engineering incorporating computation, communication, precision measurement—and beyond. In a statement, Zeldin noted that such tech "enables us to store significantly more information, faster, more securely and more efficiently, improving our lives and nation with everything from healthcare to national security to the financial sector." Still, the release notes, infrastructure is needed to really produce and integrate an American-built quantum network (and ultimately, push closer to fully realizing all of the technologies' full potential).  
The program the bill would set up would be formed based on insights the Energy Secretary would gather from officials across a range of other agencies' and government organizations. Through it, the department would be expected to steer cooperative research with partners in national laboratories, industry, research and academic and research institutions on topics "to facilitate new quantum infrastructure methods and technologies." Several listed in the legislation involve quantum routers, repeaters and interconnects that permit short range local connections between quantum processors. Further, Energy would be required to engage with the Quantum Economic Development Consortium, known as QED-C, to promote the development of the U.S. quantum supply chain, develop experimental tools and testbeds—and more. 
The innovation the act aims to push via the infrastructure is threefold: "to facilitate the advancement of distributed quantum computing systems through the internet and intranet; improve the precision of measurements of scientific phenomena and physical imaging technologies; and develop secure national quantum communications technologies and strategies."
A four-year research plan spotlighting the pursuit and "basic research needs" would be due to the House Committee on Science, Space, and Technology and the Senate Committee on Energy and Natural Resources.
The work the bill mandates would build on efforts already in-play. In July, senior Energy Department officials unveiled a strategic blueprint to pave the way for a potentially "unhackable" quantum internet over the next 10 years, and Trump's budget request for 2021 includes $25 million specifically intended for Energy "to support early stage research for a quantum internet." 
Other external researchers have already initiated efforts to create and secure quantum networks. And, as noted in Zeldin's release on the bill, Brookhaven National Lab in Upton and Stony Brook University—both in his state of New York—have established and are refining an 80-mile quantum network testbed.
"Thanks to investments in our nation's best and brightest scientists, we're now closer than ever to a large scale implementation of this technology, and we're not slowing down now!" Zeldin said.
The bill was referred to the House Committee on Science, Space, and Technology on the day it was introduced.