Pentagon Unveils Which Bases Will House Large-Scale 5G Experiments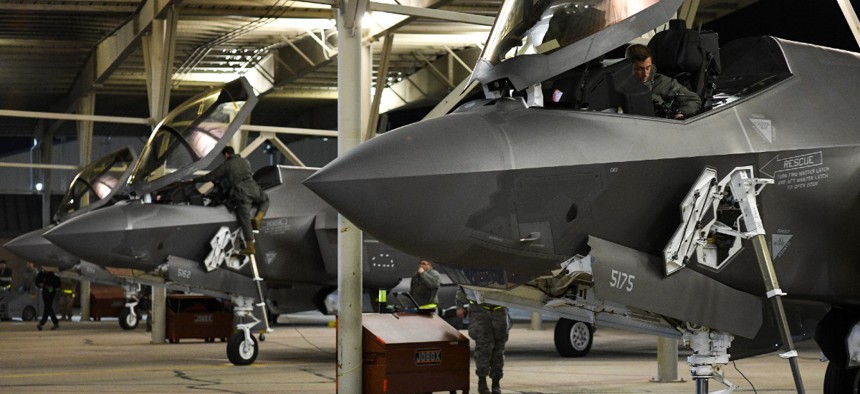 The first projects will focus on asset management and sharing across the spectrum.
The Defense Department outlined its plans to experiment and pioneer 5G technology at four domestic military bases and issued the first draft requests for prototype proposals.
Through an other transaction agreement with the National Spectrum Consortium, Defense will partner solely with chosen consortium members to "develop and mature spectrum access technologies" to improve spectrum activity, boost spectrum sharing, and protect U.S. activity across the domain. At Hill Air Force Base in Utah, efforts will focus on 5G dynamic spectrum sharing and at the Marine Corps Logistics Base in Georgia, projects will hone in on smart warehouse and asset management. 
"The department's needs have dramatically changed in the last few years," the consortium's chief strategy officer, retired Vice Adm. Joseph Dyer, told Nextgov Tuesday. "Not that long ago, everything was a tank, an airplane, or a ship, but today the new technology—virtual reality, cyber, data management and movement—these are technologies where the investment is coming primarily from the commercial side and where the department needs to bring in new suppliers."
In October, the agency indicated that, pending available funds, it aims to add new opportunities every quarter. In the near future, the department intends to issue two additional draft RPPs for projects at Joint Base Lewis-McChord and Naval Base San Diego.
Contracting through OTAs generally allows the government to create prototypes with non-traditional partners at a faster pace than procurements that follow Federal Acquisition Regulations. The consortium is made up of around 250 spectrum players, including traditional and non-traditional contractors, utility producers, investment firms, non-governmental organizations, and academia. In the solicitation, Defense officials deem NSC to be the only consortium that "encompasses the expertise, knowledge, technologies, and innovation needed to perform coordinated research and development to advance better use of the electromagnetic spectrum."
"It's really a place where the government can explain what they need, and suppliers can say 'hey, this is what our technology can give you,'" Dyer said. 
Under the agreement, Defense will provide RPPs for NSC to share with its members, who will then prepare appropriate proposals as they see fit. As the proposals blossom into approved projects, the bases can "provide streamlined access to site spectrum bands, mature fiber and wireless infrastructure, access to key facilities, support for new or improved infrastructure requirements, and the ability to conduct controlled experimentation with dynamic spectrum sharing." 
The projects at the base in Utah will focus on 5G dynamic spectrum sharing, in hopes to pioneer new hardware, software, systems and other methodologies that support the coexistence of airborne radar systems and 5G cellular systems in shared spectral bands. "The objective of this effort is to construct and operate a localized full scale 5G mobile cellular network in order to evaluate the impact of the 5G network on airborne radar systems and the radar systems' impact on the 5G network," Defense said.
The ultimate aim of the smart warehouse asset management effort in Georgia is to create new 5G-enabled prototypes that advance the U.S. Marine Corps' warehouse operations. "The intended outcome of the project is a 5G-enabled military Smart Warehouse that can not only enhance efficiency and safety well beyond the limits of current processes, but also serve as a proving ground for testing, refining, and validating emerging 5G enabled technologies for large-scale military logistics operations," officials wrote.
And though participation is limited only to consortium members, Dyer said there's a low barrier for entry and interested entities who want to do business with the Pentagon can usually join without any difficulties. 
"It sounds at first restrictive because you have to belong to the consortium, but the consortium is very open and continues to add more and more members," he said.
Howard Watson, a retired naval aviator and surface warfare officer, and the NSC's vice chair also added that technologies of the future, particularly 5G, are going to drastically impact the missions and goals of many federal agencies—not just military operations. Accelerating and advancing the technology will take a whole-of-society approach, and organizations like the consortium offer the perfect opportunity, he said, for all stakeholders to collaborate and pave the way for new applications of the emerging tech.
"Again, this really allows the federal government to reach companies that maybe would not traditionally care to do business with the government," he said. "So the government gets a better sense of what's in the realm of the possible and that small company opens doors and opportunities to collaborate with others."