10 Problems DHS Wants Innovative Small Businesses to Solve in 2019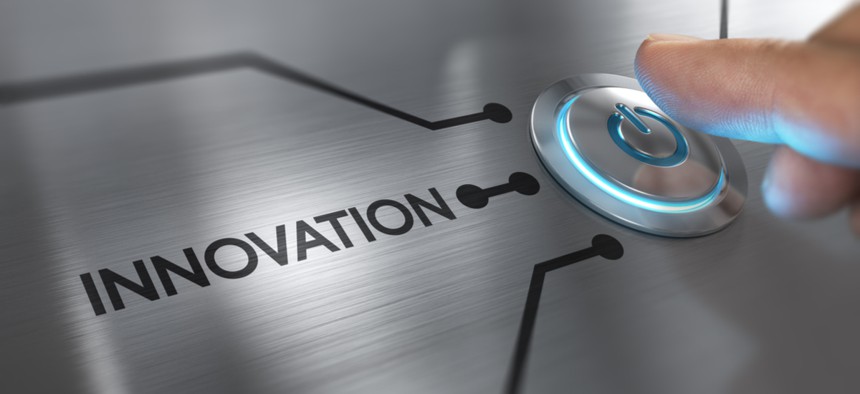 The department will be offering millions of dollars to small businesses able to offer solutions to these 10 tough technical problems.
The Homeland Security Department released a list of 10 bleeding-edge research areas it plans to pursue in fiscal 2019 in partnership with innovative small businesses.
The department's Science and Technology Directorate and Countering Weapons of Mass Destruction Office announced Friday the tentative list of technical areas for this year's Small Business Innovation Research, or SBIR, program. In the coming year, Homeland Security SBIR officials are proposing research into topics including using drones to detect radiological threats, sharing cyber threat data, using blockchain for forensic analysis, and advanced identity management—from DNA to cyberspace.
"The SBIR program provides an opportunity for innovative small businesses to find solutions that meet the technology needs of the department's operational components and the nation's first responders," William Bryan, senior official performing the duties of the undersecretary for science and technology, said in the announcement.
Homeland Security's SBIR program obligated almost $250 million across 805 awards from its start in 2004 through 2015, the latest year with data available on the SBIR.gov dashboard. The program hit its height in 2006 with almost $29.9 million in funds obligated to 95 projects.
In 2015, Homeland Security's program obligated $20.7 million to 48 projects. This amount is relatively small when compared to the largest SBIR awarders that year: the Energy Department at $193.6 million, Health and Human Services at $714.4 million and the Defense Department at $956.9 million.
The list for 2019 includes eight topics under the Science and Technology Directorate and two more under the CWMD office's program.
Reach-Back Capability for Fielded Rapid DNA Systems
Objective: Development of an accredited Homeland Security reach-back capability to review results from fielded Rapid DNA systems using the Office of Biometric Identity Management DNA store/match/share capability.
ICAM On-the-Fly
Objective: Develop and demonstrate an identity, credential and access management, or ICAM, solution that will allow all first responders supporting a multijurisdictional event to be able to safely and securely share information.
On Body Power Module for First Responders
Objective: Develop a module that can power, charge and provide effective power management of all on-body electronics including sensors, communications systems and peripheral devices for all first responder mission areas including EMS, fire and law enforcement.
Modeling-based Design of Sensors for Chemical Detection in Complex Environment
Objective: Develop sensors for chemical analyte detection based on existing theoretical models and compare their selectivity and sensitivity characteristics with the model predictions.
Synthetic Training Data for Explosive Detection Machine Learning Algorithms
Objective: Development of methods for creating synthetic human subject and baggage object models for creating realistic image-based machine learning training data.
Cybersecurity Peer-to-Peer Knowledge/Lessons Learned Tool
Objective: Develop a collaboration tool for medium and small organizations to help them identify key cybersecurity information and lessons-learned of most significance to them.
Network Modeling for Risk Assessment
Objective: Develop models of networks to identify risks associated with the network, tool development for counterfactual analysis (what-if scenarios) and risk assessment.
Blockchain Applications for Homeland Security Forensic Analytics
Objective: Design a product to support the implementation of blockchain-based forensics, data analysis and information sharing.
Detector Integration with Current and Emerging Networked Systems
Objective: Survey current radiation instruments and sensors used for preventative radiological/nuclear detection missions. For selected systems, develop appropriate interfaces that permit integration with current and emerging networked systems.
Unmanned Aerial System Autonomous Search of Limited Area for Radiological Threats
Objective: Integrate commercially-available radiation detection equipment into a commercially-available unmanned aerial system to meet the objective of performing an automated search of a defined limited area—e.g., cargo container yard, stadium, parking lot, etc.—for radiological threats.
The presolicitation document posted to FedBizOpps includes further details on each research area.
The final solicitation for this year's opportunities is expected to drop on Dec. 19.
Questions on the topics can be submitted to the contracting office through Dec. 18. However, contracting officers warn, "Questions should be limited to specific information related to improving the understanding of a particular topic's requirements. Potential offerors are prohibited from seeking advice or guidance on its solution approach, or submitting any materials," the notice states.