White House Budget Seeks to Bolster US Tech Development, Modernize Standards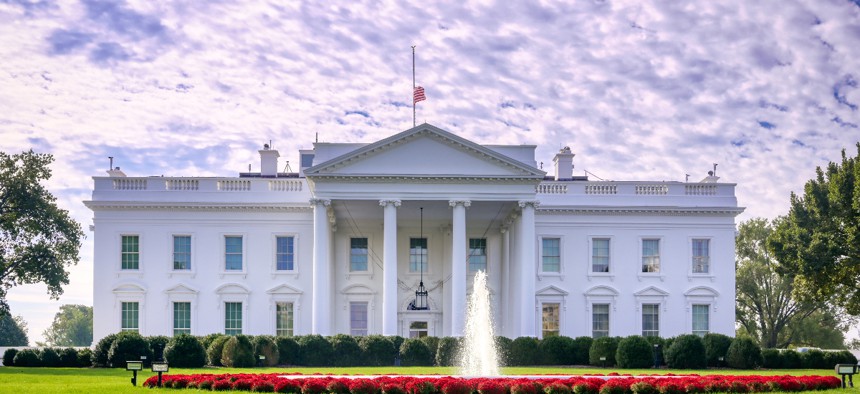 The Biden administration's fiscal year 2024 budget request would, in part, boost federal spending to address "the ongoing cyber threat" and "modernize services" across government.
President Joe Biden's proposed fiscal year 2024 federal budget seeks to strengthen U.S. leadership in the production and development of emerging technologies, while also increasing spending to combat cyber threats and modernize digital services across government. 
In a cover letter to Congress accompanying his roughly $6.8 trillion budget request, Biden said that the proposal "outlines crucial investments to out-compete China globally" and "continues our work to restore America's global leadership," including by "advancing cybersecurity."
The proposal says that the budget request aligns with the national defense strategy, released in October 2022, by seeking funding for activities focused on "building resilience in the cyber and space domains and investing in new applications of artificial intelligence, quantum science and biotechnology with the potential to revolutionize how U.S. forces operate."
The White House's budget emphasizes the domestic production and development of innovative technologies as key to U.S. leadership on the global stage, particularly when it comes to national and economic security. The request builds upon last year's passage of the CHIPS and Science Act by providing $25 billion—an increase of roughly $6.5 billion from currently allocated funding—for "authorized activities" under the law to promote domestic production and development of innovative technologies. 
This includes $11.3 billion for the National Science Foundation—an 18.6% increase in this year's enacted funding level—"to support the CHIPS and Science Act," including $1.2 billion for the agency's Directorate for Technology, Innovation and Partnerships "to help accelerate and translate scientific research into innovations, industries and jobs." The request also proposes $300 million for NSF's Regional Innovation Engines program "to galvanize use-inspired research, technology translation and workforce development."
Advancing U.S. and global cyber priorities
To bolster the nation's cyber resilience, the budget proposes a range of domestic and international investments to build upon the principles outlined in the White House's national cybersecurity strategy released on March 2. The budget says that this allocated funding aligns with the strategy's "whole-of-nation approach to addressing the ongoing cyber threat."
The budget proposes $3.1 billion for the Cybersecurity and Infrastructure Security Agency, which would represent a $145 million increase from the agency's current budget. This includes "$98 million to implement the Cyber Incident Reporting for Critical Infrastructure Act," as well as "$425 million to improve CISA's internal cybersecurity and analytical capabilities."
In addition, the White House proposes additional funding to enhance the cyber skills of law enforcement officials and to bolster critical infrastructure sectors. This includes allocating $245 million for efforts to strengthen "the cybersecurity and resilience of the energy sector," as well as an additional $63 million for the FBI "to build cyber investigative capabilities" by investing in "more agents, enhanced response capabilities and strengthened intelligence collection and analysis capabilities." 
The Biden administration's request also provides the Treasury Department with $215 million to "protect and defend sensitive agency systems and information, including those designated as high-value assets." This effort to enhance Treasury's enterprise cybersecurity, which represents a $115 million increase in the department's current budget, would also enable it to continue implementing its zero trust architecture. 
In addition, the budget proposes setting aside $14 million to create new Violence Against Women Act programs designed "to address cybercrimes against individuals." 
The White House's budget also proposes cyber-focused funding to enhance diplomatic efforts and to assist U.S. allies with combating digital threat actors and hostile nation states. This includes over $395 million "to advance global cyber and digital development initiatives," such as the State Department's Bureau of Cyberspace and Digital Policy. And the proposal also requests $753 million for Ukraine "to continue to counter Russian malign influence and to meet emerging needs related to security, energy, cybersecurity, disinformation, macroeconomic stabilization and civil society resilience." 
Modernizing IT systems and customer-facing services
Biden's proposal also seeks to streamline Americans' access to digital government resources by allocating over $500 million "to modernize services, reduce administrative burdens, pilot new online tools and technologies and improve agency capacity to improve service delivery." 
This includes directing $163 million to State for the agency to enhance its online passport services, including for the development of an online passport renewal portal. Additionally, the request proposes a $642 million increase to the Internal Revenue Service's budget for customer service-focused initiatives—including, in part, for improving "online account access for taxpayers." 
The budget also seeks $119 million for the General Services Administration to continue implementing "priority programs such as the U.S. Web Design System, Digital Analytics Program, Digital.gov, Search.gov and Touchpoints/Feedback Analytics." Funding would also go toward "exploring the creation of government-wide web content standards and search engine optimization practices."
Additional user experience-focused funding would go toward embedding GSA's Technology Transformation Services "with six federal agencies to work directly on priority service improvement projects," as well as toward hiring over 120 new full-time employees with "customer experience and digital product delivery experience" at several federal agencies, including the Census Bureau, the Labor Department and the Small Business Administration. 
To support IT modernization efforts across the government, the budget proposes allocating an additional $200 million for the Technology Modernization Fund, which it says is "particularly well-positioned to make a large impact in the federal government's ability to deliver excellent, equitable and secure services and customer experience by identifying opportunities to leverage technology across agencies and investing in IT modernization, cybersecurity and user-facing services."
The budget also proposes $6.4 billion—an increase of $619 million from the amount allocated last year—for the Department of Veterans Affairs' Office of Information Technology to continue its work upgrading the agency's IT systems. This includes $1.9 billion for VA to continue the deployment of its new Oracle Cerner electronic health record modernization program, which has drawn bipartisan criticism from lawmakers over patient safety concerns, technical issues and cost overruns. 
Long odds in divided Congress
Given Republican control of the House, Biden's proposed budget stands little chance of being enacted as is. But it signifies the administration's priorities moving forward in negotiations with congressional Democrats and Republicans—battle lines that White House officials laid out as soon as the budget was released. 
Shalanda Young, director of the Office of Management and Budget, said during a press call on Thursday that the release of the FY 2024 budget "comes at a critical moment for our country," placing the request in the context of the post-coronavirus economic recovery and saying that it "details a roadmap to build on that progress and finish the job." That includes proposing major changes to the individual and corporate tax codes to raise taxes on the wealthiest Americans and companies. 
"You have to begin to pay your fair share," Young said, adding that "that's what we're going to talk about over the coming months, and we're happy to have that debate."