NOAA Building 'Digital Twin' of Earth to Study Climate Change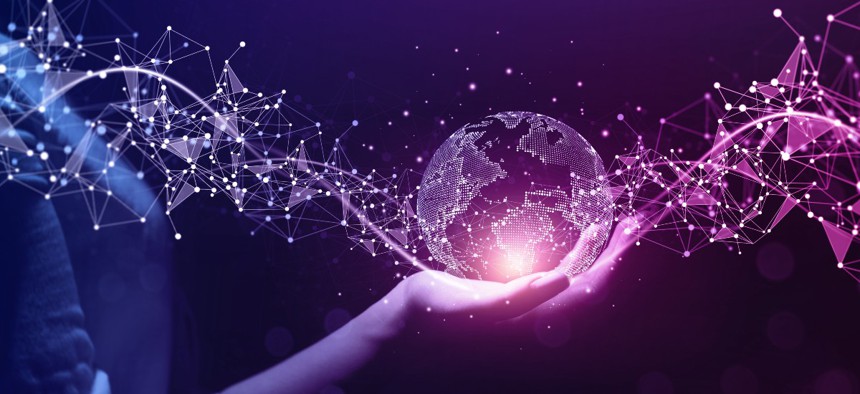 In collaboration with NVIDIA and Lockheed Martin, NOAA will create a two-dimensional model of Earth based on climate data.
A collaboration between the private and public sectors will produce a digital twin of planet Earth, fueled by current meteorological data, to help researchers and policymakers access advanced visualizations of current––and past––weather patterns. 
The National Oceanic and Atmospheric Administration partnered with NVIDIA and Lockheed Martin to construct the Earth Observation Digital Twin, an inaugural prototype of Earth modeled on real-time geophysical data sourced from satellites and ground stations. 
The replica Earth, or EODT, will be designed as a two-dimensional computer program. Some potential climate impacts the EODT can display include global glacier melting, drought impacts, wildfire prediction and other climate change events. 
"We're providing a one-stop shop for researchers, and for next-generation systems, not only for current, but for recent past environmental data," Lockheed Martin Space Senior Research Scientist Lynn Montgomery said. "Our collaboration with NVIDIA will provide NOAA a timely, global visualization of their massive datasets."
Emerging technologies like artificial intelligence play a key role in EODT's data processing and modeling. Matt Ross, a senior manager at Lockheed Martin, told Nextgov that the sheer volume and diversity of data from NOAA sources that program EODT make it challenging to gauge accurate insights from the application. 
"This data happens to come in different formats, because the data are so diverse, because it's measuring so much different stuff," Ross said. "It arrives in different formats that, absent technology, it could make it very, very difficult to gain the insights that NOAA needs to make decisions."
AI and machine learning algorithms will help NOAA researchers assimilate and identify the incoming data, as well as detect any anomalies. Ross added that the combined power of AI and ML data processing is key to Lockheed and NVIDIA's "digital twin" programming technology in that it can accurately model past data as well as future realities, all in an intractable and real-time interface. 
"The observational digital twin is the fact that, again, it's being used to monitor the environmental impacts and the systems that collect the various data," Dion Harris, the lead product manager of accelerated computing at NVIDIA told Nextgov.
As a computer application, EODT was built on NVIDIA's Omniverse software, which serves as a data repository and analytics visualization platform. The company has previously entered into similar partnerships with NOAA and other federal agencies, like the Department of Agriculture. 
Ross noted that the EODT program is continuing to discuss what data is optimal to train the algorithms with NOAA officials. He envisions training the program on a hybrid of real, historical meteorological data from NOAA, as well as synthetic data. 
While both NVIDIA and Lockheed intend for the final deliverable to be a two-dimensional user experience, additional capabilities may be added in the future. 
"The fact that we can pull all this data into a single sort of format, in a single viewpoint, allows you to have real time or near real time, access to it, and the interdependencies of that data to make real time decisions," Harris added.