Senate Intel Chair Says Government Needs to Wake Up to China Threat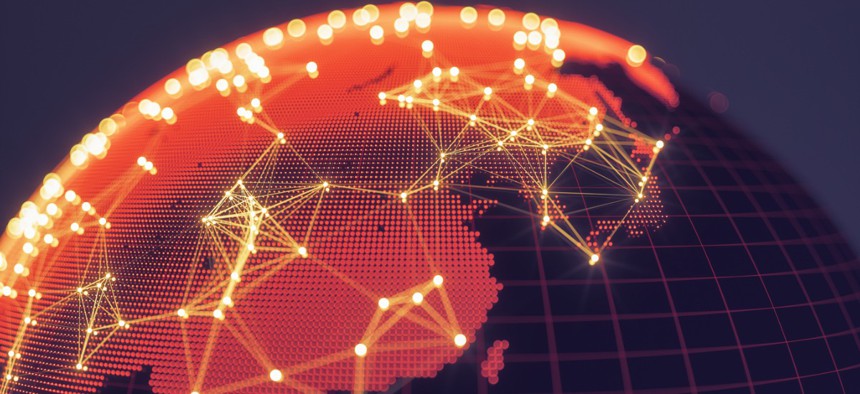 The senator called for increased investment in technology and infrastructure by the federal government.
Sen. Mark Warner, D-Va., said China poses a "threat unlike any other" nation in history and said its activity in attempting to set tech standards and heavy investment in emerging technologies requires a significant response from the federal government.
Speaking Tuesday at Amazon Web Services' Public Sector Summit, Warner—who chairs the Senate Intelligence Committee—said the United States has already "lost the 5G battle" and risks losing more if it fails to properly invest in technology and the nation's underlying infrastructure.
The federal government needs to "put our money where our mouth is, we need to invest in large numbers," Warner said. "The alternative is China making those investments. What China is doing… is not only investing in a host of areas, but they are catching the west writ large asleep at the switch in setting tech protocols and rules. These are things we always kind of thought would be set in the west."
Warner said the United States needs to strategically partner with allied democracies on technology standards and other tech issues, and emphasized the growing influence the capitalist, authoritarian Chinese Communist Party is exerting worldwide.
"We have to recognize that we, America, and democracies have to create an alliance of will to really collaborate on tech," Warner said. "This is an economic competition and a values competition."
Warner's remarks come as Congress contemplates Joe President Biden's multitrillion-dollar legislative agenda, which contains billions' worth of investment in tech and infrastructure. On Monday, Republicans blocked a short-term funding bill that would have paused the nation's debt ceiling, leaving lawmakers until Thursday to avoid a potential government shutdown.