Lawmakers Ask Biden to Secure Funding for Semiconductor Research and Production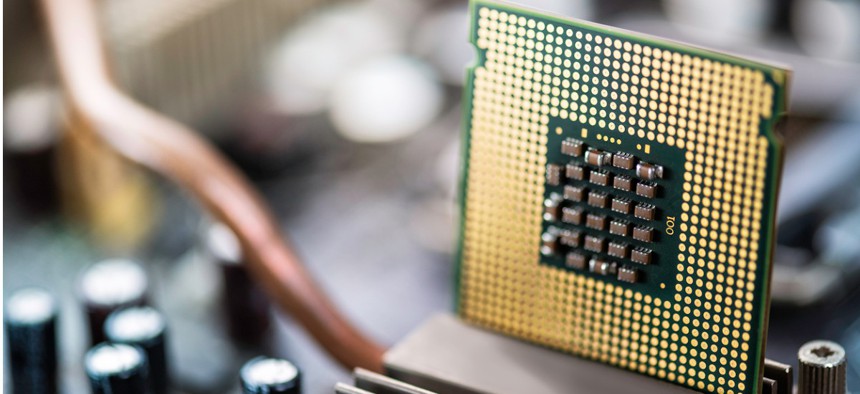 Their request comes as technology companies endure a global chip shortage.
A bipartisan collection of more than 70 House and Senate lawmakers pressed the president in a letter Monday to prioritize federal funding for semiconductor manufacturing and research.
During a meeting the White House held with more than a dozen CEOs that same day—to address the ongoing chip shortage that's forced some major American makers to pause production—President Joe Biden expressed his support for such infrastructure-aligned investments and pointed to the Congress members' message.
"Both sides of the aisle are strongly supportive of what we're proposing, and where I think we can really get things done for the American people," Biden said from the Roosevelt Room. "Now, let me quote from the letter. It says, the Chinese Communist Party 'aggressively plans to reorient and dominate the semiconductor supply chain'—and it goes into how much money they're pouring in to be able to do that."
Semiconductors and chips underpin many modern valuables, including computers, smartphones, appliances, medical equipment, vehicles and more. But an immediate global shortage of these material products is posing serious issues across electronics, pharmaceuticals, auto manufacturing, and other key industries. In their correspondence, the bipartisan, bicameral group of policymakers requested that Biden prioritize efforts to fund semiconductor-aligned initiatives mandated by the CHIPS for America Act, which was included in the National Defense Authorization Act for fiscal year 2021.
"The halted production lines for consumer technology, auto manufacturers, truckers, and other critical industries due to a semiconductor shortage further highlights the pressing need to act quickly and fund the enacted bipartisan provisions," the Congress members wrote.
The lawmakers further urged Biden to work with strategic partners to "out-scale the [Chinese Communist Party] in manufacturing capabilities for advanced semiconductors" and explore executive actions to confront the present matter. On top of other, explicit funding-supporting requests, they also asked the president to incorporate investments in the 2022 budget request to support semiconductor research, development, and manufacturing at the National Science Foundation and Commerce, Energy and Defense departments, among other agencies.  
"Chips, like the one I have here—these chips, these wafers, are batteries, broadband; it's all infrastructure. This is infrastructure," Biden said during that Virtual CEO Summit on Semiconductor and Supply Chain Resilience. "So, look, we need to build the infrastructure of today, not repair the one of yesterday."
The president expressed aims to support investments for this realm via specific funding proposals, as he spoke to the senior leaders from multiple tech giants facing the supply chain shortfalls, including the CEOs of Google, AT&T, Intel Corp., Ford Motor Co. and General Motors.
"It is clear there is broad bipartisan and cross-industry recognition that semiconductor manufacturing is a vital component of our national infrastructure that must be included in the American Jobs Plan," Intel CEO Pat Gelsinger said after the event.