Biden's Latest Tech Appointments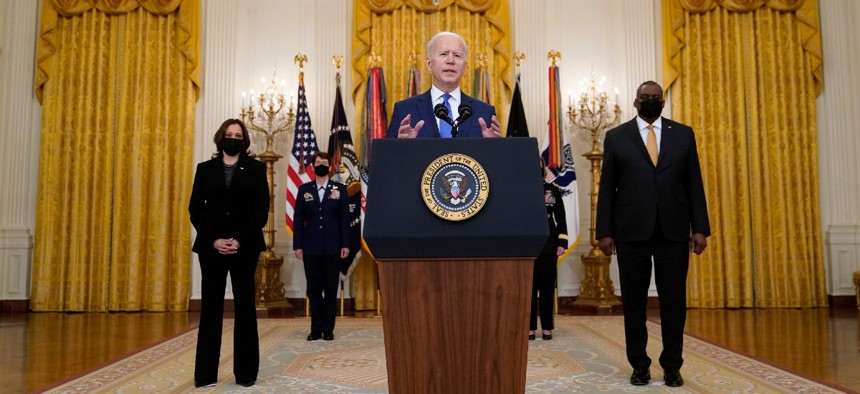 President Biden tapped former IARPA Director Jason Matheny for roles on the National Security Council and White House OSTP.
Jason Matheny, who headed the Intelligence Advanced Research Projects Activity from 2015 to 2018, will serve a dual-role in President Joe Biden's White House.
Matheny will be the White House National Security Council's coordinator for technology and national security and will serve as the deputy assistant to the president for technology and national security, deputy director for national security at the White House Office of Science and Technology Policy.
Matheny's appointment was tweeted March 8 by Georgetown's Center for Security and Emerging Technology, a nonpartisan think-tank Matheny formerly served as its founding director.
Matheny's appointment is one of a recent slew of tech-related appointments or jobs filled by the Biden administration. The new faces include Big Tech critics in key oversight roles and as well as several key military and civilian tech personnel.
Big Tech Critics Get Key Roles
First reported by Politico, Biden intends to nominate legal scholar Lina Khan to the Federal Trade Commission. Khan would be one of three Democratic commissioners at the FTC, which oversees privacy, security and antitrust enforcement, at a time when the federal government is already pursuing antitrust lawsuits against Facebook and Google. Khan has previous experience working antitrust issues, serving as an aide to the House Judiciary antitrust subcommittee's investigation into practices at Amazon, Apple, Google and Facebook.   
Khan's announcement comes days after Biden named big tech critic and Columbia University law professor Tim Wu to his National Economic Council. Wu will serve as special assistant to the president for technology and competition policy.
18F's New Leader
The General Services Administration's tech fix-it team is under new leadership. According to a Technology Transformation Services tweet, Uchenna Moka-Solana is the new acting executive director for 18F and the first Black woman to hold  the position. According to her LinkedIn page, Moka-Solana formerly worked as an innovation specialist for 18F, and has more than 10 years of experience in custom software development and management.
Energy's Acting CISO Becomes Permanent
The Energy Department last week appointed Greg Sisson as its chief information security officer. Sisson is a familiar face at Energy, having served as its director of cyber operations and—until now—its acting chief information security officer.
More Tech Appointments at DOD
Douglas Bush, who formerly worked as a senior aide for the House Armed Services Committee, will be the principal deputy assistant secretary of the Army for acquisition, logistics and technology. The Defense Department made the announcement in a press release Tuesday.
The release also included another notable tech appointment. Zachary Learner will serve as the special assistant to the undersecretary of Defense for research and engineering.
The Army last week announced a leadership change for its Program Executive Office Command, Control and Communications-Tactical, or PEO C3T. In a ceremony at the Aberdeen Proving Ground, Col. Mike Williams replaced Col. Troy Crosby as project manager. Williams recently served as a product manager for Mission Network, and later became director of forward operations for CENTCOM. 
New Personnel at OMB
As reported by Nextgov Tuesday, Biden named Clare Martorana as the new federal chief information officer. Martorana, previously the CIO of the Office of Personnel Management, is the sixth person to hold the title since the Obama administration first coined it. She'll be joined by at least one more familiar face: Eric Mill, who formerly worked at GSA's 18F, announced via twitter that he'll be joining the Biden administration a senior advisor to the federal CIO within the Office of Management and Budget.