Twitter, Facebook Temporarily Block Trump's Accounts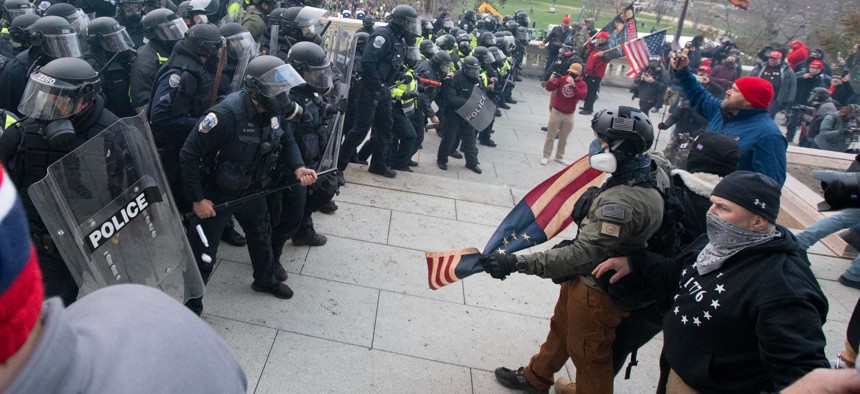 Tech executives also called for Congress to move forward with certifying the election.
Social media platforms temporarily blocked President Donald Trump's accounts after he used them to respond to the violent, attempted takeover of the Congressional buildings by his supporters Wednesday with unsubstantiated reports of election fraud—including a video telling those who stormed the Capitol to go home and "we love you."
Facebook and Twitter on Wednesday evening opted to ban Trump from posting for certain timeframes, while YouTube decided to only remove specific posts. All three companies have previously been criticized for allowing the president to spread false information with few or insufficient checks, even as some applied labels to controversial posts. 
"As a result of the unprecedented and ongoing violent situation in Washington, D.C., we have required the removal of three @realDonaldTrump Tweets that were posted earlier today for repeated and severe violations of our Civic Integrity policy," Twitter said, adding that Trump's account would be locked for 12 hours or longer if the tweets weren't removed.
One of the tweets that had been taken down by Wednesday night read, "These are the things and events that happen when a sacred landslide election victory is so unceremoniously & viciously stripped away from great patriots who have been badly & unfairly treated for so long. Go home with love & in peace. Remember this day forever!" It had similar sentiments to a video message Trump released Wednesday afternoon after Congress had been on lockdown in which he told supporters, "I know your pain, I know you're hurt. We had an election that was stolen from us."  
Facebook later confirmed that the president would not be able to post on its site for 24 hours, following what it said were "two policy violations" from his account. The news came after two of the company's vice presidents released a joint statement, detailing moves the social media giant took in response to what occurred. 
"We are treating these events as an emergency," Guy Rosen, Facebook's vice president of integrity, and Monika Bickert, the company's vice president of global policy management, wrote. They cited the removal—from both Facebook and Instagram—of "the recent video of President Trump speaking about the protests and his subsequent post about the election results." The video was reportedly shared around 49,000 times before it was taken down.
Additionally, posts to the site that express support for what unfolded, encouraged weapons at protests, called for forthcoming violence, and more are being actively searched for and taken down, according to the officials. Facebook also recently "removed over 600 militarized social movements" and in the past few weeks pursued enforcement actions against militarized movements and the dissemination of conspiracy theories. Going forward, any posts seeking to delegitimize the results of the election will include text noting, "Joe Biden has been elected President with results that were certified by all 50 states. The US has laws, procedures, and established institutions to ensure the peaceful transfer of power after an election." 
Though it didn't instill a ban, Google-owned YouTube also confirmed that it deleted the minute-long video Trump had shared on its site due to policy violations and confirmed insiders are "working to quickly remove livestreams and other content that violates [its] policies." 
The notable actions taken by social media platforms also came as CEOs from multiple technology companies used those and other platforms to share their own calls for unity, an end to violence on the Hill and acceptance of the election's outcome. 
"What is happening in our nation's capital is appalling and saddening," Cisco CEO Chuck Robbins tweeted. 
IBM's Arvind Krishna also shared a statement noting the tech giant "condemns today's unprecedented lawlessness and we call for it to end immediately," further adding that "these actions have no place in our society, and they must stop so our system of democracy can work." Jason Oxman, who steers the Information Technology Industry Council, called on Congress to "complete its Constitutional mandate."
In a statement to Nextgov, Leidos CEO Roger Krone said he was "shocked and appalled by the behavior" that took place in the nation's capital today. "We are closely monitoring the situation and our priority is to keep employees safe," he noted.
And among others, Business Roundtable—an association of chief executives from leading U.S. businesses—called "on the president and all relevant officials to put an end to the chaos and to facilitate the peaceful transition of power." Microsoft's president and CEO retweeted the statement.