FBI Calls for Photos, Videos of Insurrectionists at the Capitol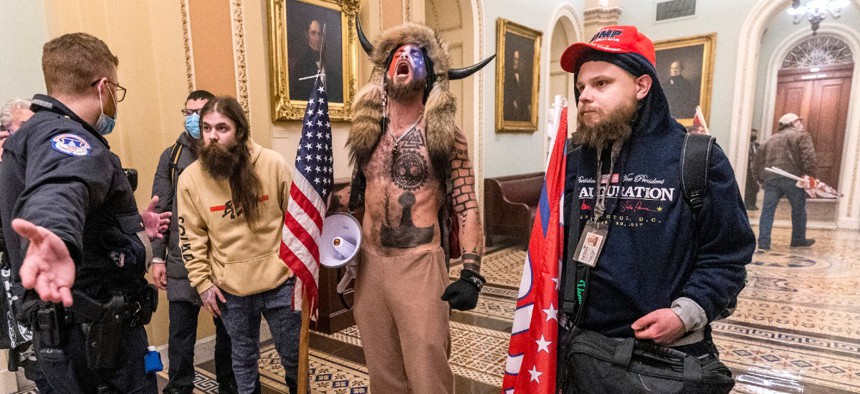 The Department of Justice said some participants will be charged in connection with the riots.
Social media and online forums reportedly enabled supporters of President Donald Trump to connect with each other and plan the January 6 insurrection aimed at preventing a democratic transfer of power, but in the aftermath of the riots, the internet is helping law enforcement identify individuals who fomented unrest at the U.S. Capitol for arrest. 
On Thursday morning, around five hours after Vice President Mike Pence officially affirmed President-elect Joe Biden's election victory, the Federal Bureau of Investigations put out a call for tips to help the agency identify "individuals instigating violence in Washington, D.C." The Department of Justice also put out a statement indicating some participants will be charged today, with more to come over the next days and weeks. 
The link to FBI.gov/USCapitol leads to a tip page urging witnesses to "submit any information, photos, or videos that could be relevant." The FBI's local Washington Field Office tweeted a similar message shortly after midnight Thursday morning. The bureau's digital team has been combing social media images, according to CNN's Jim Sciutto. 
FBI Director Christopher Wray also released a statement Thursday describing the riots as showing a "blatant and appalling disregard for our institutions of government and the orderly administration of the democratic process." Wray also encouraged members of the public to assist by submitting tips and videos of illegal activity. 
"Let me assure the American people the FBI has deployed our full investigative resources and is working closely with our federal, state, and local partners to aggressively pursue those involved in criminal activity during the events of January 6," Wray's statement reads. "Our agents and analysts have been hard at work through the night gathering evidence, sharing intelligence, and working with federal prosecutors to bring charges."
A DOJ statement from acting Attorney General Jeffrey Rosen regarding the violence at the Capitol affirmed charges are on the way. 
"Some participants in yesterday's violence will be charged today, and we will continue to methodically assess evidence, charge crimes and make arrests in the coming days and weeks to ensure that those responsible are held accountable under the law," Rosen's statement reads.
Five House committees also sent a letter to Wray Thursday requesting an immediate briefing on the FBI's efforts to investigate the riots. The letter was signed by the chairs of the Oversight and Reform, Judiciary, Homeland Security, and Armed Services committees as well as the chair of the Permanent Select Committee on Intelligence. 
"Given the incendiary environment caused and exacerbated by President Trump's rhetoric, along with the upcoming inauguration of President-Elect Joe Biden, it is imperative that the FBI leverage all available assets and resources to ensure that the perpetrators of this domestic terrorist attack and those who incited and conspired with them are brought to justice, and that this domestic terrorist group is disrupted from further actions against our government," the letter reads.
As insurrectionists pressed forward into the Capitol building, photos and videos of the event flooded the internet. Many were stunning: one man waved to photographers while carrying a podium inside the Capitol, another walked through the halls holding a Confederate flag, and another was pictured with his feet up on a desk inside Speak Nancy Pelosi's office.
The FBI isn't the only entity collecting photos and videos like these. Bellingcat, a research collective that uses open-source intelligence and social media to conduct investigations, encouraged its Twitter followers to "scrape and save" videos of the event. 
Bellingcat later tweeted a link to a spreadsheet where people could add photos and videos from the Capitol riots, adding that the goal is to compile digital media for research—rather than identification—purposes. 
Nick Waters, an investigator with Bellingcat, told Nextgov the goal of the spreadsheet is to collect as much information as possible to better understand exactly what happened at the Capitol in the name of public interest. Waters said despite the common conception that everything on the internet is there forever, that isn't necessarily the case. Waters cited instances of content being removed during conflicts, such as those in Syria and Yemen, as examples. 
"However, if you collect all this information, and then analyze it over a later period it makes a lot easier to understand it," Waters said. "Once you have that kind of understanding, you can then go on to actually investigate it and start to write articles and understand aspects of the case that may not otherwise have been evident."
Social media sites including Facebook and YouTube, which in the past have faced intense criticism for failing to remove inflammatory content, are now taking steps to remove some posts, including videos of President Trump addressing the mob. Yesterday, Facebook and Twitter banned Trump for certain periods of time. This morning, Facebook's Mark Zuckerburg announced Trump would be banned indefinitely. 
Facebook's Wednesday statement also indicated the company would take down posts supportive of the insurrection. The statement lists several types of content it would remove:
"Praise and support of the storming of the US Capitol
Calls to bring weapons to locations across the US — not just in Washington but anywhere in the US — including protests 
Incitement or encouragement of the events at the Capitol, including videos and photos from the protestors. At this point they represent promotion of criminal activity which violates our policies.
Calls for protests — even peaceful ones — if they violate the curfew in DC 
Attempts to restage violence tomorrow or in the coming days."
Sen. Mark Warner, D-Va., the incoming chairman of the Senate Intelligence Committee, said in a statement after Facebook announced Trump's suspension social media platforms need to do more.
"Disinformation and extremism researchers have for years pointed to broader network-based exploitation of these platforms," Warner said. "As I have continually said, these platforms have served as core organizing infrastructure for violent, far-right groups and militia movements for several years now – helping them to recruit, organize, coordinate and in many cases (particularly with respect to YouTube) generate profits from their violent, extremist content." 
Editor's note: This article was updated with comments from FBI Director Christopher Wray and comments from lawmakers.