Major Social Media Networks Freeze Trump Accounts for Final Days of Term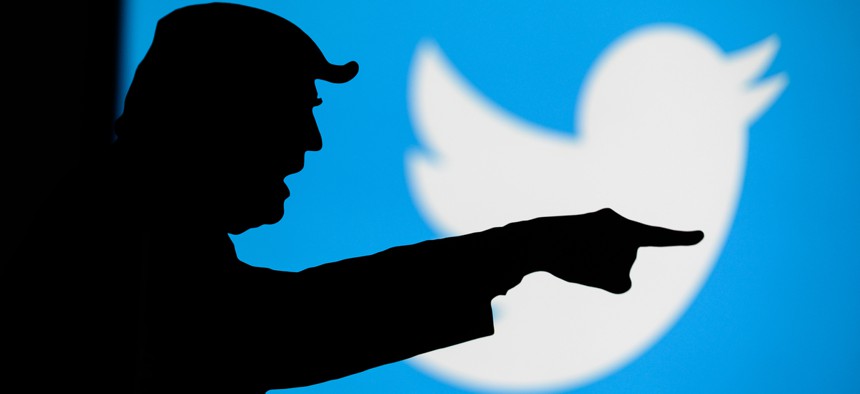 Some lawmakers said tech companies did too little, too late.
Facebook's chief executive announced Thursday that President Donald Trump is suspended from posting on two of its platforms for the rest of his term—and potentially longer. 
The unusual gesture follows previous steps the social media company and several other U.S. tech giants have taken since Wednesday to limit, remove and send a message after Trump shared content on their platforms addressing a group of his supporters who were chaotically seizing the U.S. Capitol in an attempt that turned fatal. Those crowds of rioters expressed discontent with the outcome of the U.S. election based on unproven claims, and not long after Facebook's reveal, Google-owned YouTube also implemented a stricter approach to stop the dissemination of false election-related information.
Still, multiple Democratic lawmakers argued that more should be done and those moves should've been made much sooner.
"While I'm pleased to see social media platforms like Facebook, Twitter and YouTube take long-belated steps to address the President's sustained misuse of their platforms to sow discord and violence, these isolated actions are both too late and not nearly enough," Sen. Mark Warner, D-Va., said in a statement. "Disinformation and extremism researchers have for years pointed to broader network-based exploitation of these platforms."
Facebook's full-on ban comes on the heels of an initial one the company set for 24 hours Wednesday evening, citing policy violations on Trump's behalf. Just before that point, two of its vice presidents highlighted its "response to the violence in Washington." But on Thursday morning, Facebook CEO Mark Zuckerberg published a new post calling for a safe and lawful presidential transition—and peaceful inauguration. 
"We believe the risks of allowing the President to continue to use our service during this period are simply too great," he wrote. "Therefore, we are extending the block we have placed on his Facebook and Instagram accounts indefinitely and for at least the next two weeks until the peaceful transition of power is complete." 
Officials inside Zuckerberg's company likely sifted through conspiracy theories or content condoning violence related to the events, which its prior blog post indicated as a response mechanism. Facebook did not respond to Nextgov's request for more information by deadline. 
Throughout his term, Trump used social media often and in unconventional ways compared to his presidential predecessors, including to shame the media and his political opponents, and state proven falsities as facts. More recently, platforms including Facebook and Twitter began instituting labels warning about inaccuracies in certain posts, and at times removed them completely, which reportedly prompted an executive order from Trump. In his statement, Zuckerberg mentioned the company's previous actions involving the president's posts, noting that "the public has a right to the broadest possible access to political speech, even controversial speech."  
"But the current context is now fundamentally different, involving use of our platform to incite violent insurrection against a democratically elected government," he wrote.
Trump's accounts reach more than 35 million followers on Facebook, and more than 88 million on Twitter. The latter also suspended him from tweeting for 12 hours Wednesday night, and the president hasn't tweeted through Thursday afternoon, though if he can remains unclear. Those two, alongside YouTube, previously took down a video Trump shared urging his storming supporters to leave the Hill, but further encouraged unfounded claims of election fraud. 
Thursday afternoon, YouTube released a series of tweets detailing plans to impose channel strikes—or more severe consequences restricting posting abilities—against all accounts disseminating unsubstantiated claims regarding the outcome of the 2020 election.
"Due to the disturbing events that transpired yesterday, and given that the election results have now been certified, starting today *any* channels posting new videos with false claims in violation of our policies will now receive a strike," the company wrote, also adding, "we apply our policies and penalties consistently, regardless of who uploads it."
Another major social media player to make assertive moves amid the Congressional ambush was Snap Inc., which also launched an indefinite bar on the same day the riots were unfolding. 
"We can confirm that earlier on Wednesday we locked President Trump's Snapchat account," a Snap spokesperson told Nextgov Thursday. 
Snap's latest deliberate step came after the company previously opted to end the promotion of Trump's account in its public-facing content platform, Discover, last summer. From that point, only Trump's nearly 2 million subscribers on the app—or those who searched—would see his content. At the time, its CEO Evan Spiegel wrote that Snapchat "simply cannot promote accounts in America that are linked to people who incite racial violence, whether they do so on or off our platform." 
The company's spokesperson further noted that, in contrast to various other mainstream platforms, Snap's is deliberately designed for communications between close companions. They also emphasized that insiders are serious about vetting and responsibly curating content before it reaches virality. 
In the minutes and hours after the various companies detailed their decisions, lawmakers and others in tune with America's vast social media landscape also reacted. 
In his statement mentioned above, Warner—Demoratic leader of the Senate Select Committee on Intelligence—added, "these platforms have served as core organizing infrastructure for violent, far right groups and militia movements for several years now—helping them to recruit, organize, coordinate and in many cases (particularly with respect to YouTube) generate profits from their violent, extremist content." 
Sen. Joe Manchin, D-W.V., tweeted commending the bans but called for more from Twitter. Homeland Security Committee Chairman Rep. Bennie Thompson, D-Miss., also weighed in via a statement, noting that he's "deeply frustrated that it took a group of domestic terrorists storming the Capitol before" Facebook and Twitter took actions against Trump's use.
"I also can't help but wonder if the decision was an opportunistic one, motivated by the news of a Democratically controlled Congress," he said, further calling on Twitter to clarify what's to come regarding Trump's suspension. 
"These corporations should announce a permanent ban of his accounts," Thompson added. "Nothing short of that will meet this moment."
And in a statement shared on Twitter, former First Lady Michelle Obama wrote, "now is the time for Silicon Valley companies to stop enabling this monstrous behavior—and go even further than they have already by permanently banning this man from their platforms and putting in place policies to prevent their technology from being used by the nation's leaders to fuel insurrection."
On Thursday afternoon, speculations swirled whether an account presenting itself as Donald Trump—and seeking donations for a 2024 presidential run—that emerged on the conservative social network Parler, was actually the president.